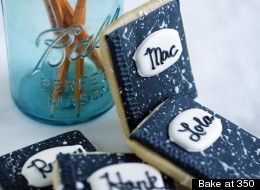 The month of September and back-to-school time make me think of fresh pencils, new notebooks, and pleated plaid skirts, but they also make me think of COOKIES!

Whether tucked away in a lunchbox, stacked and tied with ribbon for a teacher, or waiting on the kitchen counter for an after school snack, cookies always brighten a school day.
Here are some of my favorites:
10 of the Best Back-to-School Cookies
Puffy Peanut Butter Cookies with Chocolate Chips from How Sweet It Is are perfect for an after school snack, with a cold glass of milk...or maybe a chocolate milkshake.

Ease into fall with these spicy and soft Pumpkin Gingersnap Cookies from Two Peas and Their Pod.

Go all out and decorate some composition notebook cookies for the kiddos...and maybe for their teachers, too. Full tutorial on Bake at 350.

These S'mores Cookies from Sugarcrafter make s'mores lunchbox friendly.

Confessions of a Cookbook Queen's Caramel Apple Cheesecake Cookies are made with two packages of cream cheese. Need I say more?

Bookworms Unite! Full tutorial for the bookworm cookies is available from The Sweet Adventures of Sugarbelle.

These Homemade Oatmeal Creme Pies from Blooming on Bainbridge are what after school snack dreams are made of.

Nutella and Sea Salt-Stuffed Sugar Cookies may be the greatest invention since sliced bread. Kids everywhere will rejoice that Cookin' Canuck created them.

Milk Duds, Raisinets, Reece's Pieces...all rolled into a cookie? By creating Movie Candy Cookies, Cookies and Cup just may win the mom-of-the-year award.

I'm going to go out on a limb here and say that if you pack Picky Palate's Oreo-Stuffed Chocolate Chip Cookies in your children's lunchboxes, they'll come home and clean their rooms without being asked. It's worth a shot.
Follow Bridget Edwards on Twitter: www.twitter.com/bakeat350tweets