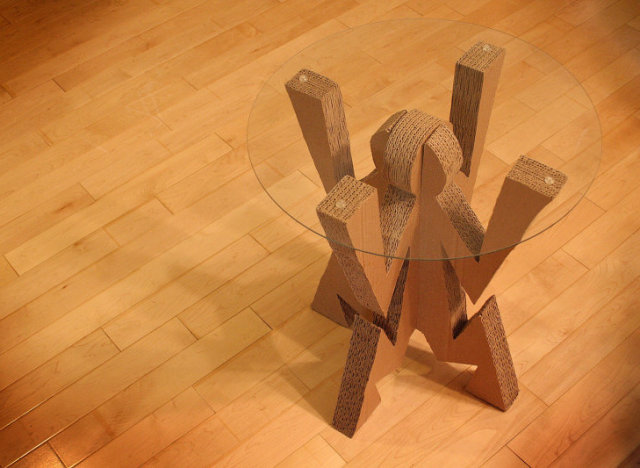 Photo by Alayna Jo A.
The desirability of cardboard furniture is really up to the "depends on who made it" factor.
Frank Gehry's cardboard chair? Yes, please.
This satirical take on a le Corbusier classic? Not so much. (But 100 points for creativity and wit.)
The best cardboard furnishings do seem to follow a pattern, with the maker/designer stacking sculpted pieces of corrugated board. Leaving the corrugated ends visible adds to the appeal. It's one of those projects where exposing the rawness of the material is a good thing. If Gehry chose to cover the chair with smooth cardboard, it would look junky instead of amazing.
This particular table by etsy artisan Alaynature neatly shows off the corrugation of its cardboard base with a glass top. While it may not work in a more traditional household (or, let's face it, anyone with pets or kids), the table is a great example of cardboard decor. And there's another phrase I never thought I'd write in my design career.