What is all the fuss with celebrity gift lounges? Whether you're obsessed with celebrity lifestyle or not, you have probably heard some of the outrageous stories regarding celebrity gift suites that are held in honor of major award shows and film festivals. As a veteran of this business, I am going to give you an insider's look at what takes place at these functions and why they continue to grow.
To begin let me take you back about ten years ago, the era of the mega celebrity gift basket. At this time our company had been working with Award Show producers from the Oscars and Grammy awards to help secure luxury brands willing to provide products for their presenter gift baskets. Most celebrities do not get paid much to appear on award shows so the gift basket became an important perk for producers to attract talent.
For quite a few years the gift basket served its purpose and provided great press opportunities for the brands that participated. Ultimately, the press we were receiving from the gift basket began to upstage the actual press for the show and producers began requiring brands to sign non-disclosure statements that forbid press mentions. Without media there was really no benefit to participate in the gift basket. There were also other significant drawbacks since the gift basket was a one size fits all mentality. Celebrities were rarely seen in items provided in gift baskets making us wonder whether the celebrity actually received and if they did was it the proper style or size. We knew it was time for a new concept.
Ironically it was at that exact time that HBO came to me and asked if I would put a hospitality suite together for the cast of Sex and the City, the Sopranos, Curb Your Enthusiasm and other nominee's during the Golden Globe and Primetime Emmy Awards. HBO wanted a place where their nominees could come enjoy themselves, receive beauty/spa treatments and take home some great gifts. In exchange for this service talent would be asked to take photographs with the brands and allow pr opportunities. We really weren't sure how this would go over with the celebrities, but thought we needed to give this concept a shot.
We named the event the Luxury Lounge (now trademarked) and brought in about twelve Luxury brands to participate during the 2003 Golden Globe Awards at the Peninsula hotel in Beverly Hills. Participants included L'Oreal Paris, Moet & Chandon, Maurice LaCroix watches, Aqua Di Parma and Michael Kors fragrances and several others. We setup and the night before the event and I lie awake wondering if any celebrities would actually show up. I saw all of the relationships I had created within the luxury arena blowing up in smoke if talent did not decide to attend.
Well my fears immediately went away the minute we opened the doors. We actually had a line of stars waiting for us to open the doors. All the faces you would recognize from the hottest shows on television and best of all they embraced the concept and were happy to take photos with each brand. We did have a few come in that looked at us like a deer in headlights in the beginning, but most had a fabulous time.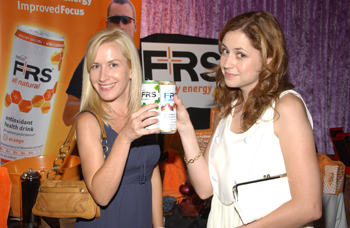 A few of my favorite Luxury Lounge moments:
Sarah Jessica Parker calling me to ask if it was okay that her husband Matthew to attend as well.
The entire room going completely silent the first time James Gandolfini walked into the Lounge.
Having forty stars arrive all at once and waiting in line up to a half hour to get into the Luxury Lounge. I asked Jenna Fischer (The Office) who was a best actress nominee that year if she wanted to go down to the bar and come back and she said "No, I don't want to lose my place and besides this is fabulous seeing all these stars waiting in line." Of course Aida Turturro (Sopranos) told me she did not need a talent escort and said "I know how this works, I'm going in alone".
Telling socialite Denise Rich that she needed to bring one of her famous friends with her if she wanted to come to the Luxury Lounge. Comedian Kathy Griffin happened to oversee this and said "I can't believe you did not let Denise into the Luxury Lounge, you know she could easily buy you and this hotel if she wanted." The next day Ms. Rich came with Natalie Cole and all was forgiven.
All of the many crashers that have tried to no avail to attend. We are told we keep one of the toughest guest lists in the business.
Throughout the years it has grown into an experience for both the brands involved and the celebrities who attend. For some talent, being invited gives them the feeling that they've arrived in Hollywood and others it reconfirms their place. For others, it's simply a chance to see each other in an intimate environment or a safe place to hideout and take respite from all of the buzz going on everywhere else. Over the years, Luxury Lounge guests have included; Keira Knightley, Robin Williams, Tina Fey, Ricky Gervais, Helen Mirren, Judy Dench, Shirley Maclaine, John Hamm, Justin Timberlake, Katherine Heigl, Robert Downey Jr., Teri Hatcher, Antonio Banderas, Taylor Lautner, Leighton Meester, Steve Buscemi, Kevin Bacon and hundreds of others. If Marilyn Monroe and Sinatra were alive, they probably would have stopped by at some point as well.
Sponsors past and present always tell us that the relationships they created at the Luxury Lounge were absolutely priceless. If you were a fan of the Sopranos, you may recall the episode inspired by the HBO Luxury Lounge, appropriately titled "The Luxury Lounge." When Michael Imperioli came out to Hollywood to make it as a writer, all he wanted was an invite to be gifted at the Luxury Lounge like Sir Ben Kingsley.
For the brands that participate, it's an unparalleled experience. For a tenth of the price of getting a celebrity's attention under any other circumstances, they get the chance to meet and show their merchandise to the most powerful trendsetters in Hollywood. Not only that, they get pictures of talent with their products and start valuable, lasting relationships that many times turn into bigger opportunities for both.
These days it's hard to imagine a brand or a celebrity who hasn't participated in some way, shape or form in the Luxury Lounge. The nature of our business is to reach trendsetters to spread the word on a particular product and what better way for that to happen than a room full of A-list celebs and photographers snapping every moment. The concept of brands working with celebrities to spread their message has become increasingly important in the marketing world today. This constant need to have an arena for brands to interact directly with celebrities has helped make the Luxury Lounge a staple in Hollywood, and that's good business.
SUBSCRIBE TO & FOLLOW LIFESTYLE
We're basically your best friend… with better taste. Learn more