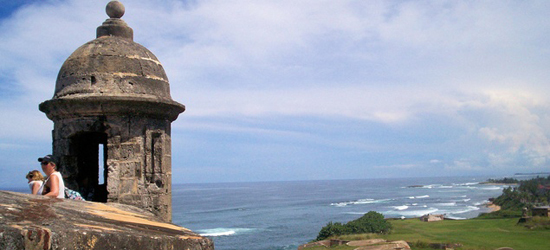 Photo courtesy of sojourner73/myBudgetTravel. Article by Kaeli Conforti of Budget Travel.
If you're looking for a fun, affordable beach getaway, visit Puerto Rico, home to plenty of beaches and nightlife, and enough options to satisfy every foodie, nature lover, and history buff. And the best part? U.S. citizens can visit this island paradise without a passport. Please visit our Great Getaways: Puerto Rico Pinterest board for photos!
Visit El Yunque National Rainforest
One of Puerto Rico's best attractions is El Yunque National Forest, the only rain forest in the U.S. parks system. Travel Services, Inc. offers great half-day or full-day guided tours including transportation from your hotel to El Yunque (pronounced "El Jun-kay"), from $64 per person. Stop by the Visitor Center to learn more about the area's wildlife, like the Coquí frog and the Puerto Rican parrot, and stop by La Coca Falls and the Yokahu Lookout Tower for amazing rainforest views. Even novice hikers will enjoy a quick 30-minute hike to La Mina Falls, where you can take a dip, if you can stand the freezing cold water! Remember to bring a poncho along as you are in a rain forest (emphasis on the word rain) and it can start pouring buckets at any given time, so don't say we didn't warn you!
Eat where the locals eat
Located just outside El Yunque a few more minutes down the road, you'll find Kioskos de Luquillo, a great place to sample traditional Puerto Rican favorites like arepas (coconut cakes!) and plantains, and treat yourself to a freshly made piña coladas (or fresh coconut water) straight from a coconut. In Old San Juan, head to Raices, a local favorite where the waitstaff dresses in tradtional Puerto Rican outfits. Everyone says to try the house specialty, mofongo, served in a wooden goblet and made of your choice of meat and mashed plantains, making for a delicious and very filling meal. For a unique blend of Asian and and Latin American influences, try swanky Budatai in the Condado Beach area for delicious dishes like El Churrasco con Ho Fun and Lo Mein de Chicharron de Pollo.
Roam the colorful streets of Old San Juan
You can tour Old San Juan with the folks at Travel Services, Inc. for $55 per person including transportation to and from your hotel, or, thanks to super-affordable sites and a free tourist tram, you can do it at your own pace for less. Start with a trip to El Morro National Monument, an impressive 16th century Spanish fort that's less than $5 per person to enter and offers gorgeous views of the Caribbean. Take a joyride around town on the free white tram located outside El Morro and stop anywhere along the way to take advantage of the area's quirky shops and boutiques. Take your camera for a spin and spend some time just walking around the streets admiring the city's colorful buildings.
Kayak in the dark at Bioluminescent Bay
You can't come to Puerto Rico and not see Bioluminescent Bay, one of the coolest spots on the island, if not on Earth. You'll have to rent a car to get to Fajardo (or take the tour with Travel Services, Inc. for from $95 per person). If you choose to go independently, keep an eye out for the yellow tent in Las Croabas Park, where you'll find Island Kayaking Adventures. Sign up for their Glowing Bay Adventure, which leaves every night at 6:30 p.m. or 8:30 p.m. for $45 per person. You'll embark on a two-hour paddle through a natural mangrove tunnel, following each other through almost-total darkness (kayaks have a glowstick attached to the back so you can stay in a single-file line) to Bioluminescent Bay. Near the end of the mangove tunnel as you enter the bay itself, you'll notice something peculiar... the water starts to glow as you paddle, a result of the algae reacting to movement in the water, definitely an incredible sight. Unfortunately, it is extremely difficult to get a good photo of this (since you must be moving the water beneath the surface at the same time and the lighting at night gets tricky), but the Island Kayaking Adventures crew does take photos of you kayaking and posts them to their Facebook page free of charge.
Take a road trip around the island
If you're feeling up for a little adventure, try renting a car and taking a good old fashioned road trip around the island, or taking a drive down La Ruta Panorámica, one of Budget Travel's favorite road trips (also featured on our brand new Ultimate Road Trips App). Roads in Puerto Rico are in excellent condition, comparable to driving around in the states, and there is no shortage of beautiful scenery.
When all else fails, relax on the beach!
Pick a beach, any beach. There's nothing like bring on the beach with your towel and a good book (or digital edition of Budget Travel magazine!) While the waters of the touristy Condado Beach area are rougher than others, it's the perfect spot to plotz in the sand and watch the local boogie boarders and body surfers do their thing. Strong swimmers can even rent a boogie board for $10 for the whole day from friendly beach vendors, but we strongly advise sticking to the smaller surf if you're not used to hitting the waves.
Stay in the heart of the lively Condado district for less
The San Juan Marriott Resort & Stellaris Casino has great recently updated rooms right on the beach in San Juan's bustling Condado Beach area, home to some of the island's best nightlife. The hotel itself has several lovely restaurants, an onsite casino, gorgeous beachfront pool with a slide, and nightly entertainment in the lobby--don't miss the chance to show off your best salsa dance moves on Saturday night to the music of a live salsa band (Note: this is also open to the public even if you're not technically a guest of the resort).
Pay homage to the Piña Colada and all things Bacardi
The Caribe Hilton is offering a special hotel package Aug. 15th thru Oct. 15th in honor of the 60th anniversary of the Piña Colada, a drink known the world over--the official recipe is 2 oz. of white rum, 1 oz. of coconut cream, 1 oz. of heavy cream, 6 oz. of pineapple juice, and 1/2 cup of crushed ice, served in a 12 oz. glass and topped with a freshly cut pineapple wedge and a maraschino cherry, in case you were wondering. For $60 per person, with a minimum-stay of at least three nights, you'll get accommodations at the Caribe Hilton, daily buffet breakfast for two, and two welcome Piña Coladas (what else?). Enjoy a special menu at the Oasis Bar, take part in mixology classes, Ramón "Monchito" Marrero, who was the hotel's bartender at the time. Refer to booking code P1 when booking this hotel by phone or through the website, above. Closer to Old San Juan, pay a visit to the Casa Bacardi, the Bacardi Rum Factory, where you can learn more about the history of this drink, see how it's made, and taste samples of the finished product. Cheers!
Click here to see more Great Getaways in Chicago, Savannah, St. Augustine/Ponte Vedra, New Bedford, Quito, and Ko Lanta.
More From Budget Travel:

Free App: Budget Travel Ultimate Road Trips!
Adorable Zoo Animals You MUST See!
Beach Gear You'll Need This Summer
15 Most Beautiful National Parks in America
25 Most Beautiful Cities in America
Click here to check out Budget Travel's brand new Travel Video Page!
Want the inside scoop on the hottest travel deals? Sign up for our free e-newsletter and follow us on Twitter, Facebook, Pinterest, and Instagram.
SUBSCRIBE TO & FOLLOW LIFESTYLE
We're basically your best friend… with better taste. Learn more