Today saw the opening of the 101st National Governors Association meeting in the heart of the Gulf Coast. This pow wow is not only a gathering of governors from across the state but with a bold theme: Strengthening Our Infrastructure for a Sustainable Future. Led by Gov. Rendell (PA) and hosted by Gov. Barber (MS) this three day event will take place near where Hurricane Katrina ripped into the United States back in 2005 -- Biloxi, Mississippi.
Having arrived in Biloxi a few weeks after the storm, my group was fortunate enough to partner and fund a number of amazing grassroots organizations and driven individuals. I would ask all the governors at the conference to take their lunch break outside and pay a few of them a visit.
You only have an hour? Then pick up an awesome Vietnamese po-boy from Le Bakery on Oak Street. Then head over to the Hope Community Development Agency on 425 Division Street to meet Bill Stallworth and a team of dedicated individuals who helped coordinate dozens of organizations to help bring Biloxi back on its' feet. While they don't have the cache of a big name nor the weight of an international non profit, they coordinated the rehab of 700+ homes and build a further 50+ from the ground up.
The center is not only home to case managers but a full architecture and design studio building and renovation hundreds of homes. All of this done with people power. Most importantly, this team have not cut and run - they still work every day, years after many organizations left the city. For them this isn't a day of giving, this isn't a summer of service, this is a multi-year commitment to work collaboratively and without ego with one cause - build back Biloxi.
I urge you, spare one hour and go find out what human infrastructure looks like. These true heroes of the Gulf Coast deserve more than a drive by on the way to the airport.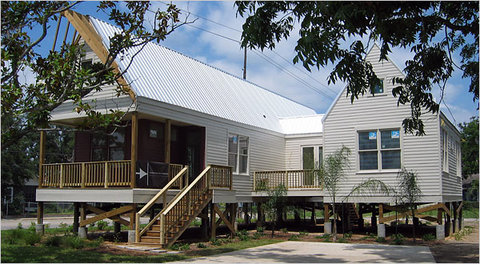 Parker House
Designed by Brett Zamore Design, Houston, TK
SUBSCRIBE TO & FOLLOW POLITICS
How will Trump's administration impact you? Learn more