Look at the places around the world where people are adapting to climate change and you're bound to see the same group bearing the heaviest burden: poor women. That's pretty much the definition of unfair, given that they're least responsible for the problem. And in so many countries, barriers stand between them and the assets they need build up their resilience -- things like land, credit, new technologies and places in decision-making bodies.
Yet, somehow, poor women are finding power in one thing: each other.
That was as clear as the Ugandan sky on a recent sun-drenched day in the village of Mubuku. Two leaders of the Bakyara Tweyimukye village savings & loan association sat down to explain how they are being affected by climate change - and adapting to it. Annette Agaba, a mother of five, lead the associated that has made loans for handicraft businesses, tree plantings, "kitchen gardens," and income-generating activities such as goat and poultry rearing. She chose to rear rabbits. Maria Gorretti Kasawuli has taught other mothers how to grow "kitchen gardens." Hers bursts with herbs like dodo, sukuma and eggplants.
Though they have not a keyboard or an email address, we at CARE wanted them to be part of Blog Action Day. Here are their voices, as captured by CARE's Tracy Kajumba, in a home in western Uganda.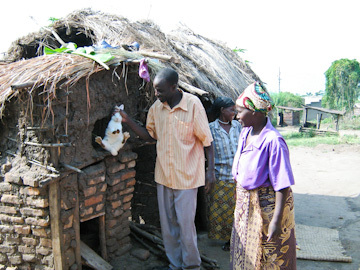 AGABA: "This community depends on agriculture and used to get high yields from maize, beans, ground nuts and many other crops. However from the 90s, the situation has changed. We used to predict rain and prepare our gardens and plant but now days we cannot predict anything. When you are expecting rain, you get scorching heat that destroys all the crops. When you expect sunshine, you get heavy torrential rains that wash away all the crops and sweep away the house tops!"
KASAWULI: "We started with promoting hygiene and sanitation in our homes due to the high prevalence of cholera in our area. Every time we came to save, some one talked about sanitation issues and we visited each other to assess compliance. After that we were hit by floods and after affected by drought which made it difficult for us to get money, and as a group we decided to do a reflection and take action to survive. We realized that we can no longer survive on agriculture alone and agreed to diversify and buy goats using the money from the group . . . I bought a goat but had no where to keep it, and had to share my house with it. My husband later supported me and constructed a room outside. The goat produced two kids initially, I bought two more and they have now multiplied to seventeen."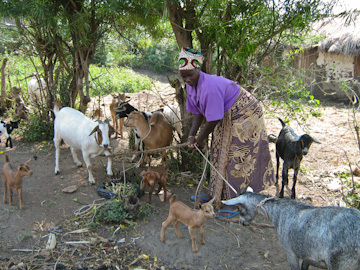 AGABA: "I have also ventured into keeping rabbits which are delicious for meat and are very marketable. Diversification is the only way to go to manage the weather changes."
KASAWULI: "We have agreed in our group that every homestead should have a kitchen garden. It does not need a lot of land. You can use old basins, jerry cans, or sacks to plant your greens and vegetables. It is also easy to water the garden since it is near, small and therefore needs little water. Ten households so far have established the kitchen gardens and this has supplemented on sauce in the face of hunger and increased food prices, and we also sell the surplus to the neighbors."