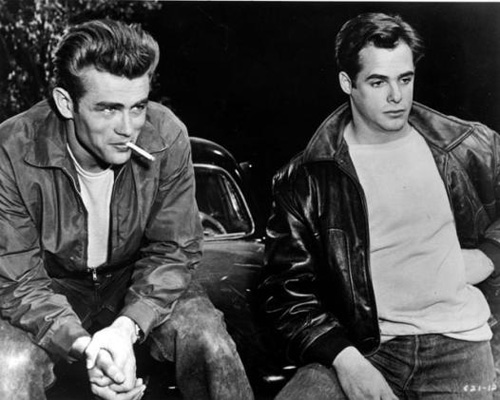 James Dean and Corey Allen in Rebel Without A Cause, Warner Bros.
When you make your living in the arts--whether that's on the creative front or the business end--especially if you are self-employed, it's safe to say that you are probably open to all kinds of veerings off the path to pay the bills, especially if that detour still allows you to work your craft. Case in point. I'm planning an impromptu dinner party and call my friend Mickey Cottrell to invite him. Mickey is a veteran publicist to mostly independent film directors. The man knows film like his own life story. If you asked him, I bet he could tell you who directed, produced, wrote and acted in just about any film, just like an encyclopedia would if it could talk. Mickey also acts on the side--his most famous role was as a pervy john opposite River Phoenix in My Own Private Idaho. Oh, and he also produces artsy films and documentaries whenever he can. He has worked or had dealings with every mega celebrity you can think of, and represented the creme de la creme of directors, including Wim Wenders, Gus Van Sant and Philip Noyce. He's even had an affectionate profile written about him by L.A. Weekly film critic Ella Taylor (and you know how critics usually feel about publicists). And now comes the obituary.
No, not of Mickey. It's the obituary of The ruggedly handsome Corey Allen (1934-2010), best remembered as "Buzz," the antagonistic tough in a black leather jacket, who fatally challenges James Dean's "Jim Stark" to a "chicken-race" in the iconic Rebel Without A Cause, and who went on to win an Emmy for directing an episode of Hill Street Blues, [who] died early Sunday in Hollywood of natural causes, two days before his 76th birthday. (To read the entire obituary of this enigmatic actor, Emmy winning director and beloved acting teacher, see below.)
As we chat about dinner and whether he's available on such short notice, we get to talking about other stuff and he mentions that he just got done writing an obituary of Corey Allen.
"How'd you end up doing that?" I ask.
"Well, I know all about him" (of course he does) "and his family needed an obituary for the trades and newspapers..."
"Wow," I say, "With your amazing knowledge of Hollywood personalities, you could keep doing obituaries as a side line. I bet they'd be great!"
Suddenly I am flashed back to the time, in my former life as a publicist, when a restaurant client asked me to write the eulogy for his dad, the restaurant's namesake, after he passed away. They were planning a celebration of his life at the eatery and he needed to make a speech about his father. He said I should be able to do it, no problem, since he thought I was a good writer. "But I never knew your father," I pleaded in vain. So, I interviewed my client about his father and wrote his eulogy. It turned out really weird because I didn't quite get the hang of writing it in his voice. My words coming out of his mouth sounded stilted and...it was all sort of embarrassing. But hey, it was a gig. In Mickey's fine hands, Corey Allen and his family have nothing to worry about. To read all about him, here is the obituary in full.
FROM "REBEL" CO-STAR TO EMMY WINNING DIRECTOR AND WELL LOVED
ACTING TEACHER, COREY ALLEN (1934-2010)
The ruggedly handsome Corey Allen, best remembered as "Buzz," the antagonistic tough in a black leather jacket, who fatally challenges James Dean's "Jim Stark" to a "chicken-race" in the iconic Rebel Without A Cause, and who went on to win an Emmy for directing an episode of Hill Street Blues, died early Sunday in Hollywood of natural causes, two days before his 76th birthday.
With the recent death of his longtime friend, Dennis Hopper, Corey was briefly the last remaining member of the Rebel main cast.
Allen graduated from UCLA with a Bachelor of Fine Arts degree in 1954. His last year there, he received the department's Best Actor Award and starred in the short film, A Time Out of War, which took Best Short Award at the Cannes and Venice film festivals, going on to win the Oscar in the category. After graduating, he appeared in some twenty plays in the Los Angeles area.
One night at his apartment on Sunset Blvd. in Hollywood, shortly after his college graduation, Corey was reading the William Saroyan play, The Beautiful People, and was so moved he called information to try to reach the author. The operator said, "There's a Bill Saroyan in Malibu." The young actor called and got the Pulitzer Prize and Oscar winning Saroyan, to whom he asked a number of rapid-fire questions. The writer replied, "Where are you; I'm coming over?" Allen went out and bought 2 quarts of vodka. Next thing he knew, "This big guy, like a gorilla, was coming down my hallway. We spent six hours drinking and screaming at each other." Near the end of his life, Corey would finally direct The Beautiful People and another Saroyan play, My Heart's in the Highlands.
Allen spent a decade and a half as a busy film and TV actor (Movies include: Rebel, Darby's Rangers, Party Girl (also directed by Rebel filmmaker Nicholas Ray), Private Property, Sweet Bird of Youth, The Chapman Report; Television includes: Dragnet, The Millionaire, Alfred Hitchcock Presents, Gunsmoke, Have Gun - Will Travel, Studio One, Rawhide, Sea Hunt, Bonanza, Dr. Kildare, Combat!). Prior to Rebel, he appeared uncredited in The Bridges of Toko-Ri and The Night of the Hunter. In 1969, he stepped behind the camera for the first time to begin a new career.
As a television director, Allen won an Emmy for a 1983 episode of Hill Street Blues, after having been nominated for another episode in the series two years earlier. In 1984, he won a Cable Excellence Award for Best Direction of a Paper Chase installment. He got two DGA nominations for Best Direction in a TV series for The Streets of San Francisco (1974) and Hill Street Blues (1983).
Other direction assignments included multiple episodes of Ironside, Police Woman, The Rockford Files, Simon & Simon, Murder, She Wrote (including the pilot), Dallas, Star Trek: The Next Generation (including the pilot and participation in casting Patrick Stewart as Captain Picard and the other regulars), Star Trek: Deep Space Nine. Some 80 TV episodes bear his direction credit, as do nearly 20 TV Movies, including The Ann Jillian Story, which brought its eponymous star a Golden Globe.
Throughout his career, Corey Allen was beloved by a flock of young actors as their teacher, providing practical tools at the Actors Workshop for 3 years as well as at the Margie Haber Studio. Allen was presented with an honorary doctorate at Columbia College (Hollywood branch) for helping to create their acting and directing curricula.
David Zimmerman, who would later produce some of Allen's classes as well as "The Beautiful People" project, began as a student and then teacher's assistant. "Corey Allen's great contribution as an acting teacher was allowing his students to open up and get in touch with themselves. He was such a life-changer for me! And he found such joy in his work and taught us to move in the direction of an ongoing greater appreciation of life and art. When he'd finish one project, he'd light up, 'What's next?'"
One of Allen's closest friends for four decades has been Emmy winner Eric Bercovici, writer/producer of the megahit 80's miniseries, Shogun. Allen directed two episodes each of two Bercovici's series, Chicago Story and McClain's Law, all in 1982. "Corey was a helluva guy. For several years in the 80's and 90's, we'd make an annual 2-month trip to Durham, NC, a favorite spot of Corey's since taking family trips there in his youth. We'd walk off all our sins together, literally 20 miles a day, giving us time to get philosophical. I also sat in on some of his acting classes and he was a wonderful teacher. He had tremendous empathy."
His daughter Robin Duncan worked side by side with her father for many years running his business affairs. A brother Steve Cohen of New York City, four grandchildren, two great grandchildren and two nephews also survive Corey Allen.
This Blogger's Books and Other Items from...
FOLLOW HUFFPOST