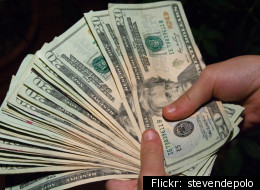 Many believe that to make good money decisions you need to have a plan for every situation. You need insurance for every possible setback, and investments for every market condition. All of your assumptions about the future need to be refined to perfection, so you will never be surprised. You need to know and understand everything about the financial markets, and you need to budget your spending to the last dime.
That kind of thinking is based on fear, and it's an issue I tackle in my new book, The Behavior Gap.
Not surprisingly, we fear life's uncertainty, its ups and downs. And so we make plans that we hope will give us the power to control our future. If I do this, that will not happen; if I sell now, I will avoid the coming downturn; if I pick the right investment, I will be financially safe; if I worry enough, I will be ready when bad news comes.
Trouble is, the real world is complicated; we don't know what's going to happen. So if planning isn't the solution to our money problems, what is?
The answers are simple if not easy. You need to focus on the things you can control, which can be incredibly difficult because we hate uncertainty. In this slideshow, I'll walk through some helpful tips that I've seen work over the years to get you past your fear and to help you focus on the money decisions that matter.
You'll find that a big part of that requires letting go of some fantasy that you'll make "perfect" decisions every time. There's also the reality that you can't protect yourself from everything (you don't live in a bubble). Finally, you'll need to give serious thought to understanding (and being honest) about what you really want. Too often this is the last question that gets answered, but the answers play a central role in our relationship with money.
It makes far more sense to ignore what the crowd is doing and base your investment decisions on what you need to do to reach your goals. But man, is that hard to do. It's not that we're dumb. We're wired to avoid pain and pursue pleasure and security. It feels right to sell when everyone around us is scared and buy when everyone feels great. But it's not rational. We know that following the crowd can be costly, but we feel safer in numbers. When we do what everyone else is doing, we can take comfort in knowing that even if we're wrong, we'll be wrong with a bunch of other people. This kind of behavior--following the crowd--can have disastrous results. It led investors to load up on tech stocks in the late 1990s, bonds in 2022, and real estate in 2006. And yet we keep doing it, and the behavior gap groups.

Typically, expectations are based on our recent--often very recent--experiences. One day, your neighbor's house sells for a big profit. Then your brother's house sells for an even bigger profit. Things have changed. After a while you adjust your expectations. You now think (assume) that values will continue to rise. And you start to behave differently based on those expectations. Maybe you borrow against your home's rising value and spend the money on a nicer car or a family vacation. Home prices (and our related behavior) may eventually reach dangerous extremes. At that point, prices may collapse and fall well below any realistic estimate of what homes are worth in the long run. Boom-and-bust cycles often take prices to incredible extremes in both directions. Looking back, it's almost always painfully obvious that we allowed our expectations to get out of whack. At the time, though...things are not so clear.

Think of each investment that you own as a thread in a tapestry. Each component of a portfolio should be there for a reason--and not because you think it's a candidate for the world's best investment. Some people collect investments like kids used to collect baseball cards. Before they know it, these collectors have a smorgasbord of unrelated investments with no cohesive strategy at work. Worse, those investments often are concentrated in similar types of assets (like large company stocks). But this can often lead to investing in different funds with very similar investment strategies. And when the value of one fund falls, the shares of funds with similar strategies will fall as well. Meanwhile, there are costs involved in maintaining such a smorgasbord of holdings. So remember: your goal is to be an investor, not a collector. You want investments that work together to close the gap between you and your financial goals.

With very few exceptions, market and economic forecasts are really nothing more than guesses--some of them pretty wild. But as we continue to reckon with an uncertain economic future, it is more tempting than ever to seek out a guru. We want someone to tell us what's coming so we can plan accordingly. We like the idea that we can know the future and prepare for it. It just isn't so. When you come across forecasts, keep in mind the following: -No one knows what the future holds. History doesn't really help except to tell us that it's hard to forecast accurately. -If people make enough guesses, they are bound to get at least a few of them right. Even a broken clock is right twice a day. So don't take it too seriously when someone calls a market turn correctly. -Most likely it's luck.

What happens to anxious investors? When you start focusing too hard on market moves, every little ripple can flip the boat. Anxious people tend to buy high (they're worried because they're missing the big gains) and sell low (they worry the losses will keep piling up). Anxious people seek comfort in familiarity. For example, they load up on shares of their employers' stock--which may in fact be quite risky. Or they buy a stock just because they've heard of it or know its products. Anxious people get stuck in the past. Let's say you lost money in a stock. You know you'll feel better if you can just get back to even--but the stock keeps falling. Now what? More anxiety. More bad decision. Monitoring the stock market's ups and downs makes us anxious. Trying to predict the future makes us anxious. And anxiety can make us poor.

There are a number of reasons why we're hesitant to spend time planning for our financial future. But I think the most important reason is a subtler one. I think that we have confused the process of financial planning with its supposed end product: a financial plan. Financial plans are worthless, but the process of financial planning is vital. A plan assumes that you know what's going to happen--even though you don't. By contrast, planning in its truest sense is a reality-based process that allows for life's unpredictability. It requires us to make decisions based on what's actually happening, rather than making decisions based on what we hope or expect or fear will happen. Let's face it: a phone call can utterly change your life, your plans, your obligations, your resources. So it's incredibly important that you get comfortable with the process of planning and don't assume a plan is enough.

You only have so much time and energy. You need to use it wisely. What to do? My rule is simple: limit your attention to things that meet two criteria--they matter to you and you can influence them. That will free your mind to spend more of your time and energy (both mental and emotional) focused on what you really want--what actually matters to you. You'll start acting in ways that are consistent with your values and act less out of confusion and fear. Of course, you still have to think about ways to reach your goals. But that will be easier when you realize that your financial strategy is simply a means to an end (which you might call something like happiness). Too often, I see people worry a lot about things they simply can't control. The only solution is to focus on the things that matter to you and can be influenced by your behavior. Forget the rest.

The most important choice around money decisions comes down to this: do we act based on what we know or how we feel? In an intellectual exercise, knowledge wins (buy low, sell high!). But in the real world, we're hardwired to pursue the things that give us pleasure or provide security, and run as fast as possible from the things that cause us pain. This means that we're often driven by how we feel instead of what we know. Investment decisions should be made based on what we know not how we feel. So if you're thinking about making a decision is based on how you feel or what you know. Is it based on your feelings about what is going on in the market or is it based on an investment plan you put in place when you were thinking clearly?

Investing, like life itself, forces us to make decision in the midst of uncertainty. We will never be right all of the time. We can control the process of making the decisions, but we can't control the outcome. Investment decisions require us to make each decision based on available information: watch the outcome, consider new information as it becomes available, make course corrections, and repeat the process over and over. How can you tell whether to act or not? Try asking these two questions: One: if I act on this new information and it turns out to be right, what impact will it have on my life? Two: if I act on this new information and it turns out to be wrong, what impact will that have on my life? Just forcing yourself to consider the potential outcomes of being wrong will result in making much better investment decisions.

We have all heard the story of the tortoise and the hare. Slow and steady wins the race. It's easy to forget this mantra when most of what we read in the financial press is written to sell magazines or drive traffic to websites. Slow and steady does not sell magazines or drive traffic to websites. I've seen firsthand the damage investors inflict on themselves by chasing hot investments. And so I'm really interested in the idea of slow and steady investing. I love the term "slow capital," which I first heard from venture capitalist Fred Wilson. I would add the word "steady." Slow and steady capital is far more concerned with avoiding large losses than chasing the next great investment. Being slow and steady mans that you're willing to exchange the opportunity of making a killing for the assurance of never getting kills. Slow and steady capital is short-term boring. But it's long-term exciting.