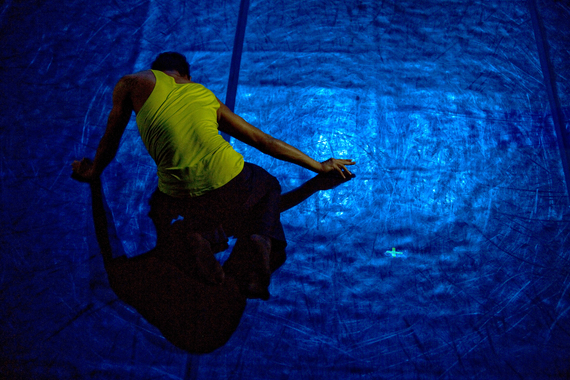 Chris Bordenave of Zhukov Dance Theatre in Idan Sharabi's Spider on a Mirror. (Photo: Sandy Lee)
Back in June, the hot young Israeli choreographer Idan Sharabi came to San Francisco for the first time, at the invitation of fellow choreographer Yuri Zhukov, and recorded his impressions of the city in a dance which premières on October 29th at the spanking new SFJazz Center. Sharabi's highly kinetic Spider on a Mirror, set to a score that corrals Scriabin, Nine Inch Nails and Robin Thicke, joins Enlight, a new work by Zhukov, both pieces set on the five crackerjack dancers of Zhukov Dance Theatre, the first dance company to perform at SFJazz.
Sharabi, formerly a dancer with Nederlands Dans Theater and Batsheva, has been winning accolades for his choreography since his student days in Tel Aviv and at Juilliard. His work is now performed around the world. Of this latest piece for ZDT he explains:
I was interested in grabbing movement from those around us, wherever they happen to be -- on the street, on Muni -- and observing how people respond physically in the moment, to anxiety and stresses in the environment, say, as compared to the preparation of a dancer.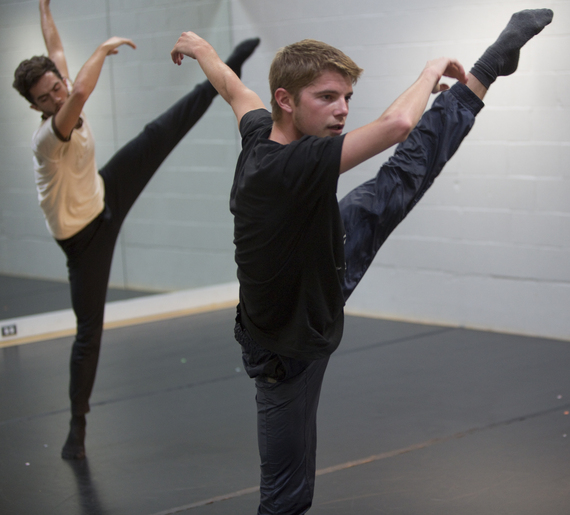 Doug Baum and Nick Korkos of Zhukov Dance Theatre in Yuri Zhukov's Enlight. (Photo: Sandy Lee)
Zhukov's piece showcases the dancers in a dramatically different light. A former dancer with the Kirov Ballet, San Francisco Ballet and Birmingham Royal Ballet, who has danced the leading princely roles and partnered some of the great ballerinas of our time, Zhukov as choreographer wears the mantle of Russian classical technique very lightly, choosing to base his company in his adoptive city of San Francisco, a creative hive of experimental dance:
I was trained as a classical dancer... but creatively, my heart was moving in a very different direction. I am aiming for a fearless choreography that is more expressive of the current world, a vocabulary in which the ballet is almost invisible -- except for the virtuosity of the dancers.
For his latest première, Zhukov has mixed a gripping score of baroque music interwoven with industrial sounds, by turns ominous, propulsive and yearning. In a rehearsal at the hip urban premises of the City Dance studio south of Market, as his dancers slid, crawled and hurled themselves across the floor, negotiating with unseen demons, bodies taut but yielding, one sensed ballet's guardian angels whispering in their ears. The four bare lightbulbs and four skylights that light this intimate cathedral of dance will be replaced by a state-of-the-art lighting system at SFJazz, and the acoustics promise to be thrilling, but no less charged will be the wired bodies of Zhukov's dancers.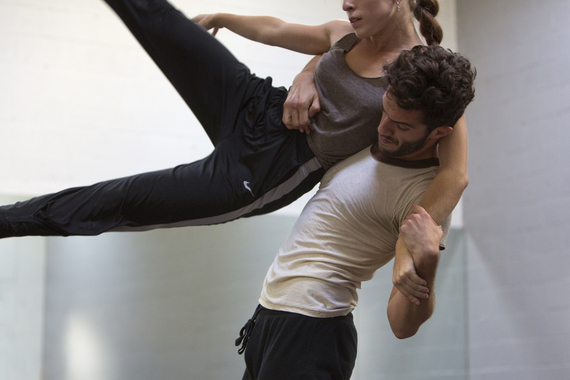 Rachel Fallon and Nick Korkos in Yuri Zhukov's Enlight. (Photo: Sandy Lee)
This generation of ZDT dancers -- Rachel Fallon, Doug Baum, Christopher Bordenave, Nick Korkos and Jeremy Neches -- are, collectively, alumni of an impressive array of companies including Alonzo King LINES Ballet, Aszure Barton and Artists, Robert Moses' Kin, Ballet Jazz Montreal, Sidra Bell Dance NY, tinypistol, Luna Negra and BodyTraffic.
Labeled Product 06, this is the nimble ensemble's sixth season, and while each new season has brought new opportunities and new challenges, ZDT has won a steady stream of admiration from the critics in this town where you can't throw a stone without hitting an adventurous choreographer who is pushing artistic boundaries. With so much provocative dance on offer in the San Francisco Bay area this fall, it is still rare to find that steady choreographic voice that doesn't rely on flashy gimmicks, that doesn't require an audience to bring in heavy equipment to dig for meaning, that conveys emotion and circumstance through the cumulative power of movement and gesture, and gracefully illuminates a score rather than beats it to death.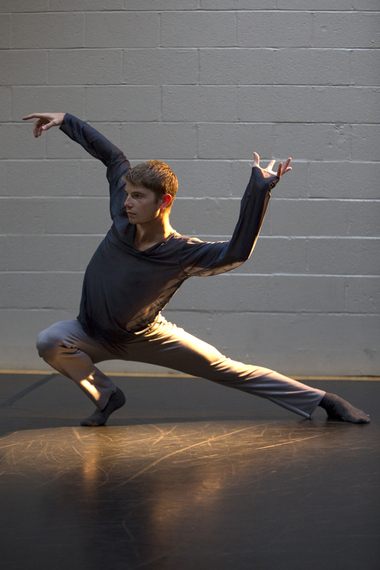 Doug Baum in Yuri Zhukov's Enlight. (Photo: Sandy Lee)
Given the funding challenges that dance companies everywhere have faced in recent years, especially the smaller ones, even in this mecca for dance, we can't take it for granted that ZDT and others will be around year after year. That means you simply can't afford to miss them next week, October 29 and 30 only, at SFJazz.
SUBSCRIBE TO & FOLLOW CULTURE SHIFT
Level up. Read THIS and be the most interesting person at your dinner party. Learn more