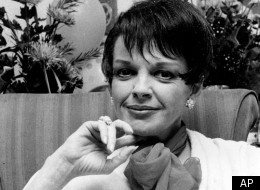 A recent New York Times article, "The Road Gets Rougher for Judyism's Faithful," asked whether Judy Garland is still a gay icon. On his SiriusXM radio program, HuffPost Gay Voices editor-at-large Michelangelo Signorile asked listeners to weigh in, eliciting a variety of opinions. Responses ranged from diehard "Judyists" expressing their undying love for the singer, to those who expressed respect for Judy but are admittedly out of touch with her influence due to generational shifts in icons. Most gay men had moved on to Madonna, and some even said Lady Gaga has taken over as gay icon du jour.
In reading the article and listening to these responses, a bigger question emerged for me, as a 31-year-old diva-phile: not whether Judy Garland is an icon, but why gay men draw battle lines between ourselves in how we express what it is that makes us gay.
One caller said he was embarrassed that other gay men identify and obsess over female icons, and would rather that we focus on politicians enacting change for gay rights. It really struck me that this person wanted to support the equal rights for himself as a gay man yet is embarrassed by the way other gay men behave.
Gay rights begin with the way we treat each other. When I hear comments like the embarrassed caller, I'm reminded of the way feminine gays get maligned for being who they are and for supposedly perpetuating a stereotype. The "straight-acting" myth and the incessant need to heteronormalize ourselves is part of why Judy Garland is becoming less of a gay icon than she used to be. We still live in a society that treats gay people in a hostile way. Dissing a diva-phile isn't doing us any favors.
If we examine the history of what made Judy Garland a gay icon in the first place, we'll find that in the 1950s and '60s, the gay men who were out of the closet never really had a choice but to be who they were. The gay men who passed as straight didn't just pass; they lived straight lives with wives and children.
The gay men and drag queens who stood up for themselves in the Stonewall riots of 1969 -- coincidentally the week of Judy's funeral -- were living as out men, probably because they couldn't help their obviously effeminate characteristics. These gay men need to be acknowledged for making it possible for the non-effeminate gay men to exist out of the closet. Instead, what has happened is that gay men who live comfortably out of the closet, bucking stereotypes, have rejected what an attachment to Judy Garland represents.
I'd like to see gay men celebrate more of what it is that makes our culture rich and fabulous. We don't listen to Judy and Madonna and Gaga because we're gay. We listen to them because they are amazing! I just wanted to tell Mr. Embarrassed to get over himself.
Judy Garland is a gay icon to me because despite her personal life being chaotic and unstable, when she was singing, she was free, free to be everything her spirit contained. She was completely open to the force that made her great. Her performances were fearless yet vulnerable. This energy is present in every gay icon since Judy: Barbra, Tina Turner, Madonna, Mariah Carey, and Lady Gaga. When Judy sang, she inhabited the sense that she was the person she was born to be, and the awful things anyone said about her just weren't true.
Regardless of how difficult each of us gay men had it growing up, whether accepted or bullied, we all had a sense that we were "different," "wrong," or "sinful." We listen and identify with these icons like Judy because through their voices we can silence the one we hear inside ourselves that tells us we're wrong for being who we are.
Check out my Judy playlist:
5 Of Judy Garland's Greatest Moments
Wishing upon a star and waking up where the clouds are far behind sounded like the perfect idea to my 5-year-old mind when I first discovered the soulful girl named Dorothy from Kansas. This was the first moment I ever knew what a "song" was and learned of music's ability to take you inside and then out of yourself. I knew I was gay before I knew what gay was, and I believe I knew it because, like Dorothy, I knew I lived in a black-and-white world that didn't fit with the light inside myself. Maybe that's not being gay; maybe that feeling exists in straight people, young people, old people, black people, white people, girls, and boys, but I knew I was different, and I knew I was misunderstood, just like Dorothy. No other piece of art has really touched this part of my identity so perfectly, and as it stands today, a national treasure, everyone should be introduced to Judy Garland through these perfect 2 minutes and 58 seconds.

Of course, Meet Me in St. Louis features classic Judy songs "The Trolley Song" and "Have Yourself a Merry Little Christmas," but this is my favorite moment of the movie. Judy was 22 years old when it was filmed, and she originally didn't want to play a teenager, as she was trying to shed her little-girl image from The Wizard of Oz. She was convinced to do the part due to the brilliant direction of her soon-to-be husband, Vincent Minelli. This gem of a scene features Judy as Ester Smith being escorted through her house while her new neighbor, John Truett, the object of her affection, turns down the lights. Judy's perfect performance is acted subtly, with grace and intelligence. Judy's gift was realized completely as a triple threat: singer, actress, and comedian. It's not just the songs and the big, belting vocal moments that her fans connected so viscerally to. It was mostly to moments like this one, where Judy wholly embodies teenage vulnerability and frustration as she is trying desperately not to throw herself at her love.

Unfortunately, no complete footage exists of the benchmark concert at Carnegie Hall from 1961, so this video of another performance of the song will have to do. "Come Rain or Come Shine" came two-thirds of the way into the Carnegie Hall setlist. At this point Judy had already held the audience in the palm of her hand. Halfway through the song, the audience had become a transcendent, Sunday-tent-revival congregation, all devoted to their leader. Hedda Hopper famously wrote, "We laughed, cried and split our gloves applauding..." Three minutes into the song, Judy's voice catapulted itself into the arms and hearts of the audience, where it was welcomed with elation and hysteria. You could actually hear people lose their minds in one of the rawest moments of recorded music history, as they screamed and applauded for what felt like an hour. This is pre-punk punk rock. Always a comic at heart, Judy created some levity as she introduced the next segment of the concert. With impeccable timing she declared, "I think after all of that insanity, we should... calm down!" Before she got going again, she regaled the crowd with another of the quintessential Judy anecdotes that were featured throughout the Carnegie concert. In it she gave a maybe/maybe-not nod to her gay fans.

Hollywood loves a comeback, and A Star Is Born is Judy's. I love how Judy braces herself on the piano and the musicians throughout the song as the emotion of the moment swells out of her like a hurricane. And besides, who can resist that smart blue dress?

A torch-passing moment where, in true diva fashion, Judy and Barbra declare their undying hatred of each other before perfectly marrying their brilliant gifts and probably making every gay boy glued to his television that night let out an faint squeal of joy.
Follow Carlos Fernandez on Twitter: www.twitter.com/Carlos_Thomas