I believed Martin Kilson, my favorite professor, when he told me during my junior year in college that entrepreneurs can change the world as much or more than anyone else. So over the last 15 years, from vending companies to an education firm, I have not been afraid to try building something new. I find the challenge invigorating, love working with people, and am always excited to see a new business embraced by strangers from near and far.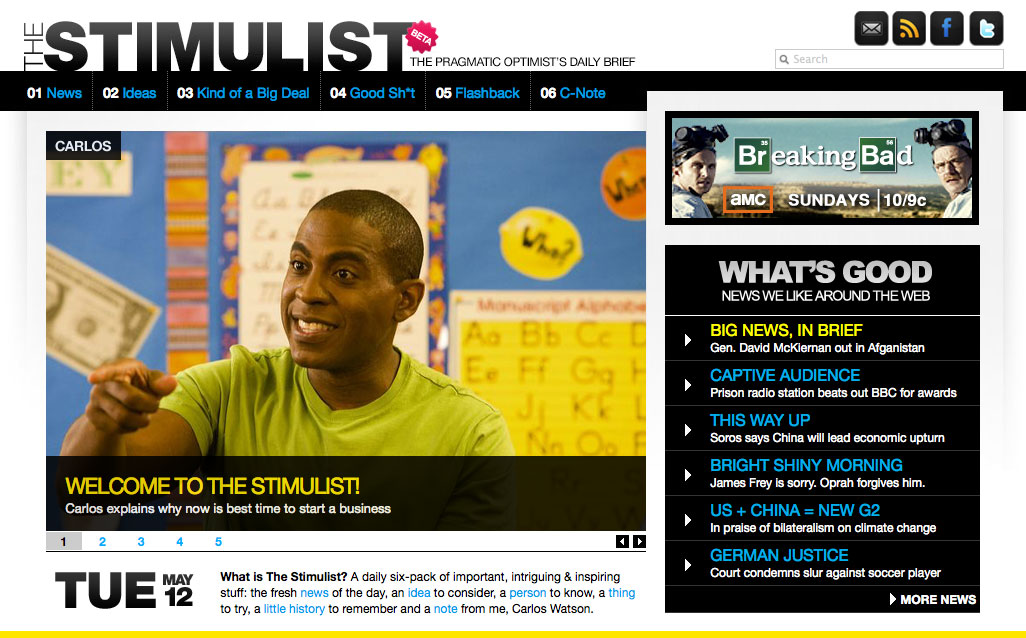 But even with all of that entrepreneurial energy and experience, many people balked when I told them I was going to launch a new enterprise--The Stimulist. I had just seen a two-year quest to land a talk show slip away, the recession was threatening to become a depression, and cries of journalism's death were everywhere. But with the encouragement of a few good friends--angels, really--I decided to go forth with building a unique kind of daily digital brief aimed at the Change Generation, those folks who see opportunity in the world and want to take advantage. I wanted a site that, like us, looks forward--to the next idea, the next stars, the next thing--instead of just looking backward to feed the endless loop of armchair analysis.
I could tell you that the last six months have always been a smooth, confident ride. But that hasn't always been the case. We have twice prepared to launch, only to step back at the last moment and make sure we got it right. This venture has cost real money. But I've tried to tackle it with an entrepreneur's keen eye, and with the knowledge that FedEx, Apple, HP and many other notable companies were built during economic downturns. And I'm not alone: entrepreneurs around the country have used this moment to pursue their dreams.
And today, mine launches. We're already off to a great start. We've got a tireless team of editors and contributors, Business Week wrote a profile of the site, and two major brands--AMC and Kaplan--have bet on us long before conventional wisdom types would have thought it prudent. Come click around and let me know what you think.
I believe firmly that Barack Obama is not the culmination of change, but just the beginning of a bold new era. And that's why The Stimulist is here: to chronicle the historic shifts we're seeing everywhere from finance to media, to find what is different and better, and to constantly remind us that dramatic change is not only possible but vital. Around here we like to say "snark is easy." Optimism--informed, pragmatic, reasonable optimism, but optimism all the same--takes work. That's why we're throwing our hats into the ring: to do the work of finding "what's good."
You'll find 6 new pieces of content each day: 5 "stimulants" (see the big yellow box on the homepage) + 1 listing of the fresh news of the day (see the black box). To start, we approach "news" a little differently than most. It's no secret that we're big fans of Barack Obama (to whom we affectionately refer as BHO). But we're a little weary of the hyper-liberal snark that dominates news sites these days. Each day, we scour the web for "what's good"--news from around the world that actually intrigues and inspires. You'll still get the major headlines ("Big News, in Brief")--but you'll also find 5 stories that you may not have seen elsewhere.
We also think the people and ideas that are shaping our world constitute "news." So, we offer 5 daily stimulants to keep you informed: Resolved (a quick contemplation of some interesting or provocative idea); Kind of a Big Deal (a short profile of a truly fascinating person); Good Sh*t (our team's recommendation for something fantastic to try); Flashback (a historical anecdote that illumines some present-day issue); and the C-Note (my daily blog). Stop in on your way to work, and you'll get a fresh daily picture of what's worth knowing each day. Click around throughout the day to keep up with the conversation. And send us your ideas! We don't presume to know all the interesting/inspiring people, ideas, and stuff in the world. We welcome your submissions.
Is it crazy to start a content-driven website right now? Maybe. But ten years ago, it was crazy to think that a college kid would develop a new system for human interaction, or that 140 characters would be enough to connect the world. I hope that a decade from now, The Stimulist will be not only a testament to smart entrepreneurship, but one that is successful in its mission to help the Change Generation see more and be more.
SUBSCRIBE TO & FOLLOW THE MORNING EMAIL
Start your workday the right way with the news that matters most. Learn more