To communities opposing biomass power plants across the country, one part of the tax cut package approved by Congress is not good news: the extension of tax grants that will pay up to 30 percent of the cost of developing biomass plants. Biomass project proposals have sprouted like mushrooms in response to federal subsidies -- and have been met with fierce resistance from communities that don't want their trees cut down or their air and water polluted to keep the electricity coming.
Consider, for instance, Jasper, Indiana, a gem of a town with a fine courthouse square, furniture factories, and just beyond the factories, a Patoka River walk where residents and occasional tourists stroll under a canopy of trees. Jasper also has an old city-owned coal-fired power plant, and that coal plant has become the crux of significant argument in the halls of power.
When word got out that the Jasper Utility Service Board was talking about converting the inactive 14.5 megawatt coal plant into a biomass power plant at the estimated cost of $40 million, some of Jasper's citizens did what other communities faced with biomass plants had done: they organized. Led by a local minister, the Reverend Chris Breedlove, they occupied the sidewalk in front of city hall in an all night vigil. They posted yard signs. They knocked on doors. They testified before the Service Board. They suggested turning the coal plant into a showcase of new technology -- or maybe, instead, a museum commemorating the old coal age. They put up a Facebook page with the motto, "If we burn it, we have to breathe it. So, let it sit."
At least some citizens of Jasper believe the warning by the Massachusetts Medical Society that pollution from biomass plants presents an unacceptable health risk. Other communities in southern Indiana believe it, too.
The first organized opposition to biomass plants in southern Indiana rose up in the tiny town of Milltown on the Blue River, where Milltown's main business is an outfitter for canoers who want to float down the river on hot summer days. When a startup company called Liberty Green Renewables LLC quietly purchased land near the river for a new plant to be fueled by waste wood, the community's Paul Revere--a lively woman named Cara Beth Jones--roused friends and neighbors to speak out against what they believed would be a blow to their modest tourist economy and an industrial intrusion in their little town. They put out yard signs and showed up at state permit hearings to point out holes in the company's plan. They convinced their Crawford County commissioners to pass an ordinance requiring a local license for a new industrial facility.
Liberty Green seems to have given up on Crawford County but has another iron in the fire: a proposed plant an hour to the northeast, in Scott County. When a retired nurse there -- Pat Berna -- got wind of a plan for a biomass plant proposed for Scottsburg, she got together with allies in an earlier fight to block a hazardous waste recycling center, and they made plans to fight this new project. She also met up with Cara Beth Jones and came away armed with documents and information. Telling their story, Bloomington Alternative writer Linda Greene has described the Scott County campaign that followed:
[Concerned Citizens of Scott County] members went door to door and left leaflets in public places, such as beauty and coffee shops, and on bulletin boards...They sent letters to the editor to the local paper and scraped together the money to publish small ads... [They] scrambled to find money for bumper stickers and yard signs. They gave away the signs for free to people who wanted to post them but couldn't afford to.
Like Crawford County, Scott County commissioners also passed a local ordinance requiring industry to get a local license, and then the county's plan commission turned down Liberty Green's application. The battle is not definitively over in either Scott or Crawford counties, but opposition there and in Oakland City, Indiana, where yet another proposed biomass is on hold, has demonstrated that rural Hoosiers are not pushovers.
In Jasper, the situation is complicated by the fact that the city owns the old plant, which gives the city a financial incentive to do something profitable with it. There are at least two proposals on the table. One company proposing to lease the plant would burn both coal and biomass briquettes. The other would burn miscanthus, a tall perennial grass that is used in Europe for electricity generation. Is growing miscanthus to feed a power plant a good idea? What other land uses would it displace? How would its water requirements affect local water supply? How long would you have to grow it to compensate for the carbon that burning it puts into the air? For at least some citizens of Jasper, the more pressing concern seems to be the certainty that any biomass plant, whatever the fuel, will generate more air pollution in an area already densely populated with coal-fired power plants.
There are communities all over the country like Jasper and Milltown and Scottsburg--communities bearing the brunt of a biomass industry that has taken off in large part because of the availability of government incentives for renewable energy projects, including biomass. While biomass is renewable, growing it replaces other plants or trees that we cannot easily dispense with. Besides that, biomass combustion does not appear to be carbon neutral in as short a time as we need it to be. Yet despite the flaws of biomass as a replacement for fossil fuel, the incentives go on. The tax cut package just approved by Congress extends earlier stimulus grants to private companies (including lessees) to help cover the cost of equipping and building a biomass plant or other renewable energy projects.
The future of another major federal subsidy, the Biomass Crop Assistance Program, which gives landowners an incentive to grow crops and trees for fuel, is more uncertain -- its administrative funding was eliminated in the omnibus appropriations bill, a bill which itself appears to have been taken off the agenda.
In Jasper, citizens are not counting on Congress to rescue them from the problem Congress has helped to create. Their more immediate challenge is prying information out of their local government, which intends to select one of the biomass conversion proposals in January. Frustrated by his inability to get the details of proposals the city is considering, the Reverend Breedlove told me, "The public wakes up one morning and it's a done deal."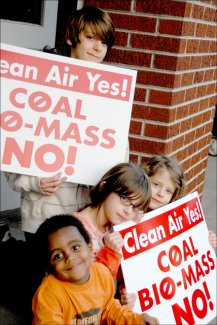 The children of the Reverend Chris Breedlove. Photo by their mother, Amy Breedlove.
SUBSCRIBE TO & FOLLOW THE MORNING EMAIL
The Morning Email helps you start your workday with everything you need to know: breaking news, entertainment and a dash of fun. Learn more