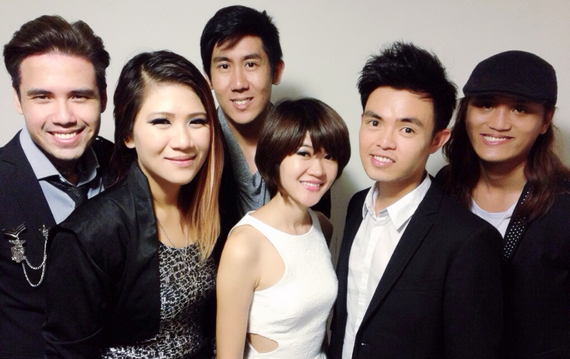 Fact #1: Cross-cultural experiences and random connections are two things that happen all over the place in D.C.
Fact #2: Nothing has the power to bring people together like music.
As a Washington-based singing group that loves to bring people with different perspectives together, The Capital Hearings have had our share of awesome cross-cultural experiences (last year we hosted fun-loving Swiss vocal group The Glue at the Embassy of Switzerland). So when we discovered last week that one of our group's singers had an old friend from his college a cappella days who just so happened to find fame in East Asia's most popular vocal band, it sounded like another cool story. How very "D.C." The real fun, though, began when this group, Singapore-based MICappella, announced they were headed to the U.S. to perform here for the first time, and we decided to host a concert for them -- on a week's notice.
If you don't really follow the a cappella music scene (other than catching the latest Pentatonix video going viral on YouTube), you may not have heard of these folks, but that doesn't change the fact that MICappella is making huge waves in the ever-growing realm of contemporary a cappella music. This month they are co-headlining the largest such festival in the United States, SoJam, taking place November 8-10 in Raleigh, North Carolina. They've also received rave reviews for their first full-length album, Here We Go, and are fresh off their runner-up finish in 2012 on China's version of the hit reality show "The Sing-Off".
Before setting off for their first-ever U.S. tour, alto Calin Wong, the group's co-founder and co-music director, took some time out of tour preparations to chat with us over email about the history of MICappella and their upcoming trip, including their stop in D.C. Additional answers came from Peter Huang, co-founder and tenor/vocal percussionist; and Eugene Yip, baritone/vocal percussionist (and very importantly, one end of that random connection).
How did your group get started? Did you ever imagine going this far when you formed?

Calin: How our group got started is a very long and winding story... to summarize, I met Peter when he came to my company for a job interview -- he pitched an idea to me instead, and we ended up founding MICappella. The rest of the members were recruited through random meet-ups and mutual friends. Honestly, MICappella started out as a 'wait and see' kind of project, but with this vision of going professional always lurking around. I'm really happy and pleasantly surprised we've come so far. For example, never would I have dreamed, four years ago, that we would be going to the USA to perform!
What has changed since you first started out?

Calin: Our rock style has more or less remained the same, but musically as a group and as individuals I feel we have matured and grown quite a lot. As a result, I feel that our product, be it visuals or sound, has become much better and of higher quality. We are also more committed to making sure that the band progresses in every aspect.
How would you describe your sound? What type of repertoire do you perform?

Calin: We are... LOUD. In your face. Rock. Dynamic. High-energy. And we perform mostly rock songs and rock covers of otherwise not so rock songs. Hahaha. And we are effectively bilingual too.
What's the a cappella scene like in Asia? Are there a lot of groups (more/less than Europe or the U.S.)? Is it a popular form of music over there?

Calin: The a cappella scene in Asia is rather vibrant, in the past few years or so many new groups have been popping up. I have been to Taiwan and Korea to visit the a cappella scene, not to mention China's "The Sing-Off," and there really ARE a lot of groups, much more than Singapore, of course. (Singapore's a really tiny place.) Most of them use English a cappella scores, e.g. Chili Con Carne is one of the most widely covered score. Hence I would say a cappella is still slowly getting more recognition in Asia, but because it's a relatively newer genre of music compared to in Europe or the U.S., I wouldn't really say that it's POPULAR -- but it's definitely gaining awareness recently, thanks to "Glee," "The Sing-Off" and PTX (that would be short for YouTube sensations Pentatonix). And hopefully thanks to MICappella as well. Haha. That said, we definitely still have our fair share of people thinking that we're a small-scale choir.
What was it like competing on "The Sing-Off" China? Have you seen the American version? Are there any comparisons you can draw?

Calin: Honestly I didn't watch "The Sing-Off" in depth beforehand, but I did look at quite a few videos on YouTube. When I was watching the videos, it totally didn't cross my mind how much hardship, patience, and strength it takes to churn out one song after another, week after week. Which was what happened to us during the competition. Not forgetting the choreography and staging, etc. I basically ate, lived, and breathed a cappella for three months. After the competition, I've also developed an overwhelming respect for the people behind the scenes, because without them, the show wouldn't be awesome. It was a really humbling and eye-opening experience and I felt that we emerged a more enlightened group.
Is this your first tour as a group to the U.S.? What has it been like preparing for this trip?

Calin: Yes! We've been really busy preparing for the trip, like coming up with the appropriate set lists for the performances and making sure we have a nice mix of languages, planning the trip itinerary, booking transport and accommodation, etc. I don't think it's gonna end even after we board the plane. Haha. That said, I'm super super psyched. I've never been to the U.S. and I've heard so much about it, so it's really good to finally see what its really like.
What brought you down to D.C.? And how did this concert come about?

Calin: Well, we are arriving in NYC and driving down to Raleigh, so D.C. is actually on the way, so we thought that we couldn't miss this opportunity to say hi and meet more people!
What do you know about Washington? Or, what impressions do you have of it from what you have heard? Anything you are looking forward to doing/seeing while you are here?

Calin: I'm very new to the U.S., so I'm not sure what exactly to be looking out for but I know that I'd like to take a photo with the White House! But mostly, we know there's a huge aca-community in D.C. so we're looking forward to meeting more people doing a cappella and learning.
What are you most excited for regarding the concert / meet-up in D.C.?

Calin: Listening to more great a cappella groups (like [The Capital Hearings]) and making new friends!
How did you get selected to co-headline the SoJam festival? And what was your reaction to being selected?

Peter: We had kept in touch with folks from CASA (The Contemporary A cappella Society) since quite some time back, and along the way got to know that we were under consideration for one of the CASA festivals in 2013. News came later that we had been invited for SoJam, though our role wasn't confirmed until later. We are very honoured and humbled to be chosen to represent our part of the world at an event like SoJam, and we hope audiences will enjoy the our performance!
What are you most excited for at SoJam?

Calin: Co-performing with The Swingle Singers and finally getting to meet everyone who's helped us so much with our album! We want to give all of them big hugs!!
What's next? Do you have your sights set on any new goals? Will you be coming back to the U.S. in the future?

Calin: To answer both questions, one thing I hope for is that after this trip we will be invited more often to the U.S. to share our music with everyone there. In other aspects, I hope that we can continue to come up with more originals in our future albums, so as to reach out to not just the Asian a cappella market, but the mainstream one as well. Spread the love!
At least a couple of you sang in college groups in the U.S. Do you have any advice for college a cappella singers/groups that are trying to raise the level of their performance?

Peter: I think one of the biggest factors is having the drive and motivation. If the group has sluggish motivation and drive, it will be difficult to push the members to go any further than where they are now. I think the key is to find that common goal that all the folks in the group can believe in and fight for, and use that as the driving force. Beyond that, it's mostly finding the right people to help you guys out with training, arrangement, engineering, and so on. Making cost-efficient investments to push your performance level to the next step!
Eugene: Being an alumni of the University of Michigan Gentlemen, or "G-Men" for short, the one thing that always led to progress was trying to push the boundaries of the traditional expectation of what a voice/performer should be--especially so for a cappella, as we have one of the most versatile instruments around. With technology, new arrangement styles, and genres, we are moving into an era where the "Vocal Rock/ RnB/ Dance/ Electro/ Pop Band" is a VERY real unicorn. Envision a sound that could very well be played in a mainstream setting, and run with it just using voices and whatever tech and talent you can gather together. Take your unicorn by the reins, and with a good amount of hard work and creativity you will definitely go very far.
MICappella's special Washington, D.C. engagement is an intimate show and meet-up for fans on Sunday, November 3rd, at 8pm, hosted by local group The Capital Hearings. Visit the Facebook event page for details.