"... chronicles the competitions in innovation that pitted history's brightest minds against each other in the race to lay claim to the future. From Steve Jobs vs. Bill Gates to the Wright Brothers vs. Glen [sic] Curtiss, each episode of the show focuses on a specific rivalry, delving into the fierce power struggles, deceit, fluke timing, and raw ambition out of which innovation was born. Iconic masterminds pushed themselves to the limits of human genius, overcoming equally brilliant and ruthless competitors to turn history's greatest ideas into reality."
"Use this collection of educational content to delve deeper into relevant history and geography topics and the show's main themes of competition, innovation, and failure as a critical part of success."
"... the demons that caused Wilbur Wright to abandon science, to eschew innovation, to embark on a hopeless crusade to vanquish foes real and imagined, robbed him of decades of his life and America and the world of one of its exceptional intellects. That the tragedy of Wilbur's fall was self-generated makes the irony only that much more cruel."
"The Wright Brothers build and fly the world's first airplane, but they keep it a secret, leaving an opening for motor designer, Glenn Curtiss, to swoop in and compete to be the first to fly in public."
"Despite Orville Wright's pleas to his brother to prove to the world they have working airplanes, Wilbur fiercely protects his planes, working obsessively on design and guarding his patents and less on promoting the field of aviation through publicized flying demonstrations."
"The Wright brothers have locked Glenn Curtiss in a brutal patent suit, bringing their rival to the brink of bankruptcy."
"Wilbur recognized that you needed to fly in wind. He said no bird soars in a calm, and they were looking for some place where it was sandy, so if you landed you wouldn't get killed."
"Wilbur Wright, an intense, determined bicycle mechanic from Ohio, discovers the key to human flight: wing warping - the subtle dip and rise that birds take to maintain balance."
"Mr. Curtiss is a man who shows no respect, for himself, for others, for the courts of law. When you're dealing with a man like that, not much you can do, other than keep going."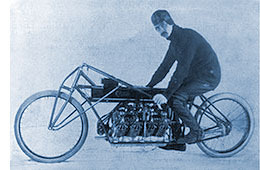 "I didn't need to be the first man in the air. I prefer to be on the ground. I prefer a motorcycle. I prefer wheels on the earth... and I have my business, Curtiss Engines... and this is only speculation but I feel as though, perhaps, the Wright brothers were compelled to work inwards because this is what they had. They felt destined to be the first in flight. I was fascinated, I was compelled, but I didn't feel it was my purpose on earth."
"The Wright Brothers' rival, Glenn Curtiss, has none of their restraint. He's a pioneering motorcyclist, a go-getter, and he seizes on the challenge of flight with another design for balance - ailerons, the flaps we use on airplane wings today."
"I would have preferred collaboration, but if I were to choose a rival I would have preferred a more straight forward fight.

"During this never-ending court battle, I was not only bleeding out, but the entire aviation industry, [unintelligible] over the idea of aviation, was stopped."
"Wilbur Wright reluctantly allows Orville to give a flight demonstration to the US War Department, in an attempt to reclaim their title as aviation pioneers."
SUBSCRIBE AND FOLLOW
Get top stories and blog posts emailed to me each day. Newsletters may offer personalized content or advertisements.
Learn more