How To Make Homemade Cordials
Now that fall is in full swing and you're trying to figure out how to bring back the flavors of the bountiful herbs and produce from the warm summer months, consider using them to infuse alcohols by making your own homemade cordials.  
Infusing your favorite alcohols and liquors with herbs and seasonal fruits lends an incredibly aromatic and flavorful combination that really enlivens the palate. To dig a little bit deeper into the world of culinary herbs outside of the conventional ways of using them for savory dishes in the kitchen, you can go out in your own garden, farmer's market, or even the herb section of the market, and "harvest" your own herbs to mix up unique blends and herbal infusions, creating your own personal herbal-infused liqueurs and cordials, using everyday herbs and berries that are readily available in a new and unique way.
When you get the hang of it, try hosting an "herb-harvesting and cordial-making session" with your friends, family, and/or neighbors, and make an entire fun-filled afternoon out of it! Set out pretty colored glass bottles with labels that everyone can infuse, create, and fill to their liking with their own cordial combinations. Everyone can attach their own label describing the contents, and have some colored sealing wax or cork stoppers on hand so everyone can seal them up and take home with them as a keepsake. Guide your guests through blending for their own palate and style, walking them through a "tasting" meditation, teaching people about the elements of taste and the palate.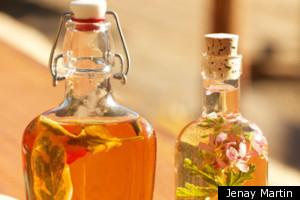 Some of my favorite combinations are tequila, strawberry, with damiana, or vodka, cilantro, with fresh pineapple, but the sky is the limit. Don't restrict yourself to any specific alcohol or type of fruit -- citrus, berries, stonefruit, etc. all can work equally with any combination of herbs to really infuse the spirits with their bright extractions and healthy sweetness. Don't be afraid to experiment, try out and test new flavor combinations, and make sure everyone gets to sample each others' creations when you're finished!

Follow Cat Cora on Twitter: www.twitter.com/@catcora