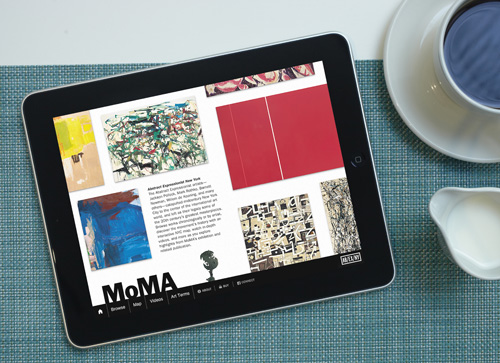 MoMA's new app for iPad
Nope: it looks like a very concise, very tidy little package.
Designed and developed by the New York-based firm Deep Focus, the app showcases 60 of the abstract expressionist works in hi-rez digital and shareable format, 20 short videos with expert and curatorial commentary, an illustrated interactive map of historically relevant locations tricked out with audio and archival images and, of course, a link to the museum's shop.
With a choice of ways to browse and share images of Pollacks and Rothkos, Gottleibs and Gorkys, the extremely social media friendly app is an important aspect of MoMA's new drive to harness digital technology in order to reach a fast growing tech-savvy youth market.
The Ab Ex iPad app follows closely upon the heels of MoMA's iPhone app and its announcement of free museum-wide WiFi access, and a MoMA Channel on iTunes.
The Ab Ex NY App is available for free from the App Store:
Information is also available at: http://www.moma.org/explore/mobile/abexnyapp
SUBSCRIBE TO & FOLLOW CULTURE SHIFT
Level up. Read THIS and be the most interesting person at your dinner party. Learn more