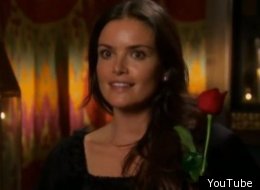 It's time for The Bachelorette again: one woman, 25 men. What could go wrong?
Well, based on past seasons, a lot. Will they all be there for the "right reasons," presumably being finding someone they can fall in love with and marry? Doubtful. Maybe the quest for love is what brought women and men to the series in the early seasons -- before the casting became one part American Idol auditions and one part opportunity to launch your career in television, movies, music, etc.
That doesn't leave much room for love, does it? So why do it? Is it just a chance to expose yourself to the public, to be the next William Hung? Or is there really still room in there for romance?
In my novel, Arranged [William Morrow Paperbacks, $14.99], I explore what might lead someone to use an arranged marriage service. While the premise came to me when there was a proliferation of "reality" dating shows on the air, (where did the rest of them go, anyway?) it was before The Bachelor became the spectacle that it often seems to be.
So, how did it get that way? Why wasn't the basic premise of one person dating 25 people at once enough to keep our attention? Was it planned or did it just result from some early contestants who pushed the boundaries? I'm thinking it's a mix of both, but to the extent that it's the latter, I blame the following people:
As an aside, isn't it a bit weird that I can write "Ben's season" and millions of people know what it means? Courtney is the 28-year-old model who "coerced" Ben into taking a dip in the nude in Puerto Rico and might just have had sex with him. (Second aside, is it just me or does Ben look like he was separated at birth from Crosbie on Parenthood?) And oh, all the girls in the house hated her. Surprise! Every season seems to have three categories of contestants: (1) The I'm-not-here-to-make-friends set, (2) The I'll-stick-by-my-new-girlfriends-even-though-I'm-trying-to-end-up-with-the-same-man set, and (3) The weirdos. Courtney was special because she fell into both 1 and 3. And then she won. And then Ben had to watch how much the other girls hated her. But apparently, they're still together. This week.

Another woman who all the other girls hated and who ended up winning the show. And we were all thinking: What the hell does he see in her? I mean he's so nice, and handsome and he's a pilot. What a catch! And then we watched the "reunion" show where they'd broken up. And wow. I get it now. And I almost felt sorry for Vienna. Almost.

Anyone with a catch phrase is suspect. But also, he got a tattoo of Ali's name on his body! Before she chose him! Like a permanent one! And then he dated Vienna and took that show on the road, or more precisely on the Bachelor Pad (where all the rejects in category 3 go to further perform for our amusement). And then, they broke up! But now they're apparently going to be on Relationship Rehab. Whatever that is. So now they've entered category (4): Career reality stars. This is a category that should not exist. Just saying.

He went on the show to promote his business, did nothing to hide it, and got turned in by his ex-wife when she called Ashley to warn her. But then, Ashley didn't heed the warning. So who's in category 3 here? Not so sure.

Continuing on a theme and then taking it up a notch. Not only was Wes clearly only on the show to promote his "music," he apparently had a girlfriend the whole time, which Jake revealed. Because before he was "The Bachelor," Jake had to be rejected by Jillian. But not before he tried to take out his competition! Ah, Jake, if only you'd taken your own advice.

Girl wore fangs on the show. For reals. But then she pulled out of the competition because she realized other girls needed Brad more than she did. Or she can't go out in sunlight. Whatever. Did I forget to mention that Brad was actually "The Bachelor" twice?! Dude. You made history in a really lame way. And is the pool of good-looking men who want to boost their careers by dating twenty-five women at the same time really that small?

Man, Ashley had it rough! Anyway, Jeff thought it was a good idea to wear a mask. And not just an ordinary mask, but a weird, black, feathery thing that looked like it was part of Natalie Portman's costume in Black Swan. How did he not get voted off on the first episode? Either Ashley has zero common sense (see above), or the contestants aren't entirely in charge of who stays and who goes. What? No, it couldn't be ...

Ali's another one who had it rough. Rejected by Jake even when she returned and begged him to take her back, she had to endure getting a call from a woman who claimed to be dating one of the men she was dating. Cuz, like, that is so not cool. Only "The Bachelor/Bachelorette" can date more than one person at once. Got that? Good.

So, this is the girl who was on Brad's season, but then crashed Ben's season because she'd had a brief fling with him before the show started. And "somehow" the producers let her do it. Yeah, right. But what I want to know is: How do all of these people seem to know one another already? Is there some Bachelor Island where they're being grown in Matrix-like pods? Wait, forget I said that. I need to call Suzanne Collins.
Follow Catherine McKenzie on Twitter: www.twitter.com/cemckenzie1