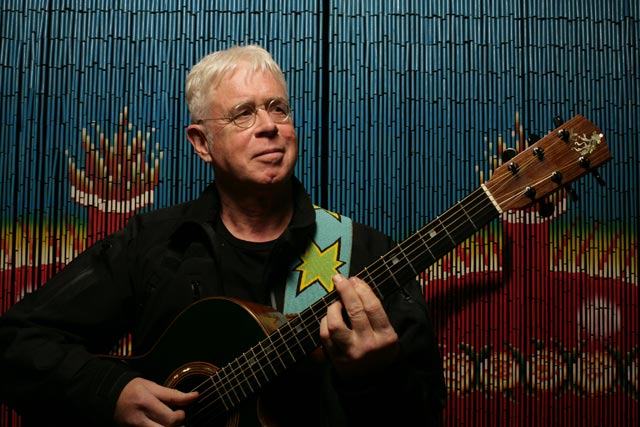 There's roads and there's roads
And they call, can't you hear it?
Roads of the earth
And roads of the spirit
The best roads of all
Are the ones that aren't certain
One of those is where you'll find me
Till they drop the big curtain
Canadian singer-songwriter Bruce Cockburn recorded those lyrics in "Child of the Wind" on Christmas Eve 1989.
With the release of his 31st album in 40 years, "Small Source of Comfort," it is obvious that this "child of the wind" continues to travel uncertain roads, as compelled as ever by the adventures that await him.
"Small Source of Comfort" is Cockburn's first new studio album since 2006's "Life Short Call Now," and takes listeners on another vivid journey -- a sonic road trip. Cockburn lives in Ontario but his longtime girlfriend, MJ, moved from Brooklyn, NY to San Francisco a few years back and her suitor-troubadour spends a lot of time crisscrossing North America to spend time with her.
"It's road travel that dominates the imagery on the album" Cockburn said by phone from his home in Kingston last week. The road trips gave him a lot of time alone, "which was one of the attractions," he said. "I don't do that very much these days so the road is the way to get that solitary space."
Cockburn passes the time on his Canada-to-California trips by talking on the phone, listening to music or simply watching the highway roll out before him and the landscape ebb and flow, transforming great plains into mountains and rivers into sea.
The stunningly beautiful song, "Radiance," says, in part, "She strides across the blacktop/Low-sun lit, golden/Radiance is a woman."
Cockburn, 65, got the idea from an article mentioning "'the Divine Feminine representing the radiance which pervades the cosmos.' I liked the image. Then, driving down the road at sunset, I saw the first verse unfold," he says in the album's liner notes.
A collaboration with fiddler Jenny Scheiman started by working on a demo together for a proposed film soundtrack that got derailed when the director went in a different musical direction.
While their soundtrack never materialized, the partnership between Cockburn and Scheiman inspired several new songs on "Small Source of Comfort," including the instrumentals "Bohemian Three Step" and "Lois on the Autobaun," another road-travel-inspired song named for Cockburn's mother, who passed away last August. (An interesting aside: In 1970, the year his first album was released, Cockburn composed two songs for the soundtrack of the film "Goin' Down the Road" the story of two young men who drive their Chevy Impala from the Canadian Maritimes to Toronto and is widely considered to be one of the most influential Canadian films of all time.)
Cockburn also composed two new songs with Annabelle Chvostek (formerly of the Wailin' Jennys) -- "Driving Away" and "Boundless." The latter describes a journey of a more eternal variety.

The howling wind it sings to me
The sky looks troubled but I feel free
Visions and feeling and ink on my hands
You can travel forever and never land
A few years ago, when I asked him who he thought God was, Cockburn, a Christian with a serious aversion to dogmatism, said he liked the "Kabalistic view of God as 'the boundless,' ... that there's no image that applies at all and there's no limits and every image that you could possibly think of is going to have limitations."
When Cockburn isn't touring the world as a musician, you can often find him traveling the globe as a "seeker." In the last three years, his wanderlust has taken him to Argentina (where he attempted to learn Spanish and the tango, with mixed results), Israel, Nepal and Afghanistan, where in 2009 he visited his younger brother, Capt. John Cockburn, a physician in the Canadian Army.
Cockburn, a longtime social-justice activist whose political leanings often tilt to the left, has serious misgivings about the war in Afghanistan. So when his brother decided to join the military about three years ago, after a long career as a civilian doctor, it gave rise to some interesting conversations, and a journey to the Middle East to see the war up close and personal.
"You have to respect the opinion of people who spend so much time that close to something," he said. "I don't know where this all shakes down to in terms of should we or shouldn't we be there ...the cons probably out weight the pros, but the pros are very real too. You probably don't want a country that is run by a bunch of assholes that go around throwing acid in women's faces because they want to learn to read. Fuck you. Fuck those people. They don't have the right to walk around like that.
"I mean, do we need to send an army to deal with it? I don't know about that, but that's what they're dealing with. And it's like a boil in the world, that kind of thinking, that fundamentalist attitude that says our way is the only way and anyone who doesn't go our way is going to get hurt. And it's the same when it's got a Christian face, when it's got a Muslim face, or when its' got a Marxist face, for that matter. Believers of that kind are in serious error and part of their serious error it to think that they have the right to get the rest of us to think like they do and act like they do. And they don't. So how much of that can you put up with in the world?"
On his journey from Ottawa to Kandahar Airfield in Afghanistan where he played for the troops and, upon performing his famous song "If I Had a Rocket Launcher" was briefly handed an actual rocket launcher, Cockburn who was traveling with the governor general of Canada, stopped over at Camp Mirage, a military staging area near Dubai. There he witnessed a ramp ceremony for two Canadian Forces members who had been killed earlier in the day. He stood on the tarmac in tears as the servicemen's caskets were lowered from a plane and loaded into a van for their long trip back home.
That experience, which touched Cockburn so deeply he has a hard time articulating it in conversation, was the inspiration for "Each One Lost," perhaps the most powerful song on the new album.
In it, Cockburn sings, "We want the rule of love enough to fight and die to keep it coming/if that sounds like confusion brother think again/we know exactly what we chose/Each one lost."
The final track on "Small Source of Comfort" is the song "Gifts," originally composed in the late 1960s. Cockburn refused to record it for his first album, joking at the time that he'd record it for his last instead.
The appearance of the song on his latest album begs the question: Is there something you're not telling us, Bruce?
"No, no," he laughed. "At this point, it seemed like if I'm really going to put it on the last album that I really ought to start thinking about that. 'Cause you never know now. I may be...it's not necessary to imagine my demise but it could be that. It could be that the hands give out or the brain gives out or something happens - or that the creativity gives out. Any of these things can happen and sometimes do to people, so it seemed like this was time."
"Small Source of Comfort" doesn't have a whiff of finality to it, at least not to my ears. I certainly didn't hear a final curtain call.
"I'll try to remember that if the time comes," he said, still chuckling. "'No, Cathleen doesn't think it is. You've got it all wrong. It's not supposed to be the last album.'"
Cockburn is heading out on that uncertain road once again when he launches a tour of North America on March 24 in Kelowna, British Columbia.
His extraordinary journey -- musical, spiritual and otherwise -- continues. I, for one, am just happy to be along for the ride.
SUBSCRIBE TO & FOLLOW THE MORNING EMAIL
The Morning Email helps you start your workday with everything you need to know: breaking news, entertainment and a dash of fun. Learn more