In the lobby of my apartment building, there is a Christmas tree adorned with ornaments and colored lights. A boombox is placed conspicuously behind it, playing holiday tunes at higher-than-expected decimals. Both the lights and the music are kept on all day and night, welcoming the rest of the tenants and I each time we come home.
I appreciate the gesture on behalf of my building's management. But in a time when public service announcements are urging residents to shut off their electronics when not in use, and companies worldwide are searching for ever more energy-saving solutions, it doesn't set the tone right with me.
In an effort to revamp their power-greedy image, major landmarks are trimming the environmental impact of their spectacles. The Christmas tree at Rockefeller Center proudly announced its switch to more energy-efficient LED lights last year. Times Square recently made the move towards reducing 190,000 kWh of energy and 200,000 pounds of carbon dioxide emissions annually, and the New Year's Eve ball was also outfitted with LED lights. The Eiffel Tower decreased the length of its nightly light show from ten to five minutes this October, stressing an emphasis on sustainability rather than savings. (Imagine if, instead of bathing the tower of the Empire State Building in green light on Earth Day, it went au naturel?)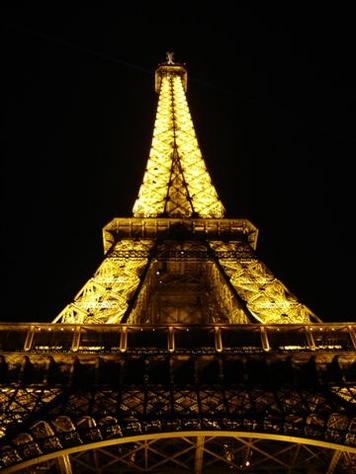 Yet when I look across the street, the front lawn of another building is filled to the brim with Santa and candy cane kites swaying with air being pumped from a loud generator and "Happy Holidays" spelled out in multiple bright lights. You know the homes I'm talking about, the gaudy eyesores that reappear year after year. But along the block, I can see lit Christmas trees through windows. Thanks to my late-night holiday reveling lately, I know all too well that these, too, are kept on all night long. I don't think this is for me and the rest of the early morning riff-raff's benefit.
I think it's lazy. Let's come to our senses, people. In the current recession, spending less on presents is a priority, but what of reducing our energy bills? If elaborate decorations like the ones described above are an easy target, consider the fact that Americans spent 8 billion on holiday decorations last year and are expected to do the same this one. Of course, not all of the frills are energy guzzlers. But I haven't seen a "Christmas tree" without electric bulbs in all my life - it seems like this is prerequisite. Won't glitter and glass do enough justice? Does it really need to be lit 24/7? Can you hear the sleighbells ring-ring-ringaling when they're actually picked up, and shaken, rather than blast through speakers?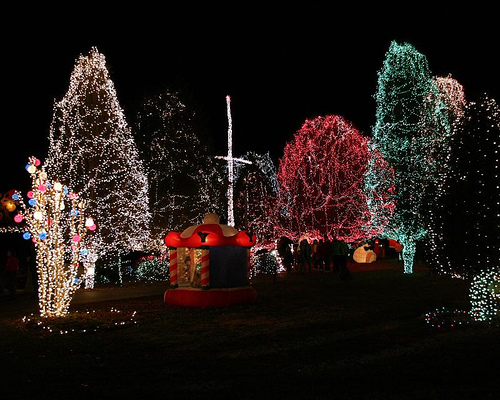 There are many ways of reducing household energy consumption and costs while not looking like Scrooge this season. Turning off lights as you would your computer at night is a start. A saintly crèche looks fitting un-wired. A good, old-fashioned snowman never goes out of style. Candles are a fire hazard, so we don't need to dabble heavily there. Dickensian England is arguably the most clung-to Christmas aesthetic. There was no electricity then, and people still seemed relatively jolly. On the other hand, I haven't heard a group of carolers come knocking at my door yet.
So before you invest in new LED lighting, which run on approximately one-eighth the energy of traditional lights, you may want to ask yourself what the real meaning of spreading cheer is. Is it putting up appearances with strings of lights and holly and leaving them be, to do the work for you? Or being more active about it? If your idea of getting into the spirit is parading around in costume a la last weekend's Santacon, so be it! Kissing under a mistletoe is a green-friendly seasonal activity, so is helping out at a soup kitchen, or running a coat drive. Instead of handing over extra cash to Con Edison for your home decorations, why not scrimp on power and donate it to a charity?

There's nothing wrong with showing pride in your dwelling and decking the halls with seasonal snazz. Beauty is in the eye of the beholder. I think less wattage this holiday season sounds like a brilliant vision to me.
SUBSCRIBE TO & FOLLOW THE MORNING EMAIL
The Morning Email helps you start your workday with everything you need to know: breaking news, entertainment and a dash of fun. Learn more