I caught an advance screening of author Elizabeth Gilbert's wildly successful book turned film Eat Pray Love which tells the real-life tale of a writer who embarks on a year long journey of healing and enlightenment, ultimately discovering herself -- and love -- along the way.
Devotees of the book will note that the story is altered somewhat for Hollywood (it's rare a film is ever better than the book if not for the sheer reason of time and length) and glamorized as Julia Roberts looks picture perfect, even scrubbing an ashram floor. It's also pure eye candy, part travelogue/part gastronomic feast as the viewer takes in the sensory sights and smells of culinary Italy, colorful India and idyllic Bali. And in a departure from his more serious roles, a more handsome than ever Javier Bardem certainly adds to the scenery as well (but left me wishing he had more screen time as he is such a wonderful actor).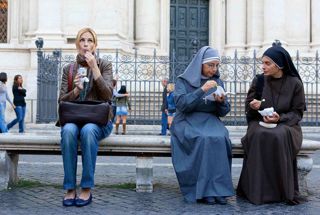 Elizabeth Gilbert's story is the stuff Hollywood movies are made of. A year long adventure paid for by a book advance culminated in love and marriage, a lengthy spot on the New York Times best seller list and Julia Roberts playing her life on the big screen (talk about turning lemons into lemonade). I spoke with the incredibly grounded and down to earth author several months ago about the whole EPL experience. She admitted, "Life is very surreal, I am on a surreality overdose! Maybe when I am in my eighties I will put it all in perspective." Viewers will be happy to know that she was quite pleased with the film adaptation, noting "The film has a lovely sweet energy around the book. The filmmakers really got it right."
While the film will no doubt spark an increase in tourism (think EPL tour packages) and retail (everything from film related prayer beads to Padma Lakshmi green teas are being marketed on the Home Shopping Network), I couldn't help but wonder if we will see a trend in meditation and ashram bookings as well as an increase in spirituality books -- all in the name of enlightenment. (Publishers and personal gurus take note).
And if any publisher is reading, I am more than happy to take off a year, sample the great wines of the Loire Valley, hit the couture salons of Paris and stay in luxury hotels in the process. Drink/Sleep/Shop could be total enlightenment for me.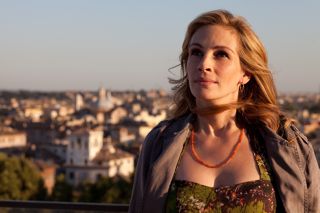 Photo credits: Columbia Pictures
This Blogger's Books and Other Items from...
FOLLOW HUFFPOST