Another day at Basel and another evening of insanity.
Yes, Friday night wasn't much easier than Thursday.
Here is where we bounced to and fro: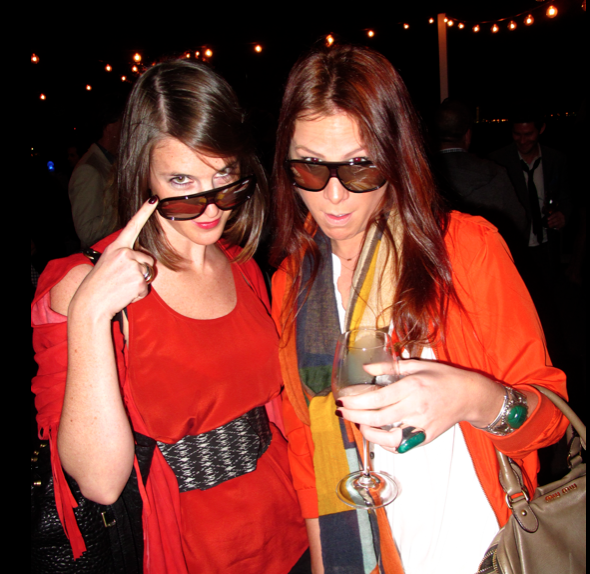 Two guests at the Marco Brambilla 3-D movie with 3-D glasses by Armani Exchange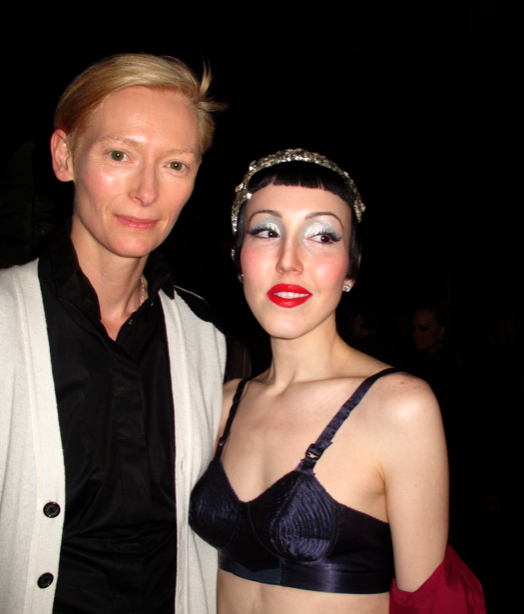 My Idol Tilda Swinton and the darling Michelle Harper at the Pringle of Scotland/Serpentine Dinner
6:30 - 9 pm
Another Magazine/Jefferson Hack/Marina Abromovic premiere of Marco Brambilla's new 3D video
The Standard Hotel & Spa
7 - 9 pm
Kaws Book Signing in conjunction with Skira Rizzoli & The Aldrich Museum
The Standard Hotel & Spa, Lido Lounge
8 - 11 pm
The Wolfsonian-FIU Reception Speed Limits: Seduce Me, a collaboration by Isabella Rossellini, Andy Byers, and Rick Gilbert.
1001 Washington Ave.
8 - 11 pm
ArtReview, Lacoste, Morgans Cocktail Party
Solarium at the Delano, 1685 Collins Ave.
8 - 11 pm
Dirty Durty Diary & DGI present Adult Playground. Music by DJ Paul Sevigny
Sunset Lounge at Mondrian, 1100 West Ave. (@ 11th St.)
8 pm
ART GAME SHOW celebrating the launch of Art Game Books from ASSOULINE
Hosted by Van Cleef & Arpels, Peter Tunney, Brooke Geahan
Walter Salon at the Delano, 1685 Collins Ave., Enter on 17th Street
8:30 pm
Pringle/Serpentine Gallery dinner with Tilda Swinton
The Webster, 1220 Collins Ave.
9:30 pm
LACMA President's Circle Avant-Garde Dinner
Mr. Chow at the W Hotel, 2201 Collins Ave.
10:30 pm
VISIONAIRE Party / The Great Vodka River by Fyodor Pavlov Andreevich
hosted by Stephen Gan, Cecilia Dean, James Kaliardos & Derek Blasberg
Location TBD
11:00 pm - 6 am
Country Club / Ryan McGinness VIP Opening Party
Club Madonna, 1527 Washington Ave.
I have to be honest, the uncle Cator was worn thin by tonight and I didn't get as many quotes as I wished. Phone died, shots arrived, you get the picture.
But I have to say these were pretty hysterical.
Quote 1:
At the Visionaire Party
"I get all dressed up for these parties and all they can do is give me a crappy plastic wrist band? Can they come up with something chicer?"
Quote 2:
" Gurl my friend hooked up with some dude in the janitors closet in the Lords Hotel only to fall out and get locked out of their closet. They both had to scurry to the concierge buck naked to ask for a key."
Quote 3:
After a journalist completely screwed up an interview
"My life is a string of awkward moments."
Quote 4:
"The problem we have in the art world is that there's just too much art out there," said one dealer to a couple while walking past the Great Vodka River created by Fyodor Pavlov-Andreevich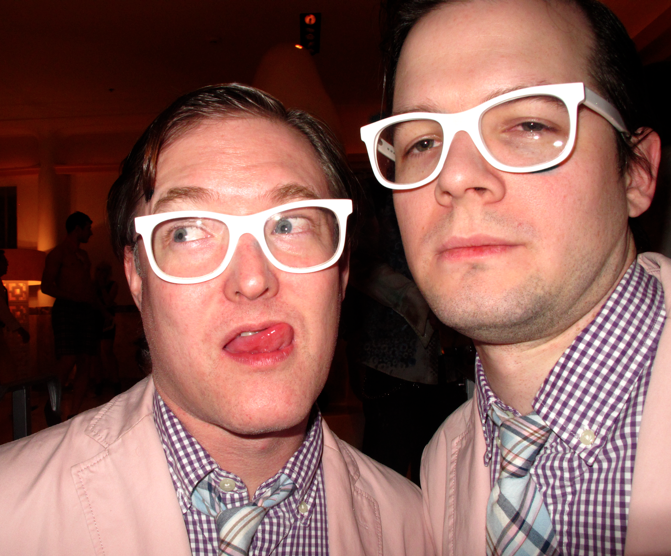 Artists Andrew Andrew having a damn good night
FOLLOW HUFFPOST