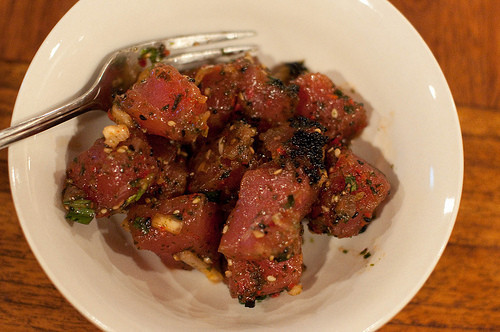 Oahu is known as "The Gathering Place," and, true to its name, this Polynesian paradise offers plenty of places to mingle with locals while tempting the taste buds. The legendary fish markets, shaved ice shops, home-style kitchens, and farmer's markets offer authentic encounters with the island's cuisine.
Start with a heavenly Hawaiian breakfast at Boots & Kimo's Homestyle Kitchen. Skim the menu, skipping over omelets, eggs benedict, waffles, and other standard diner fare until you get to the pancakes. These won't, however, be your everyday hotcakes. Light and fluffy, these delectable discs are smothered in a sauce of a Polynesian persuasion. That sweet, creamy deliciousness pooling on your plate is made from macadamia nuts, a highly nutritious nut first planted in Hawaii in the late 19th century.
Now for another local specialty: fish. Surrounded by ocean, Oahu is one of the world's best places to sample seafood. A diverse range of species make their homes in the vast oceans off Oahu's coasts, and a taste of the traditional Hawaiian-style sashimi salad known as Poke (pronounced po-keh) is a must for foodies. Continue your culinary expedition with a visit to Tamashiro Market. The famous pink building, crowned with a crab on N King Street in Honolulu is a seafood lover's paradise. Fresh from the Pacific Ocean, lobster, salmon, oysters, shrimp, and high-grade ahi tuna fill the market's icy cases. Take a look at the dizzying assortment of fresh catches, then head to the counter and order the Poke Bowl or Poke Bento. Poke is a healthy, refreshing meal that often includes ahi tuna, swordfish, snapper, octopus or lobster. The fish is served with marinated tomatoes, onions, and seaweed, and infused with sesame oil and chili pepper to form one of Hawaii's most treasured specialties.
Oahu is bathed in splendid South Pacific sunshine, and the fruits of her land are as abundant as the bounty of her seas. For an intimate encounter with Oahu's farmers, ranchers, food producers, and other artisans, head to the Farmer's Market at Kapiloani Community College. A cornucopia of vendors, many of whom normally only supply restaurants, unveil their farm-fresh delights each Saturday morning from 7:30 to 11 a.m. There's grass-fed beef from the North Shore Cattle Company, organic eggs from Blue Lotus Farms, Ohi'a Lihua Blossom honey from Big Island Bees, and sweet corn from Nozawa Farm. Smell the vanilla beans at the Hawaiian Vanilla Company's stand and pick up a bottle of local vanilla extract to take home along with your stash of passionfruit jam, Hawaiian blend spice, and Kona coffee beans.
After sampling the heirloom tomatoes and pineapple all morning, you'll want to spend some quiet time cooling off with a colorful cone of shaved ice. Vendors across the island offer the sweet treat, but the best spot to indulge in this favorite refresher is Matsumoto Shave Ice in historic of Haleiwa Town on Oahu's North Shore. The family-run business recently celebrated its 60th year, a milestone no doubt attributed to the impressive range of flavors it offers. Try the coconut, lychee, green tea, or tangerine with either vanilla ice cream or Azuki beans and enjoy an afternoon indulgence like the locals do. Just don't call it a snow cone.
FOLLOW HUFFPOST