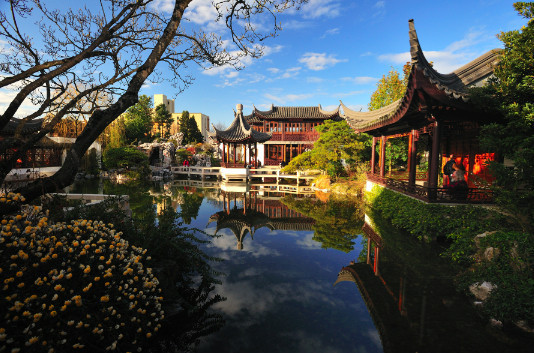 America's cities are full of hidden charms--special places that offer respite from the bustle of the metropolis. I love seeking out those quiet spots where I can spend a peaceful afternoon alone, or with a close companion or two. With this kind of tranquil getaway in mind, I present a house, a spa, a sculpture park, and a Chinese garden that promise sweet serenity in chic urban destinations around the country.
Nasher Sculpture Center - Dallas, Texas

Nature merges with art and architecture at the Nasher Sculpture Center in Dallas, where a 55,000-square-foot building houses Raymond and Patsy Nasher's vast collection of 20th-century art. The extraordinary Italian travertine and clear glass structure make for a wonderful refuge on a rainy day, but when the Texas sun shines, you'll want to spend most of your visit strolling the grounds. A revolving cast of 25 larger-than-life sculptures by the likes of Joan Miró and Isamu Naguchi rise among cedar elms, crepe myrtles, and weeping willows. Serene fountains and stone pathways contribute to an atmosphere of soothing tranquility.
Urbana Cityspa and Teabar - Charlotte, North Carolina

Calm pervades Charlotte's Urbana Cityspa and Teabar, promising a blissful escape from life's stresses. Sip an aromatic herbal infusion and let the slow unwind begin. With private treatment rooms called Whisper, Nirvana, and Zen, you know this place is for real. But it's not until the warmth of those Hawaiian hot stones seeps into your aching muscles that you've realized you've discovered your own little bit of heaven on earth.
Greystone Mansion and Park - Los Angeles, California

From Ghostbusters to the Big Lebowski, Greystone Mansion and Park has set the scene for dozens of feature films. So if you like playing movie star, or king or queen of the mansion, this one's for you. Constructed in 1928 for a wealthy heir to an oil fortune, this 55-room English Tudor estate is the largest residence ever built in Beverly Hills. The house itself is only open for special events, but the 18.5 acres of pastoral parklands that surround it are yours for the taking. Run through the fields like a Brontë heroine, stroll the gardens like French aristocracy, or give your imagination free rein to make up your own silver screen character in this elegant playground.
Lan Su Chinese Garden - Portland, Oregon

Take a deep breath before passing through the stone gateway to Portland's Lan Su Chinese Garden. You'll want to fill those lungs with the air of serenity that flows across lotus ponds and foot-bridges at this Zen-like oasis. Stretching across a city block, the gardens are designed to resemble the classical gardens of Suzhou. Explore tranquil spaces like the "Celestial House of Permeating Fragrance" and the "Tower of Cosmic Reflections" and feel revitalized by the harmonious energy that permeates this magical place.
SUBSCRIBE TO & FOLLOW LIFESTYLE
Get top stories and blog posts emailed to me each day. Newsletters may offer personalized content or advertisements. Learn more