For those of you who are regulars on the party scene, this situation will sound familiar.

Well dressed and manicured, you are a guest at a chic cocktail party. As you balance your clutch under one arm and your martini in the other, you strike up a conversation with the cute guy/important client/big boss. All is going well until the waiter comes around with a tray of savory hors d'oeuvres. You pick up a chicken satay, dip it in teriyaki, take a bite and then realize that you are left with an unsightly skewer in your hand and a sauce stain on your dress.

When it comes to serving passed hors d'oeuvres, even the most gracious host can sometimes make a poor choice. Shrimp cocktail might seem like an elegant option but, let me tell you, there is nothing pretty about holding a half eaten shrimp tail at a black tie event while you frantically look for a place to "dispose" of it.

From my days producing events for CEO's, fashion designers and luxury brands, I learned how to craft a catering menu that would appeal to an extremely discerning audience. There was a simple "mantra" about hors d'oeuvres that all of us planners adhered to and I'll happily share it with you now:

"No sticks, no dips, no leave-behinds."

Don't burden your guests with the task of finding a garbage for those tails, toothpicks, stems or skewers. The best hors d'oeuvres should be bite-sized, well seasoned and without the need for messy sauces. And, you should be able to eat them with one hand. How else will you be able to flirt/network/brownnose and cocktail all at the same time?

To give you an example, here are some great ideas for what to serve during cocktail hour: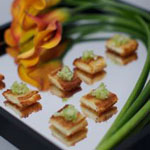 Mini Grilled Cheese with Truffle Oil (by Olivier Cheng Catering and Events)
An all time favorite but with a gourmet twist, grilled cheese sandwiches are substantial enough to keep your guests from getting hungry (and overly tipsy).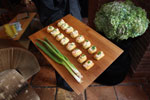 Mini Lobster Rolls (by The Cleaver Co.)
A chic nod to classic American cuisine, lobster rolls are easy-to-serve and delicious to eat. Ask your caterer to make mini versions or simply cut larger lobster rolls into smaller sections before serving.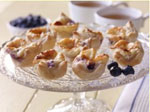 Pastry Kisses (by online retailer The Perfect Bite Co.)
Pre-made with the finest ingredients, these frozen hors d'oeuvres are perfect for any occasion or impromptu gathering. I have a few boxes in my freezer at all times! Try the Carmelized Onion and Feta or, for something sweet, the Blueberry Lemon Cream. The best part is that they come with their own baking trays for the truly Lazy Hostess, like me!
A seasoned event planner, Celia Chen is the Founder and Editor-in-Chief of Notes on a Party, an online magazine about entertaining that celebrates Events from the Inside Out™. For a behind-the-scenes look at VIP events and tips on party planning, visit http://www.notesonaparty.com.
SUBSCRIBE TO & FOLLOW LIFESTYLE
HuffPost Lifestyle is a daily newsletter that will make you happier and healthier — one email at a time. Learn more