Yep, it's true, I am a married man. I married my husband on March 11th and have kept relatively quiet about it until now other than sharing the fact that Brent and I are in a relationship.
Our wedding was in Brooklyn City Hall on Court Street and the only person there was one of my closest friends. My husband-to-be was wearing flip flops and I was wearing my grey sweater and jeans; it was super romantic. For so long, whenever I thought about my wedding, I couldn't see the big celebration type of event that I'm used to attending both because those weddings were usually of friends and relatives and they were Orthodox Jewish weddings. While my husband and I both come from Jewish/Orthodox backgrounds, our wedding certainly wasn't. I'm sure there are many who would assert that our union is anti-Jewish/Orthodox values but frankly I'm too happy to even give much thought about how other people define my marriage.
Part of me has been wanting to scream that I'm married at the top of my lungs to the whole world, but I held back and I'm glad that I did. I write this today with the intention of this being the only statement about my personal married life and my relationship. (Don't worry, I'll still be uploading cute pictures of us and funny posts). While I'm thrilled to share this news with everyone, I'm also cautious and hesitant because of the reality that while this news will come as happy news to many, I know that for some this will be the piece of news they never expected to hear from me; in their world, the one piece of news that they're awaiting is that my career as an activist and identity as a Jewish gay person would come crumbling down. But getting married and settling down? They didn't see this one coming and that makes me smile inside for many reasons.
I kept my relationship with Brent on the wraps and didn't talk much about it to anyone other than my therapist and couple of friends. We had started discussing getting married since November, but we decided to jump the gun and make it "official" on March 11th of 2014, and we did it in the way that I had always envisioned myself getting married if I ever did.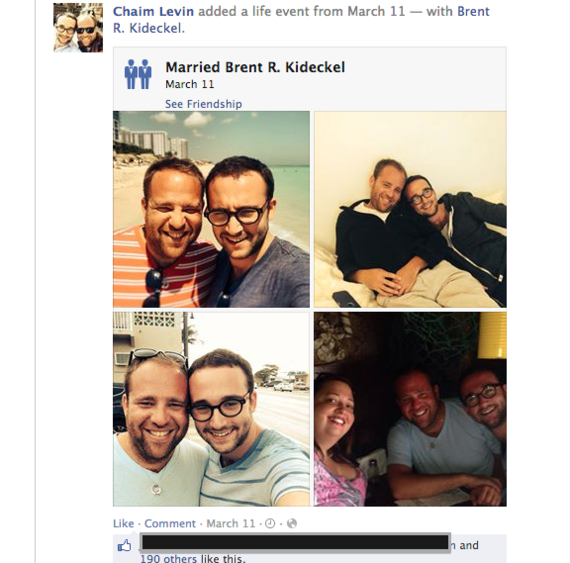 Four days after we were married I attended the annual LGBTQ Purim event and it was there that I found myself just saying over and over again to everyone "I'm married" with a beaming smile on my face. My news elicited some very interesting reactions. Frankly I've kind of been enjoying it, but I know it's important that I set the record straight and explain how this event has changed me in every imaginable way possible.
Last week a classmate of mine got engaged to be married. I had the chance to attend his engagement party, a very typical and standard event that comes along with the announcement of an engagement, or otherwise known as "becoming official". I smirked when I heard someone asking my friend's brother at the party "So when did it become official?", and then I wondered when my relationship, my marriage, would become "official". My friend's mother, a really lovely person who has known me since I was 8 years old and in the same class as her son, she started wishing me a blessing as people typically do at such events (in a time of happiness it's appropriate to wish others happiness and she was trying to customize her blessing towards me in a way that didn't expressly point out the fact that my marriage partner would be a man, but at the same time clearly wanting to wish me only happiness). "You should be happy. Everyone has their own versions of happiness and you should be happy according to what works for you." I beamed and told her that I had actually gotten married 10 days prior but hadn't told "the world" yet and she was overcome with joy for me; it was a memorable moment.
At the same time I realized that this party that I was at, this celebration was supposed to be for the time in my life when I get engaged and when it becomes "official" in the community that I am engaged to be married to a woman, this celebration that was part of the script of my life which was written well before I was born, this script had changed. I wouldn't be having an engagement party (otherwise known as "vort" or l'chaim") with all of my friends and family members who played a major part in the first 18 years of my life. They wouldn't be coming over to a lavish event hosted in my parents' living room/dining room/kitchen space (as they did when my one of my older brothers got engaged), and they wouldn't be wishing me l'chaim (cheers) with wishes and blessings for a "binyan adei ad" (literally means an everlasting foundation) as they were at my friend's l'chaim.
My celebration looks very different and comes with a lot of questions. The bottom line though is that I'm celebrating one way or the other, and I'm lucky that I have something so amazing that I once never dreamed I would have, someone to call home, someone who's mine and vice versa. Now I have it and it's better than anyone was ever able to predict to me about how good it would feel once I felt it or once I knew it. Now I know it and feel it and I understand why it's hard to accurately describe such feelings of love.
My detractors, ranging from the people who somehow believe that my marriage to another man is somehow hurtful or harmful to them or their marriage; the one's who told me that I'd never be happy living such a 'lifestyle' (being honest and true to myself); and to the ones who couldn't wait to see me fail, here I am. I have a bright amazing future to look forward to with someone who I love, and that's what I'm focused on. I look forward to not seeing you at my wedding celebration.
PS: This is not an April Fool's prank but I think that timing is appropriate for me to share this with the world on a day that always somehow tricks me into believing something unreal -- this is unreal for me and maybe for you too, but it's real. Happy April First!
SUBSCRIBE AND FOLLOW
Get top stories and blog posts emailed to me each day. Newsletters may offer personalized content or advertisements.
Learn more