For 37 years residents of Long Beach have started many an April day with the sound of roaring race car engines, helicopters and planes overhead and tens of thousands of people descending on the city for the Toyota Grand Prix of Long Beach. This year the race was held April 14-17, 2011.
The Grand Prix weekend isn't about one race; it's a series of events and races set up to entertain race fans or just families looking for a good time. The Friday, April 15, 2011 day was free for those with coupons from the local Press Telegram newspaper, making the race much more accessible this year to the residents given the economy. Spectators that day got to see the IZOD IndyCar practice; it's the IZOD IndyCar race that on Sunday April 17, 2011 caps off the weekend (it's race three of the 2011 Izod IndyCar series). They were also treated to a new fan favorite, new being a relative term as in last 10 years, the Team Drift challenge. Drifting as an event was made popular by the movies Tokyo Drift, Fast and the Furious and others. Now spectators watch as racers corner from Ocean Blvd on to Pine Avenue at high speeds leaving nothing but rubber behind in a blaze of noise and smoke. It's a fan favorite.
On Friday the celebrities in the annual 35th Annual People Magazine Pro Celebrity Race (the longest running celebrity tournmanet) qualified and greeted fans; people like "Good Day LA" host Jillian Barberie Reynolds, "CSI Miami's" AJ Buckley, Kim Coates from "Sons of Anarchy;" William Fichtner ("Armageddon," "Black Hawk Down," "Contact" and "Crash"), Daniel Goddard from "Young and the Restless," returning champion Brian Austin Green from "Desperate Housewives" and "Beverly Hills 90210," two-time Academy Award nominated actor Djimon Hounsou from "Amistad" and "Blood Diamond." Others on hand included Pop superstar Kevin Jonas, Stephen Moyer (Bill, "True Blood"), Frankie Muniz ("Malcolm in the Middle"), fighter Tito Ortiz, actress Megyn Price, actor Michael Trucco and the pros Ken Gushi, Chris Rado and Kody Swanson.
Toyota donates $5000 to Racing for Kids in the name of each celebrity and another $5000 to the winning racer's charity of choice. Each of the celebrities also took time to go to the Long Beach Memorial Hospital's Miller Children's Hospital, which again receives a charitable donation from Totyota.
And while it is all in good fun, it is dangerous and the celebrities want to win. Stephen Moyer would end up not competing on Saturday because Friday he flipped his car in a stunning crash during qualifying. He's going to be fine and won't miss and "True Blood" filming but anyone that says the Celebrity race isn't "real" racing should talk to him first. He did, however win the $15,000 donation for having the top pole position on Friday, so all was not lost for his charity.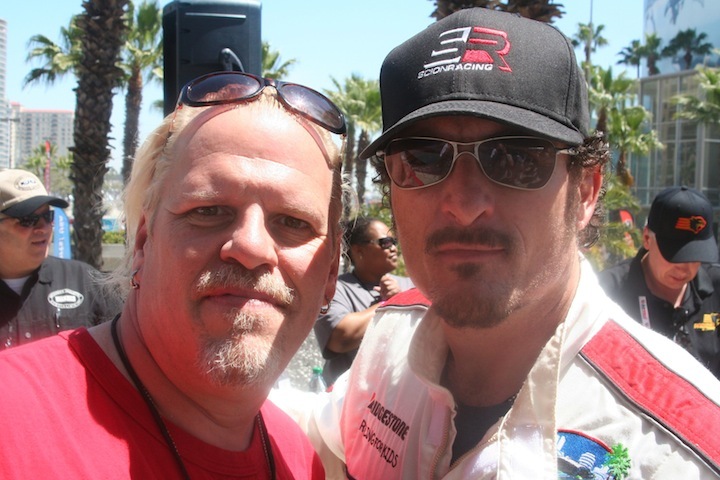 And while Kim Coates plays a bad-ass on A&E's "Son's of Anarchy" he's aware this is different.
"They Vegas odds on me aren't so good right now, but they're getting better," Kim Coates laughed as we milled about in the celebrity mosh pit at the Grand Prix. "I think I'm 16 to 1," he added. "However, this is serious. It's not play. It's like on 'Sons' we take riding very seriously on the show. I've been motorcycle riding my whole life, but this is different, a different thrill. But it's all about safety, on a bike or in a car."
"Ya, but I'm ranked bottom right now, I'm thinking I should get all my friends to bet on me so they can win a crap load of money," Brian Austin Green chimed in. "And you're right, it can get crazy out on the track, in a very short amount of time, a lot can go wrong."
This event caps off an interesting year for Green who is now in the public eye more than ever.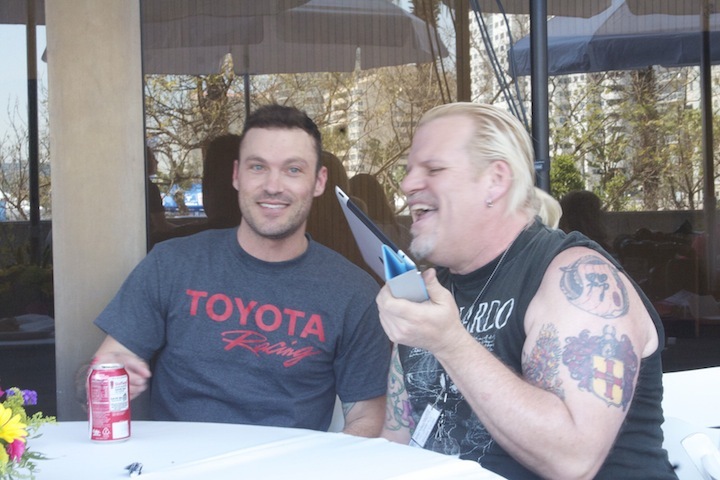 Brian Austin Green and Karel
"Since the last time you and I spoke Karel a lot has happened. I've gotten married to Meagan (Fox), and so many see that as a new thing, they forget we've known each other for seven years. So last year when you saw me here, I won, then went to Hawaii to celebrate, oh ya, and get married, and while there, Mark Cherry from 'Desperate Housewives' calls and wants to see me to offer me a part on the show. Now, I'm back here, and with an even bigger spotlight on me. Before, it was almost like there was no pressure, now, personally, professionally it's a lot, but nothing I can't handle, it's a great embarrassment of riches," he added.
We spend the next five minutes marveling at the iPad 2.0 since I'm broadcasting and recording things for my syndicated radio show using the iPad 2.0 exclusively (iTalk to record and transfer audio files, GarageBand to edit them on site, built in 3G to upload to the studio and iMovie for the video for the website shot right on the iPad). In fact, every celebrity there wanted to touch my Pad.
"If I win, do I get one," Coates joked.
After the celebs were tucked in to their suites at the Long Beach Renaissance Hotel (we all had quick after qualifying cocktails at Sip Long Beach, where bartender Mark Arnold makes a mean South Beach Mojito), the evening's entertainment turned to music. Friday night LBGP decided to appeal to the Hispanic demographic with the Tecate Lights Fiesta Friday Concert featuring Moderatto and Fobla sponsored by Exitos 93.9 FM. A concert goer who apparently thought my credentials meant I knew everything about it all asked me, "Why Hispanic bands on opening night, why not be more diverse."
I actually thought about the question before answering and then told them that over the last 30 years of my attendance it's always been, well, White-centered entertainment, heavy in the Rock or Pop icons and bands. However, Long Beach, California and the nation's demographics have changed, and in many areas Hispanics are a majority and not the minority. The Grand Prix WAS actually not only being more diverse with the choice, but was catering to a long underserved, and now very economically powerful demographic. The crowd knew every song, was orderly and fans from two to 70 and beyond filled the space in front of the Long Beach Terrace Theatre for a warm Friday night kickoff. And while I could only understand every other word, music and laughter is universal.
Saturday April 16, 2011 it was time for the celebrities to get down to business. They gathered in the People Magazine compound at the Grand Prix (where the recent issue of People was a source of conversation, naming J-Lo the most beautiful woman in the world. Seems fans and celebs questioned the choice, but that's another story). After they did required media they suited up and road the entire track in the back of pick up trucks to great the fans. Their cars were placed in the starting positions and they transferred to them for 10 laps of racing around the streets of Long Beach at speeds in excess of 100mph.
Jillian Barberie Reynolds was the first to crash in to the tire barrier, with her car then drifting to a stop near the far wall of the track. She would begin a trend of celebrities bumping in to each other or downright crashing during the 10 laps. There's two races going on simultaneously; the celebrity and the Pro, with the Pros being just that, either celebrities that have gone on to win and come back or actual pro drivers who are, in fact, celebrities.
William Fichtner got an early lead in the race and never gave it, not even bowing to pressure for pro Gushi.
After Barberie's crash, Tito Ortiz and Kevin Jonas "kissed" the tire wall in turn six losing bumpers and crunching their cars along the way. Haunsou also crashed his car during the race, as did Coates.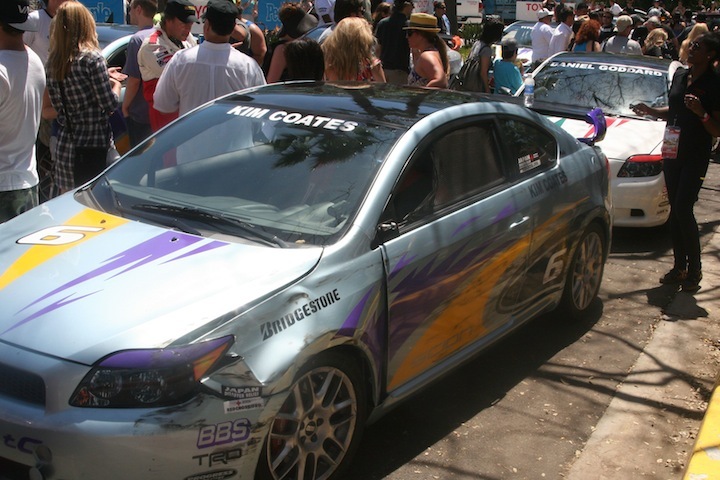 "I was coming around the corner and over shot and Bam!" Coates said, adrenalin still rushing through him right after the race. "The mirror came off and came through the side and hit me in the face and for a moment it was pretty intense," he completed. "Of course, I want to do it again, it was incredible."
"It felt serious when it happened," Haunsou told me, climbing out of his damaged vehicle as wife Kimora Simmons (of BabyPhat fame) came over to make sure he was all right. "You're so protected inside the car, I knew I'd be all right, but that doesn't take away that rush out there on the track."
Green drove aggressively, clipping several cars and even slight wall run in along the way, not winning but finishing respectably.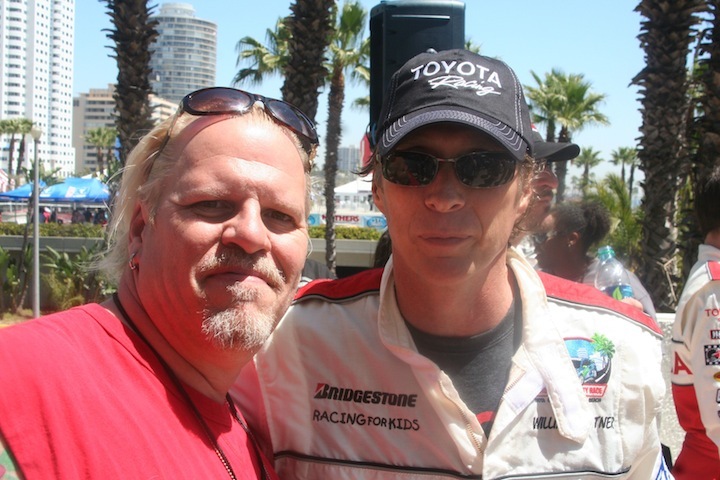 Karel and William Fichtner
Fichtner was elated. "This is an incredible rush, winning this. It's not like acting or anything else, I can see how drivers get addicted to the sport. And I'm not sure many considered me a serious contender in the race, so it was cool. When I rounded corner 11 and saw the checkered flag, it was f**k ya! I won! And yes, it truly, really is about the charity and the kids, but hey, why not have a great time while raising the money!"
Later that night the classic Rock band Steppenwolf (Born to Be Wild, Smoke on the Water) took to the stage sponsored by KLOS Classic Rock Los Angeles and was a complete 180 from the night before, offering something unique for classic rock fans. Pine Avenue in Long Beach and other area hotels and restaurants filled up after the celebrity race and following qualifying events. The Madison on Pine proved to be one of the classiest and happening spots and the owner, Patrick Beretta, took time to talk about what it means to Long Beach.
"Grand Prix historically has been great for Long Beach, but this year, it's needed more than ever," he stated. "It's not easy having a business on Pine Avenue or anywhere any more, particularly a restaurant that may be a little higher end. We have really expanded and opened up what we do here, having events after the restaurant stops serving, expanding on our bar activities and dances, hosting TED conference parties, and now, of course, The Grand Prix. Every business in Long Beach this weekend is breathing a sigh of relief."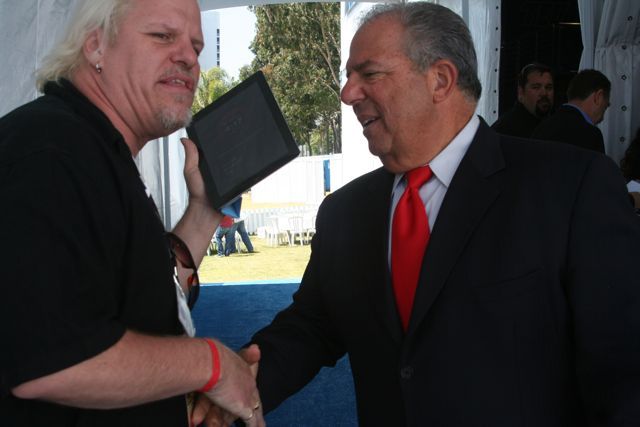 Long Beach Mayor Bob Foster and Karel

Mayor Bob Foster mirrored Beretta's sentiments.
"While Long Beach may have balanced OUR budget, we still are facing huge economic challenges," he added. "This event has been a staple for our city, and we worried this year that the economy may have a big effect on it. But we're not seeing that. We expect between 170,000 and 200,000 people this weekend and every hotel is full and restaurants and all the other businesses are reporting great sales. But it's not just the money. It's a chance to show off our city and remind people around the world that Long beach is a great place to visit, and to invest in, move a business or family to or look at for an event like Grand Prix, the TED Conference and others that now are coming to Long Beach, and we welcome them!" he concluded.
Sunday, April 17, 2011 will see the running of Izod IndyCar, more Drifting and a WCC race. And many celebrities are sticking around.
"What's not to love about this weekend, it's not just a job or a promotional event, it's a great, festive weekend to see a lot of people, enjoy great weather and bring the family out for an all day event," Fitchner finished.
More event coverage to follow.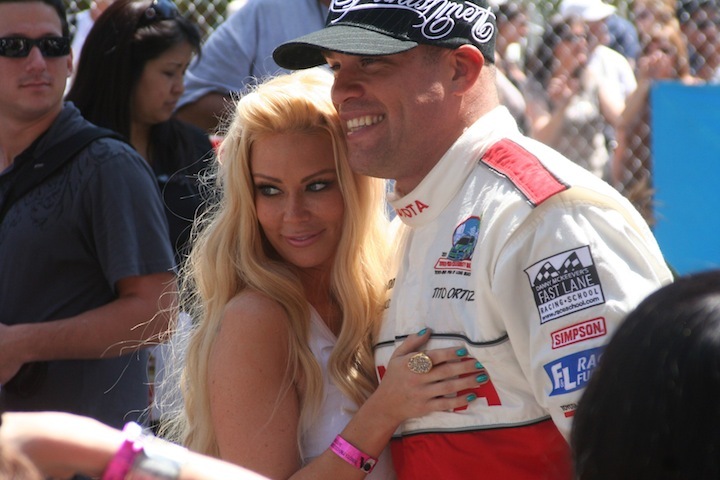 Jenna Jameson and Tito Ortiz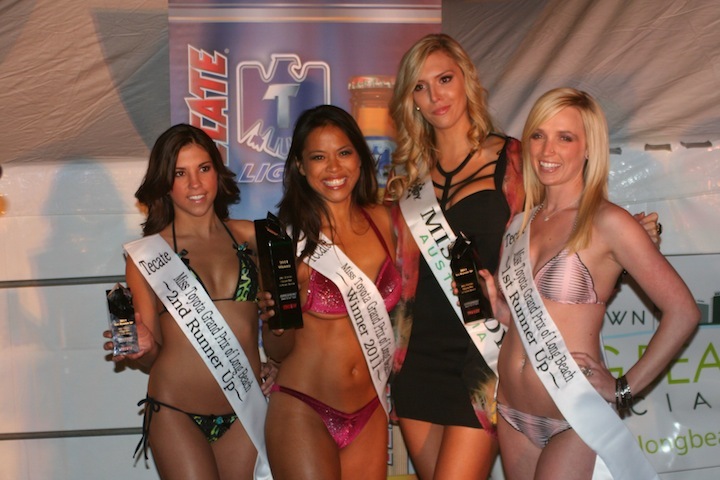 Miss Toyota Grand Prix 2011 Pageant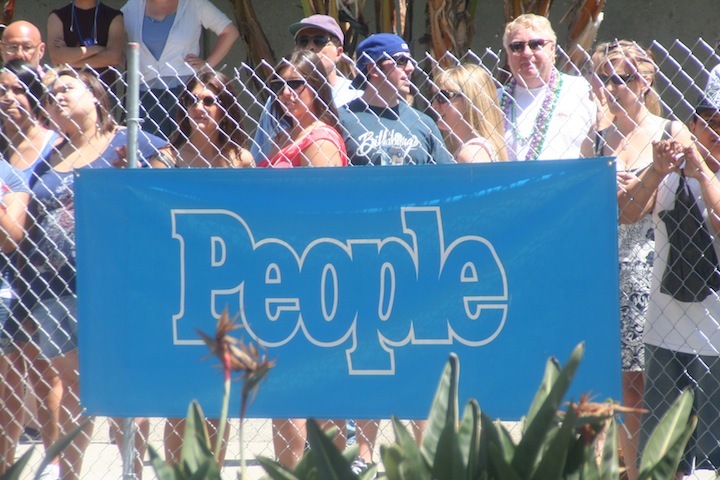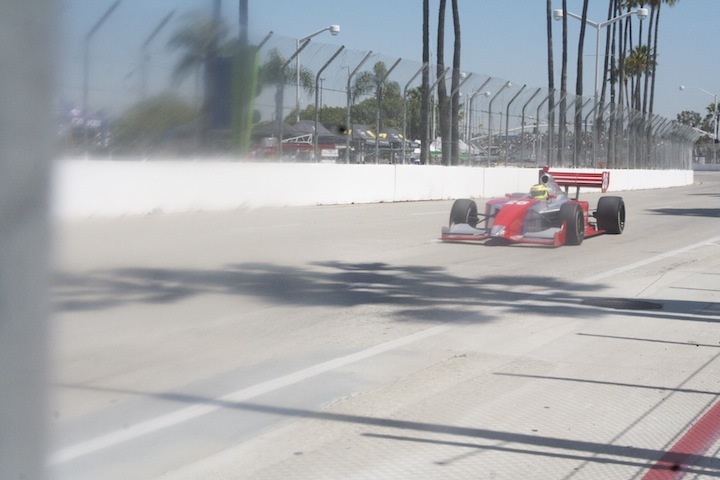 This Blogger's Books and Other Items from...