Co-written by Andrea Lita Rademan
Given the great location in the shadow of the CNN Tower, across from Arclight Cinemas and Amoeba Music -- in other words, in the thick of things -- you might expect thatGO Burger at 6290 Sunset Blvd (at Vine) has a bland menu, designed to capture the masses of passing tourists and local office workers. Yes, Sunset Blvd. and Hollywood in general, offers options for great food in all types of places. But not usually in burger joints.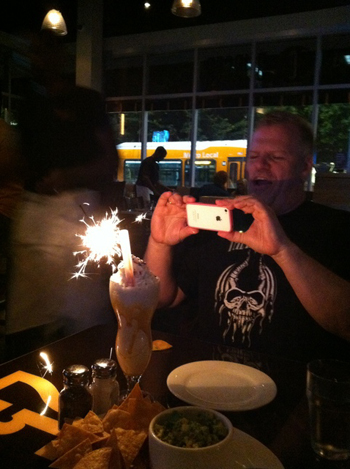 A Milkshake Worthy of a Photo (Photo: Steven Cabral)
Well, ramp up your expectations because GO Burger is another breed of burger eatery altogether. It is one of ESquared Hospitality's three divisions, which has a slew of BLT Steak restaurants, including one in West Hollywood, plus an Italian concept, and three locations of GO Burger, two in New York City and this one in Los Angeles. The restaurant recently revamped its menu with talented new chef, Robert Liberato, and is bumping up their nightlife cache with summer Tuesday Jazz Nights, featuring live jazz from 7pm to 10pm.
A quick and attentive host greets us like an old friend and seats us near the bar. We're part of a festive group, mixed, eclectic; there are gay and non-gay patrons, locals, tourists, a mix as varied as the city itself. The jazz is provided tonight by legendary jazz and bluesman, Joe Banks, who has 75 Grammy award-winning songs to his credit and numbers among the ranks of Motown's original session musicians. Having performed with Miles Davis, Quincy Jones and Smokey Robinson, his smooth sound, sweet demeanor and penchant for blowing two trumpets at the same time have made him a star on Los Angeles' live music scene.
I've eaten out thousands of times, and ordered plenty of drinks. But it was at Go Burger, at 49 years old, that I for the first time ever ordered a milk shake with a wallop. Yes, Go Burger serves Spiked Shakes and Adult Floats; ice cream drinks with alcohol in them. And before you go "Ewww" as I did at first, think again.
Since it was July and the spirit of the Fourth hung in the air, it was a must to have "The All American." The drink, complete with patriotic decoration, arrived: vanilla ice cream, homemade apple pie filling, Jim Beam and SNAP Gingersnap Liqueur! Yes, whiskey in a milk shake. And let me tell ya, this milk shake is better than yours; they'd teach ya, but they'd have to charge! (I never thought I'd have cause to quote a Kelis song). Trust me, one will do you nicely and set the mood for the fun and food that follows (or whatever else!).
The more boring among you can fall back on wine (including 10 available by the glass) or beer (a dozen brews on tap, plus cans and bottles from around the world).
We started our meal with a fresh Guacamole dip; which in Southern California is a rough sell. After all, avocados are a thing here, and the flavors from across the very close border have flourished in this state for centuries. Yet, this one wasn't overdone. It was just fresh, tangy, not overly whipped -- damn it was good, and as un-citizen-like as it is of me to admit that I don't really like avocados, five minutes in I found myself practically gorging on it. Who knew?
Next we moved on to some chicken wings and I have to say the Chipotle BBQ wings would do any aficionado proud on their own, without any sauce or accessory. Again, I don't normally eat wings, especially in public (waaaay too messy) but I found myself asking my dining partner Steve Cabral if he was going to eat his. Yes, I liked them.
Since "burger" is in the name it seemed only fitting to have one. Now, we all fancy ourselves burger experts, since most of us have been eating them since we could walk (and the merits of that are for another column). Couple that with my love of Lunch Trucks and I've had some pretty interesting creations when it comes to burgers. Now there are many unique burgers on the Go Burger menu, but the one that made it's way to our table has to be IT. Suppose you were to take and make two grilled cheese sandwiches on Sourdough; then, put a burger between them, add some bacon, onions and trimmings and then serve it. Yes, cardiologists are lining up to see people the following day, but ya, it's THAT good. It was easy to see why a super model had signed the Go Burger wall "I've eaten more calories tonight than I did last year but it was worth it..." I thought she was kidding until I started eating. FYI, split that burger at your table if you know what's good for you.
The wedge salad with apple wood smoked bacon made an appearance and I was about to decline (there are other cheeses than Bleu you know...again, not a fan and it's covered in it). Then I was informed that the Chef cuts the dressing with Red Wine...and, viola! Suddenly I'm devouring a wedge of lettuce that is drizzled in stuff I normally wouldn't eat because the Red Wine cuts the flavor of the Bleu cheese to make it enjoyable even to those that aren't fans. That salad and a glass of Cabernet would make the perfect lunch or dinner.
After almost 90 minutes of Jazz and feast we realized we were having a great time in this eaterie; not the experience we expected at all. This was a night spot; a happening, trendy and delicious destination, not just a way station or port in the food storm. Nope, this is actually a place to frequent for great music and good food on an otherwise uneventful Tuesday night. And there can be no doubt the spiked milk shakes are the star. Never have I had something so unique, potent and fun, yes, fun at the same time. If you're going to drink alcohol it should be tasty and fun, and that fits the bill, calories be damned.
Some of the things we didn't try: Fried Dill Pickles; Kobe dog Pig(s) in a Blanket; Hummus; Spinach & Artichoke Dip; Fried Calamari; tacos, including Bulgogi (Korean BBQ grilled short rib) with fresh kimchee slaw; Asian Chicken Salad; French Dip; Tuna Sandwich; Chicken Club; Hanger Steak; Scottish Salmon; and the Custom Built Burgers - Black Angus Beef, Turkey, Veggie Falafel or fresh Salmon -- topped with goodies like caramelized onions, fried egg, Madeira mushrooms or fried mac n' cheese. The final touch: a GO Burger Special Sauce of house made smoked ketchup, herb or chipotle mayo, or miso Russian dressing.
With all of these choices, and the live entertainment, and the line up of Television screens tuned to the Super Bowl or the Academy Awards or whatever is hot and happening, and with words like FRESH and ORGANIC parading across the walls and ceiling and working their way into our subconscious, and especially with their way of hooking us on things we didn't think we liked, is it possible that GO Burger is the newest addiction?
This Blogger's Books and Other Items from...
SUBSCRIBE AND FOLLOW
Get top stories and blog posts emailed to me each day. Newsletters may offer personalized content or advertisements.
Learn more