Traveling is an exciting way to explore new places, learn about new cultures, and experience adventures that help you learn about yourself. From planes to trains to boats, there are plenty of ways to travel but you need the right tips for your trips. Learn to travel, explore, and safely experience new places by studying up on the best reference books and travel guides; they're helpful no matter where you go or how you get there.
1. Never be Alone with Lonely Planet Guides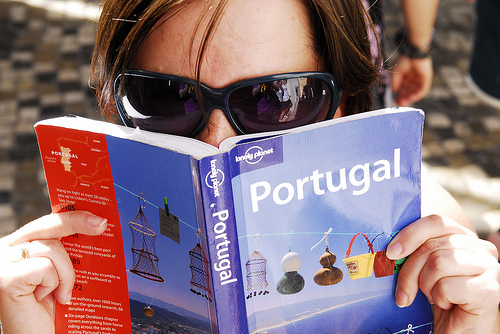 Image via Flickr by slurv
For many travelers, the Lonely Planet Guides rank at the top of the list. They're especially popular with backpackers spending time in Europe and Asia. There are guides for almost any country imaginable, with new books published all the time. Although the guides themselves are quite small, they brim with vital information on many aspects of travel such as:
• Accommodations ranging from hotels to hostels
• Affordable restaurants
• Tours and tourist attractions
• Local delicacies, festivals, and activities
• And tips on cheap car fares, plane and train tickets
One of the reasons Lonely Planet's guide books remain popular is because they're geared toward the budget-conscious traveler. The guides also focus on cultural and ethnic activities, so you can really get a feel for the places you visit. Even the books themselves are affordable, with free Kindle books and paper guides that are generally less than $20.00.
2. Make the Most of Michelin Guides


Image via Flickr by sekihan
Michelin isn't just about restaurants, although the guide books guarantee you'll get a good meal wherever you are. The pocket guides help many travelers and the maps are beneficial in and of themselves. You can easily find exactly what you're looking for by paying attention to Michelin's color-coding system. For instance, the green books offer everything you need to know about attractions, cultural anecdotes, and the history of the areas you visit. If, however, you're more interested in learning about the best restaurants, cafes, and accommodations, go for the red books.
Given the amount of information in every guide, they're incredibly affordable. None of the red guides cost more than $20.00. The majority of the green ones go for well under $15.00. The maps are a little more expensive depending on the country, but the details make them worth the price.
3. Follow in Fodor's Footsteps


Image via Flickr by amy in holland
Initially Fodor's guides focused on advice and tips for traveling in Europe, especially France. Over time, they also became the guide of choice for people traveling in the United States. Today, however, you can easily find a Fodor's book for practically any destination. They're still ideal if you want to take a European cruise, go backpacking through Italy, or explore the biggest attractions in the US, but there's so much more. Fodor's many reference books provide details for more than 300 exciting destinations. The best news for your budget is that the most expensive book is still less than $17.00.
4. Stay True to Your Budget Using Rick Steves


Image via Flickr by laihiu
Speaking of saving money, Rick Steves' guides are incredibly budget-friendly too. However, these tips focus on affordability for practical and cultural purposes. If you really want to experience a city's local culture, pick up a Rick Steves guide. To give you an idea of what you'll experience, his first travel book boasted the title Europe Through the Back Door. The guides are mainly geared toward Europe and give advice on how to live like a local. You'll learn about the best local clubs, restaurants, hang-outs, and concerts. The books are available in paperback and on mobile readers. They cost $15.00 on average.
5. Find any Spot with Frommer's Guides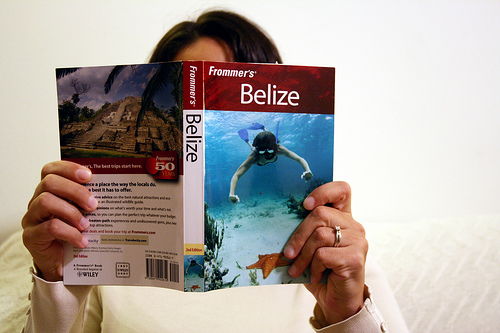 Image via Flickr by Caitlinator
Travel enthusiasts say Rick Steves was initially inspired by Arthur Frommer's travel guides. Most famously, he penned Europe on $5 a Day, which is an enviable deal. These books are also helpful if you're only vacationing for a few weeks. There are helpful itineraries aimed at making sure visitors get to see all the main attractions in any particular area.
In fact, the sites and attractions all have ranks, making it easy to decide what you really want to see. If you're traveling on a budget or have time constraints, these guides are perfect. They also cost less than $17.00, so your savings continue.
6. Become an Enthusiastic Expert with Cadogan Guides


Image via Flickr by The Travelling Bum
It's important to travel with items you can easily carry along with you. Cadogan guides are ideal for that. They aren't exactly meant to save you money but they're perfect for enthusiastic travelers. Specifically, if you want to become a passionate expert on European locations, you should definitely bring Cadogan on your trip. You'll learn about local tales and anecdotes, stories of historical significance, and the experiences of other travelers. Although the full Italian guide is rather expensive, the regional books are often less than $20.00.
7. Venture off the Beaten Path with Bradt Travel Guides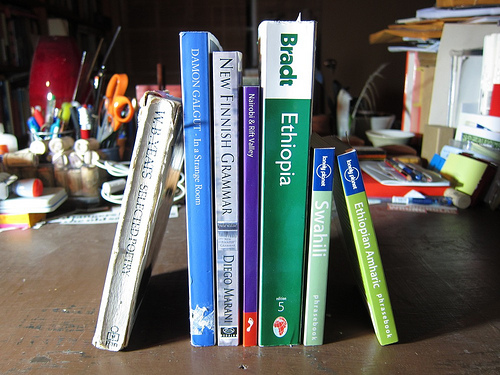 Image via Flickr by nicholaslaughlin
Finally, Bradt guides are extremely versatile, which is a large part of their appeal. No matter where you're traveling, from the most timeless locales in Europe to unique destinations like Antarctica, you'll find a wonderful reference book. When planning trips to places like Galápagos, Ethiopia, or Palestine, you need one of these guides. Bradt is the first series of travel books to publish guides for many of these places. They make it so easy to go off the beaten path. Better yet, the guides are extremely affordable with prices ranging between $12.00-$20.00.
Traveling with a buddy, a family member, or a special person is great. However, to really experience a new place, you'll do well to bring along one or more of these excellent travel guides.
Sources:
http://www.travelnotes.org/Travel/sep9.htm
http://www.experienceplus.com/blog/?p=416
FOLLOW HUFFPOST