Who says phone cameras don't take great pictures? These amazing photographs captured with cell phones shows that you can get great images as long as you have unique ideas, a good eye, and an innovative approach to enhancing images.
Good Composition Makes all the Difference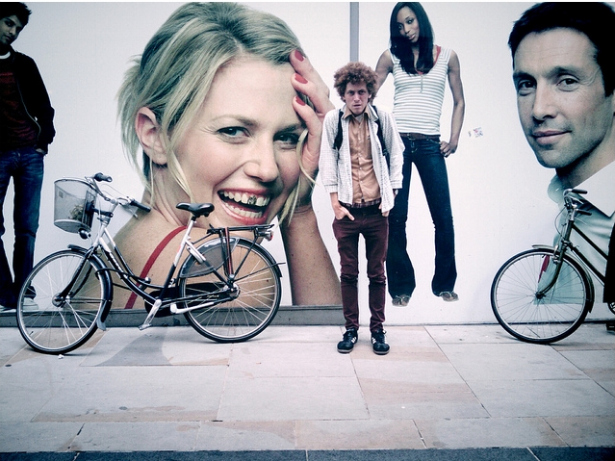 Via Mashable by Tara Holland
Photographer: Tara Holland

Mobile Device: T-Mobile G1/HTC Dream
The strength of Tara Holland's untitled piece comes from its composition and subject matter. Placing this awkward, hunched over man in front of attractive models creates an interesting contrast between real life and the Photoshopped world of advertisements. The graffiti on the model's tooth also helps emphasize the differences between those worlds while simultaneously revealing the underhanded approach that so many advertisers use to generate a false beauty.
With this high level of artful ideas, Holland could have taken a great picture with just about any camera, whether it's the kind come with Blackberry cell phones or the kind that cost thousands of dollars.
Innovative Attention to Detail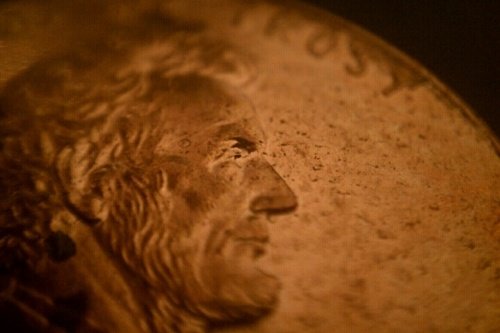 Via Gizmodo by Ashley Winder
Photographer: Ashley Winder

Cell Phone: HTC Incredible

Extras: Discarded DVD lens

Believe it or not, Ashley Winder did not edit anything about this picture. She got this fabulous close-up of a penny by experimenting with spare computer parts. By holding a discarded DVD drive's lens up to her cell phone's lens, she found that she could capture images with incredible detail. That's the kind of innovation that it takes for a photographer to create stirring images whether they use the latest digital cameras, old school manual cameras, or the cameras that come with their cell phones.
Attention to Detail... and the Right App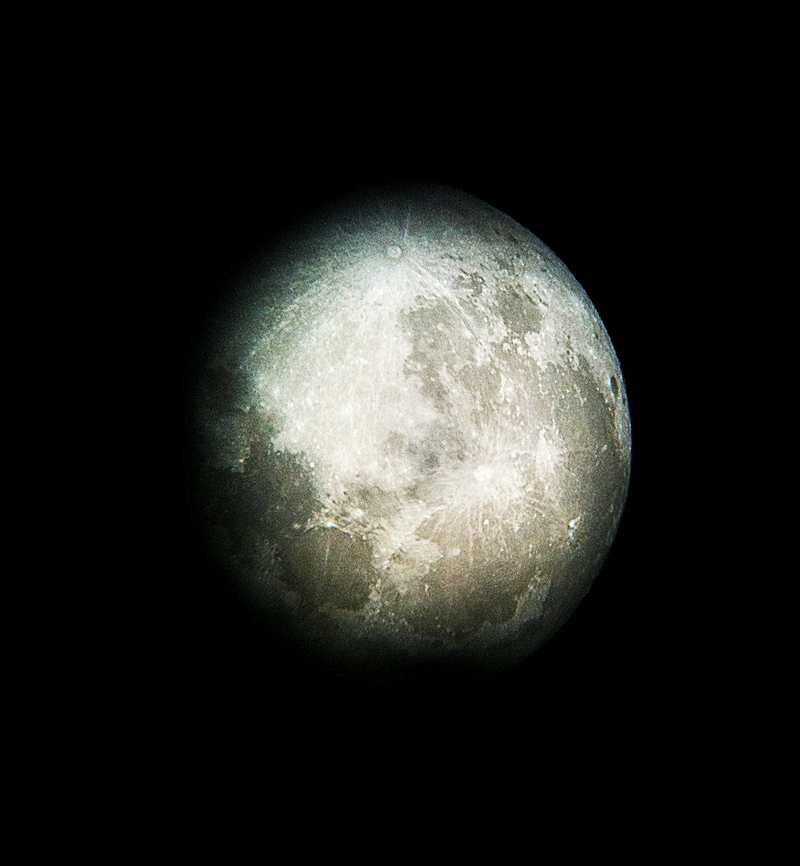 Via Gizmodo by Rafael Valerio
Photographer: Rafael Valerio

Mobile Device: iPhone 3GS

Extras: Telescope, Camera+ app, PSMobile

From the detail, you would assume that Rafael Valerio had used a professional-quality camera to get this remarkable picture of the moon. Nope. He used an iPhone 3GS. He did, however, have a little extra help.
Valerio got inventive by positioning his cell phone in front of a telescope lens. That greatly enhanced the camera's ability to pick up details in the moon. Enabling the Camera+ apps stability control, he didn't have to worry that slight disturbances would create a blurry photo (a common occurrence when taking such long-distance shots). To make the picture even better, he used PSMobile to adjust the image's contrast, saturation, and exposure. Don't think that that's cheating. Even photographers who prefer film cameras have their own production tricks for the dark room.
Good Pictures Come from Good Ideas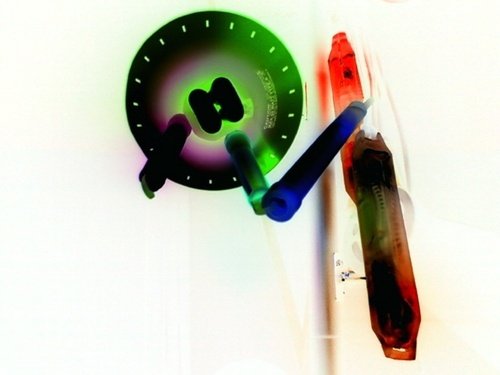 Via Business Insider by Jordan Ruedy
Photographer: Jordan Ruedy

Cell Phone: Samsung Sway

Extras: Black light

The kind of equipment that you use to take a picture hardly matters when you have a really cool idea. Jordan Ruedy proves that when he made this picture with his Samsun Sway. The concept is fairly simple: see what kind of colors you can get by using basic tools.
To make this picture, Ruedy gathered some dead (i.e. used) glow sticks under a black light. When he turned on his Samsung Sway's negative color effect, he got beautifully colored images that look like futuristic X-rays. Using a more sophisticated or expensive camera wouldn't have made this photograph any better. In fact, it's actually cooler once you know that Ruedy used such an inexpensive, innovative approach to making this photograph.
Evoking the Past with a Cell Phone Camera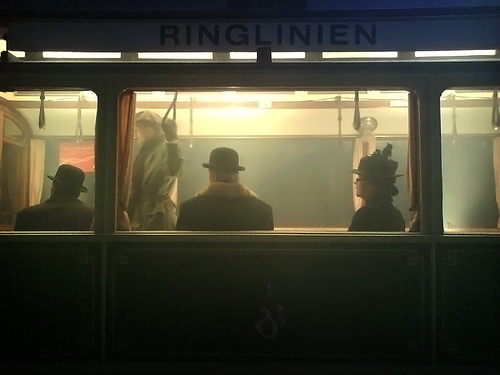 Via Digital Photography School by Marco Welt
Photographer: Marco Welt

Mobile Device: Sony Ericsson K610i

Location: Germany

The hats, scarves, and heavy coats in Marco Welt's photograph of the German Ringlinien shares an aesthetic quality with Edward Hopper's 1942 painting Nighthawks. Welt, however, took this picture with a Sony Ericsson K610i, which came out in 2006.
Welt's misty image takes the viewer back to a Germany that no longer looks. Thanks to the photo's misty appearance, the viewer might mistakenly believe that she has caught a glimpse of the past. Really, though, this interesting appearance comes from Welt's artistic approach to using new technology to evoke the past.
Finding the Right Light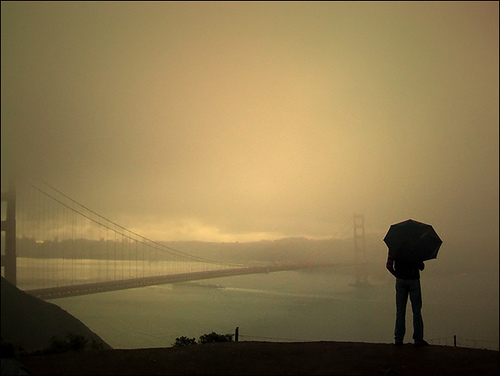 Via Flickr by Richard Sintchak
Photographer: Richard Sintchak

Mobile Device: iPhone

Location: Sausalito

Without the right lighting, even the fanciest cameras won't give you beautiful photographs. Richard Sintchak's 2009 picture of the Golden Gate Bridge as seen from Sausalito shows that the perfect sunrise can look amazing, even when you're capturing the image with an iPhone. According to Sintchak, he caught this picture on the way to work. Misty rain clouds filtered the sunlight, resulting in this nostalgic view of the bay.
A Bit of Luck Never Hurts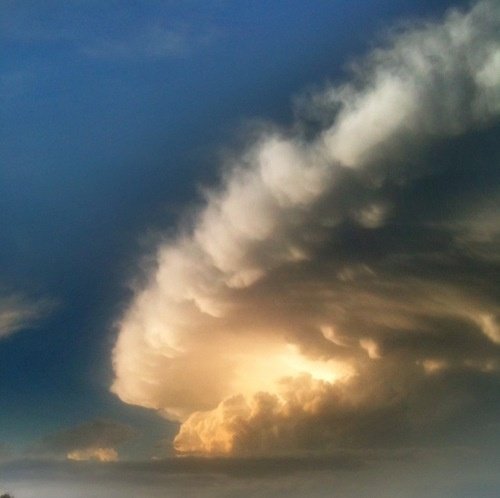 Via Business Insider by Justin Deavers
Photographer: Justin Deavers
Cell Phone: iPhone 3GS
Extras: HDR app
Location: Centennial, Colorado
Sometimes you get the best picture just because you were in the right place at the right time. If you're not prepared, then you'll miss the perfect photograph. That used to mean that photographers would either carry their cameras with them at all times or kick themselves for missing the kind of image that elevates a person's career.
Thanks to cell phone cameras, though, anyone can snap the perfect picture when it presents itself. Justin Deavers caught this image while standing in the parking lot at work in Centennial, Colorado. He saw the sun setting through these clouds, pulled out his iPhone 3GS, and took the kind of picture that some people wait their whole lives to find. Hey, a bit of luck never hurts when it comes to photography.
Having the right camera can certainly help a photographer get the image she wants. When you have talent, luck, and ingenuity on your side, though, a cell phone can take high-quality images that will impress any audience.

Sources:
http://www.businessinsider.com/cellphones-are-awesome-cameras-2010-7?op=1
http://www.flickr.com/photos/rich8155/3314223168/
http://digital-photography-school.com/10-cameraphone-photographs-that-rock
http://gizmodo.com/5576509/395-photos-taken-on-cellphones
http://mashable.com/2010/11/08/android-photography/
FOLLOW HUFFPOST