The week surpassed all expectations. With a day's distance from my time at the fair, I see some clear trends in design and business -- reality skewing shapes, new world order inventions for sustainability rocketing us into better mousetraps, intellectual pursuit, bold against black, color and self-assuredness -- but the real joy was in the path to discovery.

9/19
The day of my arrival in London was spent gearing up for a week of design immersion. I went to W.H. Smith and browsed the London city guides looking for something that wasn't going to consider Big Ben the vital destination and ended up with just an A-Z mini map because everything from Time Out to Not For Tourists felt too commercial or too broad for my concentrated focus.
It was only when I got to the beautiful, green and tranquil Geffrye Museum for the Ceramics and the City exhibit that I found Max Fraser's London Design Guide which as it turns out had just been published and would be all over the place within days. With clear maps by neighborhood, it covers everything from the big commercial design stores and hotels to the small and independent and the tone is personal and refreshingly critical (as opposed to being a big PR buy-in). Fraser doesn't appear to consider fashion to be design other than a few biggies like Paul Smith and Dover Street Market and therefore misses the design worthy independents like No-one on Kingsland Road which I found to be a bit of a shame but otherwise, it was £10 well-spent.
At Ceramics in the City, a one day sale of local work, the big winner for me was Hitomi McKenzie. Her pieces were a refined snapshot of the spinning ceramic wheel in motion. The museum itself is like a hidden oasis in East London. There's a back hall with small wooden benches and a wall of windows facing fluttering green leaves and dappled sunlight. A quiet place to sit and read or write.
Next was dinner with a Japanese exporter who had just come from Paris where he had showed his collection of leather goods at Maison & Objet -- austere pieces made in the ancient tradition by elder craftsmen. We discussed what went right and what went wrong at his first fair.
In the morning I went to pick up my press card, and looked through the V&A Telling Tales exhibition of expressionistic escapist furniture and design. I was asked to put away my camera, which I did begrudgingly. It was like walking into an even more elegant Tim Burton film. The mirrors were slanted or towering. The chests of drawers were spooky. One woven carpet was filled with a blown-up pixelated pattern that made it seem as if you were too close up. In the afternoon I snuck out to look at independent stores. Throughout a day of nonstop store owner chats, it gelled for me that pop-up shops were definitely no longer the one-off viral marketing stunts they started out as but are now just the sensible way to test the waters.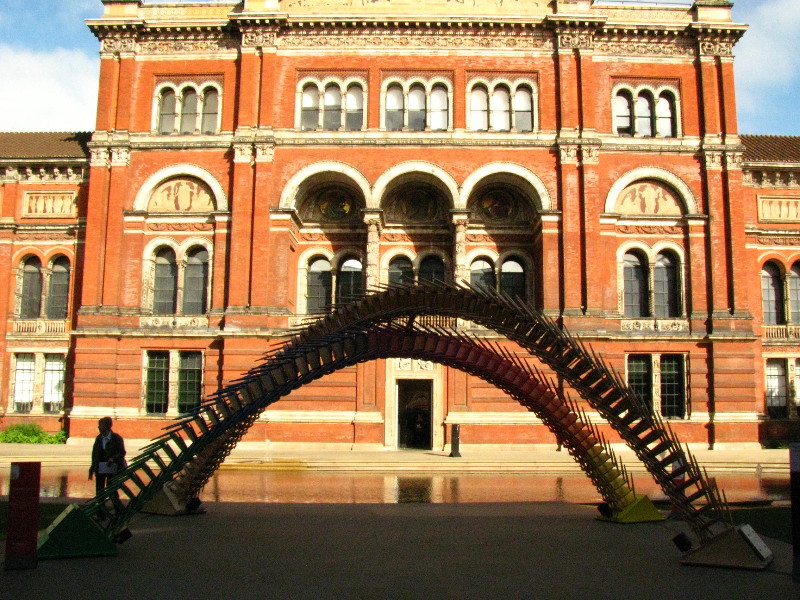 Tuesday the pace increased exponentially. I missed Responsible Design -- and not because I was irresponsible! -- but because the website said the talk was at 9:30 and it was actually at 8:30, but I recovered from the glitch while perusing the Brompton Design district. The Knit Wit exhibit at Skandium was lovely, delicate knitted recycled plastic cozies on glass vases. Knitting around just about anything, seems to be all the rage these days. Telephone polls, cars, you name it. The store itself is a joy, especially Klaus Haapaniemi's Iittila cups. Afterwards, I sat down with the striking Priscilla Carluccio, owner of Few and Far and of brother Terence Conran and Habitat fame and then went around the corner to Mint, a gallery shop that sits on the border of design and art, cherishing concept and metaphor over strict functionality. The staff were knowledgeable, unpretentious and welcoming and the content, strangely beautiful. The highlight was the "At One" couch made from ash, latex, crushed velvet, and foam by Charlotte Kingsnorth who was influenced by rising obesity and the paintings of Jenny Saville. The bulbous melting structure was surprisingly comfortable.
Next I went to check out Portobello Dock, famed designer Tom Dixon's new showroom in North London along one of London's beautiful little waterways in a neglected part of town. There I spoke with Dieneke Ferguson, founder of Hidden Art. Dieneke has been a kind of fairy godmother for independent designers and artisans in the UK for the past twenty years. It was day one in the space for her and we took some time trying to figure out the process for ordering lunch. She had the rabbit. I'd eaten a sandwich waiting for the train and just had coffee.
At night I sat down with Danish designer Nina Tolstrup whose Pallet Project created a second life for wooden crates as chairs. She commissioned artists Gavin Turk and Cornelia Parker to paint a chair each. The chairs were being auctioned off for a charitable organization where women in poor neighborhoods in Buenos Aires come together to make pallet chairs for their community.
9/23

I attended the book launch of "Discovering Women in Polish Design: Interviews and Conversations" produced by Blueprint Magazine product editor, Luca Amadei, who got the idea for the project when he met a very enthusiastic industrial designer from Poland who then invited him for a tour of their nascent design boom. There, he met many more women leading the design movement. Luca's energy and warmth was infectious and I think I've made a new friend. That night I visited the Wapping Project, a converted factory in East London. I listened to a talk by a shoe designer in a cozy glass house sitting out on the lawn of the factory then had dinner with a new architect and textile designer friend who filled me in on London creative entrepreneur life.
The highlight of my week though had nothing to do with design though. It was my interview with Nicola Beauman of Persephone Books. Now a mother of five adult children, Nicola founded her publishing house and bookshop ten years ago in Bloomsbury. They publish out-of-print female authors from the 19th century. She was charming and by the end of the hour, I couldn't believe I'd met yet another inspirational Londoner. At the same time, it really made me feel my New Yorkness. We share much in common with the English but still the cultural differences are great.
The fair had arrived. I started with Designers Block where I stopped four or five women designers whose work caught my eye, many of whom were showing for the first time (and in a recession!) The rest of the day was spent walking a maze of delight around 100% Design, concentrating on the back center and right quadrants for experimental and sustainable design.
Reluctant to admit this is my last day, I was slower than the rest to make it out the door. As I packed I reflected on the week and tried to compare it to one in New York or Paris or Barcelona and I just couldn't. London surprised me. The energy there is unmistakably moving forward in creative, thoughtful and innovative ways. There was not a tinge of doom and gloom nor the impression that creative types were holding onto a safety raft.
Please visit me at What Women Make, a site dedicated to female creativity around the world and follow me on twitter
FOLLOW HUFFPOST