The M.O.F., Meilleur Ouvrier de France (Best Craftsman of France), is a title that was created in France at the turn of the century when the country realized that their artisans
and the work that they were producing was lagging behind that of other countries. Some
reaction was needed, an impetus for progress, so that craftsmanship in France would
excel and prevail in the future for all trades. Since that time, a competition takes place
every three or four years for more than 250 professions in France including florists,
carpenters, butchers, jewelry makers, and of course pastry chefs, to name just a few.
The elected M.O.F.s become ambassadors for their trade and take on the duty to share
their knowledge and train new craftsmen to become the M.O.F.s of the future. The
documentary film, Kings of Pastry, shows the finals of the M.O.F. pâtissier competition in 2008. This was a historical occasion as it was the first time that cameras were allowed to witness this event.
Prior to reaching the final, the competitors in the M.O.F. pâtissier enter a semifinal
round which takes place about six months to a year before the final. Seventy to eighty
candidates compete in a grueling two-day try-out in different culinary schools throughout
France. This battle before the war concludes with the selection of about 16 candidates
who will be allowed to compete in the finals.
The topics of the semifinals are known by the candidates six months to a year
beforehand, which means that the M.O.F. process from beginning to end is a two-year
venture, but the preparation for this competition involves a lifetime of development.
Before I decided to begin this journey, I knew that my family and I needed to be on the
same page, and the sacrifices on everyone's part would be huge. The time needed to
prepare was tremendous: I practiced in every spare second I could find and was often
not home. It was also a great financial commitment as there are no cash prizes for the
candidates, making it a very expensive sport. I could not have done it without my wife
and children who were such a huge help by being so supportive, loving and tolerant.
So why do it? For the quest of excellence in your profession, of course. What could
be nobler? No matter what the outcome of this intense competition, you are never the
same. You can't possibly remain unchanged. You have to push yourself, more than you
thought possible, and whatever the outcome, you will come back a better professional.
The M.O.F. is a French competition for French citizens; most candidates reside in
France and for me, competing from abroad was a very challenging task, a colossal feat
of organization where everything had to be planned and foreseen. Before anything
else, I had to select a coach, and who else would be better than Sébastien Canonne,
co-founder of The French Pastry School (and my business partner for many years)
and Stéphane Glacier, a longtime colleague and friend. Both are M.O.F.s in pastry.
Next, you need to find an assistant who wants to sacrifice two years of his or her life
for such a challenge. I was lucky enough to have Kurt Fogle as my right hand; he had
just graduated from L'Art de la Pâtisserie, The French Pastry School's 24-week pastry
program. He was unconditionally dedicated to my crazy quest. Throughout this ordeal,
he did a tremendous job at keeping me sane and had the organizational qualities needed
for such an enterprise. He worked so hard and was there for me during the very difficult
moments.
Once you have an assistant, you need to find your support system in the country where
you are competing. In 1980, I was lucky enough to work in a pastry shop in Strasbourg,
France where I met an apprentice named Pierre Zimmermann. We became friends but
lost contact until 1995 when I competed in the Finals of the World Chocolate Masters.
At the same time, Pierre was representing France in the finals of the Coupe du Monde
de la Boulangerie (World Cup of Baking), where he became a World Champion, and we
had a chance to reconnect. Later on, he came to Chicago to teach continuing education
classes at my school. He has been coming to The French Pastry School for the last 12
years. When I mentioned my M.O.F. plans to Pierre, he and his family welcomed me
to their home and pastry shop in a small village called Schnersheim near Strasbourg just
like I was part of their family. They allowed me to set up my "headquarters" above their
family business for six weeks before the competition. Their support was beyond the call
of duty, from feeding Kurt and me, washing, drying and ironing our clothes to helping us
in the multiple logistical details that such an undertaking requires. The contribution they
provided was invaluable, and I will be forever grateful for their friendship and for what
they have done for me.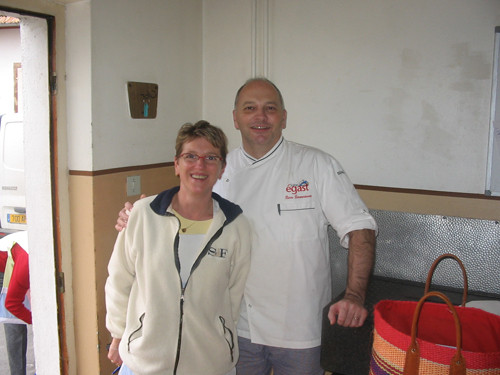 Pierre and his wife Michelle
Six weeks before the competition, it was time for us to leave work and our families. After
our arrival in France, the countdown started, and it was time to unpack, get situated and
readjust each of the recipes with the French ingredients that would react differently.
Once you receive the topics of the final competition, you have to carefully study the
required items. The theme was "Marriage," and the candidates needed to create a
wedding buffet from the wedding cake to the sweet table to the breakfast tray for the
couple's "day after." For the taste component, the items required were five types of
miniature pâte à choux items (pastry puffs, 12 pieces of each); one three-tiered wedding
cake to serve 30 people; three types of chocolate candies (20 each); one type of a plated
dessert (four of each); one brioche for two to be served on a tray for the bride's and
groom's breakfast together with 1500 grams of jam made with a summer fruit and
associated with a flower; three types of mini afternoon tea creations (12 each); and
one surprise item that would be unveiled to the candidates only on the first day of the
competition. For the artistic part: one chocolate sculpture that would be used to display
the chocolate candies; one sugar showpiece that would become the centerpiece of the
buffet; and one small masterpiece called a bijou that would be presented in a small
display case. Except for the bijou, all items had to be produced from scratch in front of
the judges in 24 hours, spread out over three days.
When all of the artistic items were decided; it was time to make all of the elements for the
bijou as well as putting in as many dry runs of the practice competition as possible. Then
it was time to pack. Everything ended up in a large crate that was shipped to France with
the hope that nothing gets broken, lost or just stuck at customs. The goal was to leave the
US with every single piece of equipment so that all we had to purchase in France were
the ingredients and the small electric equipment (since the voltage is different in Europe).
I had to first work on the taste part of it. Each required taste item could have many
components which would become the secondary recipes. Each recipe had to be dissected
to make it at the same time delicious yet also foolproof in its preparation. The making of
each recipe had to be fast and easy to execute; one failed recipe during the competition
can make you fall far behind, and elevate your stress level to the degree that you might
not recover. This is when the question is asked about each recipe: is it good? Better
question: is it good enough? Even better question: are the judges going to like it?
Behind The Kings Of Pastry
In the photograph above, Sébastien Canonne, co-founder of The French Pastry School and my business coach and I ask ourselves those very questions about the wedding cake.

Another component in the taste category was the cream puff. Who does not like a cream puff? And who knew that it could be so intricate, delicious, and complicated? Here is one of two cream puffs that I presented. The first one is a choux filled with an exotic mousseline (a mix of pastry cream and butter cream) topped with a mango and passion jellified salsa and gold leaf.

The second choux represents the best of both worlds, in my opinion: a cookie combined with a choux. The choux is filled with a hazelnut scented cream, covered with pralinettes (caramelized granulated almonds), and it is resting on a piped butter cookie called a sablé, and orange marmalade.

The good news is that in France you have M.O.F.s in many other trades that pastry chefs can draw from, professionals like a M.O.F. primeur (fruit and vegetables cultivator) or a M.O.F. fromager (cheese maker) who will know exactly what you are looking for when you ask for the best pineapple or crème fraiche. They can advise you depending on what you are looking for.

This is why the M.O.F. was created – to have masters at your disposal who can share their area of expertise and guide you, and can help elevate the other artisans whose own work can benefit from their knowledge. You can find great products in markets that are a feast for the eye.

Once the ingredients were found, every minute was needed to get ready and practice as many times as possible.

Recipe testing and calibrating can seem to take forever, but once all recipes were defined, we had to dissect each recipe and allocate the right tools for the right job. One sheet pan was dedicated to each recipe, and all the necessary equipment had to be on that sheet pan beforehand; one missed tool could greatly handicap you. This equipment list was recorded and photographed so that we had a record of it for the big day. All the sheet pans ended up in ONE rack that could not exceed 50 centimeters wide by 70 centimeters long. The height was unlimited. My rack was so tall that we called it "Big Bertha."

"Big Bertha" did not fit in the first crate and we had to get a larger one.

Once the recipes were all defined, I had to work on the artistic portion. First, I drew each showpiece and then fabricated them out of cardboard and foam core, and created the entire buffet to see how all the items fit. This can take a very long time as we are not trained to be artists but chefs. Here is my first drawing of the bijou masterpiece, above.

Even if it meant having to build a simulated competition kitchen in a garage, I had to use every possible moment to practice. Nothing should stop you in your mission!

After five weeks in Schnersheim, following the last practice session, I invited friends and family to see my practice buffet before the competition and to have le verre de l'amitié, the drink of friendship. I had a chance to reconnect with my mom and my godfather and so many members of my family that I had missed so much.

Kurt Fogle in the center with Mr. and Mrs. Zimmermann, parents of Pierre Zimmermann.

Kurt had a chance to taste the specialties of Alsace, the beautiful region where I grew up, including some Alsatian Crémant.

It was then time to pack again and load everything into a truck on our way to Lyon where the final competition took place. Everything had to be arranged very carefully so that items needed for the bijou (along with my dreams) would not get crushed during the trip. Pierre and his family helped me load everything, and it was time to hit the road for about six hours of driving.

Once we arrived in the Lyon region, we moved into a house that I rented in a small village near the competition site. It was an old renovated farmhouse that fit my needs perfectly. Then it was time to unload, sort out all of the equipment, and reset Big Bertha for "D-Day."

On the big day, Bertha was loaded and organized. All ingredients were sorted out for each recipe and color coded for easy use. The candidates had two hours to set up their stations.

Once all was set up, everyone went home for a night of rest. This was where Kurt's job ended, and I was left by myself to prove what I could achieve in 24 hours. It is a shame that the assistants never got to see what took place in the competition until now, thanks to the documentary.

At six o'clock in the morning, the competition started for the 16 competitors (or should I call them pastry marines)? Everything got blurry from there; it was a total rush from beginning to end, and any concept of time ceased to exist.

My neighbor, Regis Lazar, was a gentleman during the entire ordeal. We managed to help each other during the competition to make sure that both of us were able to work in good conditions. As opposed to a regular competition, more then one candidate can receive the title of M.O.F., and therefore the 16 chefs are not enemies.

My bijou is pictured here, or should I say my bijoux, as I made three of them just in case two of them broke. When Sébastien Canonne did his M.O.F., he broke two out of three of his masterpieces. He still had one left to compete and went on to finish and win the title.

After the three days of war, everything was over. The candidates packed up and got ready for the medal ceremony while the judges assessed the grand buffets.

The day after, we were back in Alsace with Pastry Chef Donald Wressell (center), who came from California to assist me during the last week before the competition – the mark of a true friend.
No matter what the outcome, all of the 16 candidates came out bigger and better after
such an amazing adventure. The effort put in was colossal and the human experience
unforgettable.
For Chris Hegedus and D.A. Pennebaker, this was their M.O.F.; they believed in
following me throughout this adventure not knowing exactly what was in store. The
more time we spent together, the more we understood each other's ideas, and we became
excellent friends. I am proud to know them. All pastry chefs and I thank them for
documenting this quest of excellence.
I hope that after seeing the film, Kings of Pastry, all will have a newfound appreciation of
the hard work of all artisans and their continual pursuit of excellence.