Though this is a slightly naughty title for a piece about high school students, I'm hoping it got your attention, because it's not at all what I witnessed at West Adams Preparatory High School in Los Angeles.
It may be typical for kids of this age-group to socialize, hook-up, and alter their sense of reality from time to time, but the L-word descriptors in my title aren't the L-words I associate with the students I met. These students, who all wear uniforms by the way, are being listened to, loved, and liberated, in an atmosphere of respect. They were engaging and engaged, enthusiastic and pro-active, and I was thoroughly impressed.
West Adams Prep High School was constructed using architectural creativity not usually afforded school buildings, and only after the input of numerous community focus groups to truly suss out the needs of the community. It resembles a college campus more than a typical high school setting, with its huge well-groomed track, socializing spaces, and wise use of light, space, and color.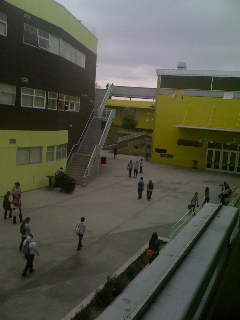 The outstanding curriculum that encourages entrepreneurial attitudes, is focused around six different 'schools' -- the School of Business & Enterprise, the School of Performing Arts & Literature, the School of Science & Technology, the School of Invention, Design, Engineering & Architecture, the School of Education & International Studies, and the School of Media, Film & Art. The students - a couple of thousand of them, are learning and living an educational experience that most of us would crave, and which will serve these young people well; a recent Gallup survey released by the non-profit organization, Junior Achievement, stated that employers and managers dubbed entrepreneurial attitudes as important in any field of endeavor.
This relatively new, huge and innovative community high school is run by MLA, a nonprofit organization whose mission is improving schools and empowering neighborhoods in some of LA's most disenfranchised communities. It's an ambitious quest, particularly during the current economy. However, this year, West Adams Prep is poised to graduate their first senior class, and already the accomplishments of this school, these students, their teachers, and the committed pioneers of MLA are palpable. For most of the graduates going on to college, they will be the first in their families to do so.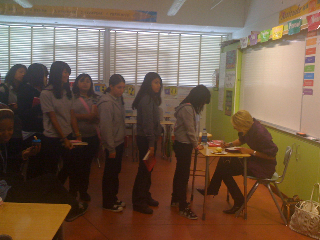 I was invited to the school to talk to a couple of classes about my new book, What is Your Self-Worth, A Woman's Guide to Validation. The students I visited had already started reading my book as part of a class exercise. I was touched by their attentiveness and eager participation. They were extremely enthusiastic about having an author visit their classroom, and especially happy that I was going to sign their books. The 50 or so young women I spoke to were in a cheerleading class, which in itself presents an enormous hurdle for many of the girls in this community to leap over.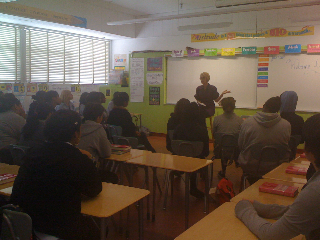 To say that self-worth for girls in an area of town that is often troubled by poverty, disrepair, and gang activity can be fragile, is an obvious understatement. But the fact that they are in a school that in all ways -- from the surroundings and high quality of its educators, to the sports programs and hands-on learning experiences, treats them with respect and constantly reinforces their potential, will certainly help them to discover, and ultimately to express their self-worth, despite the outside influences and challenging life circumstances many of them cope with.
I felt honored to speak to these courageous and spirited young women. I became one of West Adams Prep High School's biggest fans, and can't wait to visit them again. I liked the 'vibe' there. As one of the women I quote in my book, What is Your Self-Worth, stated, "...treat everyone as though they have worth; giving someone their dignity is never a mistake." I wholeheartedly agree.
This Blogger's Books and Other Items from...