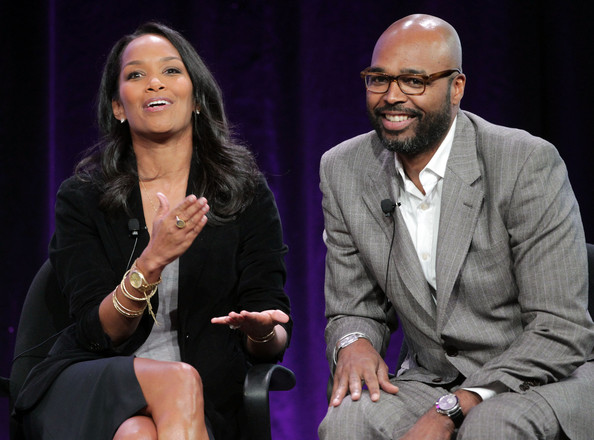 "There was no Plan B," explains Salim Akil. If not for a booming career as one of this year's most enterprising directors, the former mortuary worker insists that if Hollywood didn't pan out, "maybe I'd be living in Paris-sitting in a bar or something." Mara Brock Akil, the second half of the whole, energetically affirms, "Salim, that's so cool!" Championing her partner, the Northwestern journalism alumna elaborates, "I strongly believe in visualizing what you want. Did we know it would look like this? No- but we knew what we wanted and visualized this success."
Escaping the impoverished clutches of Richmond, California, Salim first eyed Mara at a furniture store, after initially moving to Los Angeles to study film. Falling hard for each other on their first date, she boldly popped the question three months later. They wed in 1999. Individually rising amongst the industry ranks, Mara and Salim formed Akil Productions in 2000.
The Akils are proof that dreams oftentimes act as placeholders, unlocking an unimaginable wealth of opportunities. United at the helm of their company, 42 year-old Mara and 48 year-old Salim are the creative forces behind the hit TV series The Game and Girlfriends, along with films Jumping the Broom and Sparkle. With buzz brewing about the husband/ wife team's forthcoming TV movie, Being Mary Jane, a portrait of a single black female talk show host, it's apparent that their years of directing, writing and producing under the radar have prepared the Akils for their moment in the sun.
I caught up with the couple to discuss film and family on a day when they were "dividing and conquering," Mara at BET in post-production for The Game and Being Mary Jane, and Salim tweaking the highly anticipated film Sparkle, at Sony Studios.
What's a typical day like in the Akil household?
Mara Brock Akil: Because of the nature of our business, when our children were born it was important to make sure that we were at least Mom and Dad in the morning; giving them the attention that they need to get to school and cooking them a hot breakfast. It just makes you feel good. Different things happen throughout the day, once in the office, but we try to make it home as often as possible to tuck our kids into bed. The weekends are certainly always for family.
Salim Akil: Our characters don't happen to be black, they're black on purpose. We enjoy making telling stories about African-Americans. Our culture is always on the cutting edge of life.
MBA: Salim created a particular look for The Game. We were given a 4-camera budget, which is typically less than any of the other budgets, but he was able to articulate it differently. Most people are wowed by what we're able to do with the budgets we're given. We always make them look ten times more convincing than what we have.
What is the most challenging part about working alongside your spouse?
(Both laugh)
SA: Mara's got a really big head and it's hard for her to balance it!
MBA: Oh God Salim! We're best friends, beyond being married we enjoy being together. He inspires me as an artist, plus he's sexy on top of it! The other day I had to be in the editing room longer than he did, so he took off to be with the kids. I think that the challenge is balancing life together.
Describe your creative process
SA: I tend to hibernate. I think for a long time and if I'm writing, I execute fairly quickly because I've sort of written it in my head. If I'm writing a feature script, I can usually get that done in 2 weeks or less.
MBA: Before we'd talk it out, then I'd execute. Now we can't always physically be together. Salim is out of town a lot, shooting movies. I have to just go and do it. He's the first person that sees my work and I'm the first person that sees his. We believe in one vision. At the end of the day someone has to have the final word. We decide that before each project.
What would you pinpoint as your "big-break?" Is the film/TV industry a continuous string of big breaks?
MBA: I think my biggest break was when I was a writer's trainee on South Central. I was able to take a leap from being a receptionist to being looked at as a writer. It also introduced me to relationships that I still have and helped to fuel my career.
SA: I think my big break, was getting out of Richmond, California alive. Every time I get an opportunity to do what I love to do, it's huge. It never gets old. I always feel like, whatever job I direct, whether it be a movie or whole season of The Game, I just fall in love with it.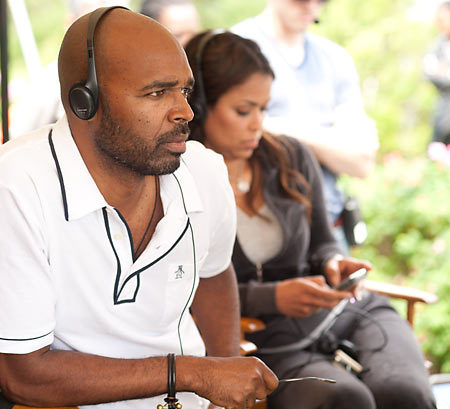 Who is the most identifiable character that you've created thus far?
MBA: I hide myself in different characters. You'll see me in the Joan character in Girlfriends, Melanie from The Game, and in some of the new character that's coming in Being Mary Jane. Salim spreads his swagger around all the time! I think there's a 'lil bit of Salim in some of his leading guys.
The Game has set viewership records at BET. Do you think that will change now that Tia Mowry & Pooch Hall are not returning as the characters Melanie and Derwin?
SA: Despite the fact that Melanie and Derwin won't be a huge part of the show, BET continues to support it and ordered more episodes. Here's a show that's in the 6th season and we're still getting the support of our network and our fans.
MBA: The good thing about the changes is that our environment is pro-football. I'm sure no one would ever think that Peyton Manning would be in any other jersey than the Colts, but he's in a Broncos jersey this year. We can take the realness of that world and go with the energy. As an artist of any sort, you go back to your paintbrush, computer or camera lens and you're challenged. That's what keeps us going.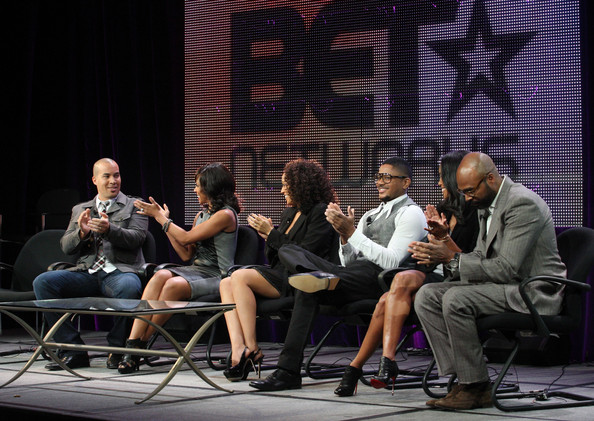 What was it like working with Whitney Houston while filming Sparkle?
SA: The experience that I had with Whitney, it's hard to articulate. It was just an example of what a woman, an icon really is. She was beautiful in every sense of the word-emotionally, spiritually, intellectually. She was very clear about what she wanted her character to represent. She was very supportive, and just a really funny person.
How are young filmmakers are missing the mark?
MBA: This business is not necessarily about how talented you are. At some point, when you start making the kind of money that you make, people get resentful. It's more than the work, it's a lot of politics. The ultimate politic is that when starting out, you're still an employee of someone. And I think people need to remember that. This business is very casual, but people are always watching. I find people are missing the mark on their attitude about serving. A lot of the times, you're getting people coffee, you're cleaning up. It may not be cool, but it is what it is.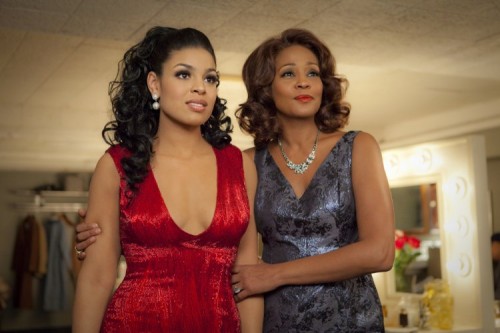 Is the Hollywood journey still an upward battle behind the scenes, particularly for black filmmakers?
SA: It's always a challenge. I think it's how you define being a filmmaker. We all want to make money and have a good life. But if your passion is writing and you want to write a novel, I don't think you should sit in your home and wait for someone to give you the opportunity. You write it. While you're writing your novel, you go to work. If you're a filmmaker and happen to be working with Akil Productions, we encourage you to write. We also encourage you to be the best phone answering person you can possibly be because eventually those things will find a way to meld itself into an opportunity.
You're slated to hold a Q &A conversation at the American Black Film Festival in Miami. What do you hope to take away from that experience?
SA: Rarely do directors get to step from behind the camera and see people that are supporters. It gives you fuel and is encouraging. I hope that we can both leave there having helped some people and convey the message that we should be attacking this thing at every level. Not everyone is going to make an independent film. Not everyone is going to make a studio film. You have to be open and ready to whatever opportunities you can make for yourself. Market a beautiful blueprint.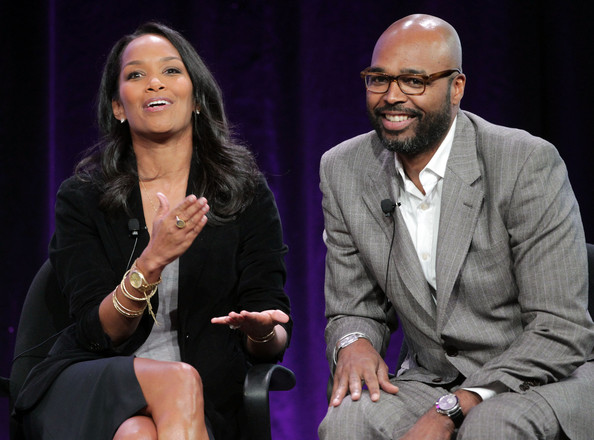 SUBSCRIBE TO & FOLLOW TRUMP'S FIRST 100 DAYS
How will Donald Trump's first 100 days impact YOU? Subscribe, choose the community that you most identify with or want to learn more about and we'll send you the news that matters most once a week throughout Trump's first 100 days in office. Learn more