In a recent interview with ESPN, Lane Kiffin opened up about his big move from the University of Tennesee to becoming the new football coach for the USC Trojans.
"I now really get what it means when people say (dramatic pause), 'I'm home,'" expressed Kiffin.
Touching.
I mean, sure, he might have left Tennessee amidst some turmoil, departing after just one year (and so late in the recruiting season), and of course he's managed to create a little trouble for himself by skirting NCAA rules, but enough has been written about that already. And nevermind the fact he managed to insult the Vols and his predecessor, Phil Fulmer, in every way possible during his interview with ESPN. (You can watch the interview here.)
I noticed something else watching Kiffin discuss his big move, that this time, he really means what he is saying. He feels connected to his new coaching position: It's all in the tie.
Witness the deep cardinal color of the fancy tie Kiffin was sporting yesterday at his USC press conference: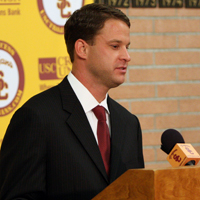 Pretty nice school spirit, eh? EH?!
Fight on!!
But wait a second... Someone around here just showed me the following picture from the press conference when Kiffin was introduced as coach of the Vols just over a year ago -- you know, the one where he told everyone he was looking forward to "singing Rocky Top all night long after we beat Florida next year. It's going to be a blast, so get ready!"
Donkey move, that. And note the tie: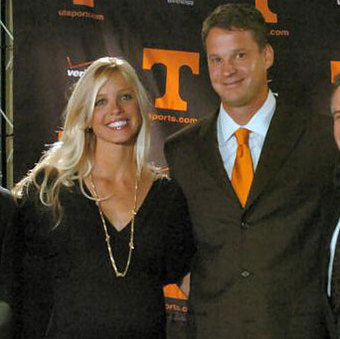 Sure, he was sporting Volunteer orange at that particular press conference but still, there has to be some deeper meaning to the Trojans ensemble he wore at the USC press conference; when he wears a crimson tie, it means he knows he's with family.
He wouldn't sport a team's colors in his tie for just anyone.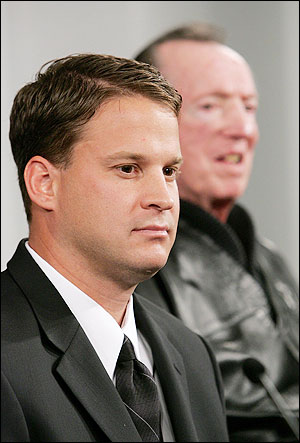 Whoops.
So, this 34 year-old whose father coached in multiple NFL cities, who himself played high school in Minnesota and college ball in Fresno, who is on his 6th different coaching job in 11 years is now "home."
Of course he is.
The tie says it's so.
SUBSCRIBE TO & FOLLOW THE MORNING EMAIL
Start your workday the right way with the news that matters most. Learn more