Lemons are good for more than garnishing cocktails or other summer dishes. Thanks to their high acid content and great citrus scent, they can be used in lieu of chemical cleaning products without losing out on efficacy. Here are my favorite uses for lemon.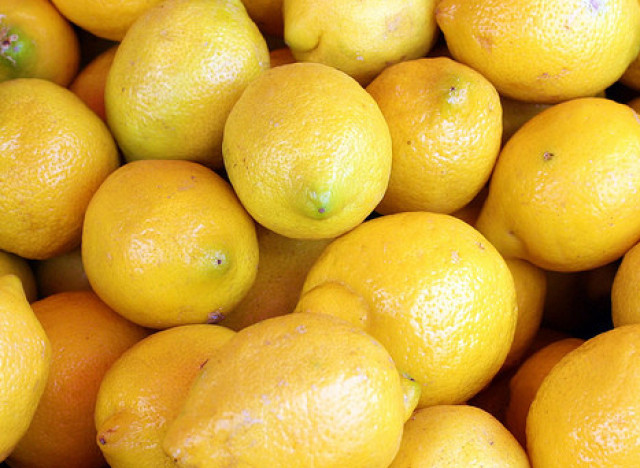 Flickr photo by CocteauBoy
Chrome Restoration
Whether it's a bathroom fixture or a decorative accessory, you can restore the beauty of chrome just by rubbing the item in question with half of a lemon. Just glide, let sit for ten minutes and then wipe away for a good-as-new finish.
Grout "Bleach"
Got gray grout? Simply reach for lemon. Cut a lemon into quarters and then use the pieces to scrub into the grout in between tiles. (If it's a really set-in stain, call upon an old toothbrush to help you rub the lemon into the grout.) The juice helps break down mildew, mold and other mysterious stains. Afterwards, rinse with plenty of water.
Garbage Disposal Cleaner
Let's face it: A garbage disposal can get pretty stinky if you're not careful. But a few slices of lemon will deodorize and clean away any funky stuff. Just slice a lemon and throw into the disposal and run as usual. Then, flush with plenty of hot water. Hint: Lemon rinds can work on minor odor situations.
Microwave Deodorizer
To eliminate odors from a microwave, simply fill a small bowl with water, add a few lemon slices and then zap for 45 seconds. Let sit; then wipe out the inside of the microwave.
Cat Deterrent
Don't want Cookie or Fluffy in a certain spot in your home? (Say, the kitchen counter.) Lemons to the rescue! Just spritz the surface with a 50/50 solution of lemon juice and water. Our feline friends, while cute, seem to disagree with citrus scents. They'll shoo away from the counter and go back to being sweet...in the living room, where they belong.
Have another great use for lemons? Share in the comments below!
For more great uses for everyday items, check out our previous installments of "5 Uses For..." in our slideshow below!
5 New Uses For Everything
From party favor to plant protector, these cardboard tubes can take on many different roles.

From drawer liners to photo backdrops, check out other new uses for wrapping paper.

Explore these alternative ways you can use vodka.

Take a look at these 5 different new uses for wine corks.

Before you toss them, check out these great ways to repurpose them.

Just because you can't use them on your car anymore doesn't mean they're useless!

From artwork to insulation, this loud packing material can be used in many different ways.

The most unique ways to use all that leftover Halloween candy.

This quintessential fall fruit can actually be used for more than just decor and pie.

A candle holder, spill cleaner and more!

Not only is it a culinary staple, but it can also help you with some chores around the house.

Create wall art and even plug your sink--no driving range necessary for these new uses.

Who knew this veggie could be so multi-purposed? Learn how to use a potato to create stamps, remove a lightbulb and more!

Make coasters, a purse and more all with maps.

Ever wonder what to do with your old keys? Repurpose them in these 5 new ways.

Use dish soap to make an ice pack, wash your hair and more, with these 5 new uses.

Did you know this beauty product can not only clean stains on china, but also dissolve super glue!

They're not just for kids! Learn 5 other things you can do with action figures.

It's not just for chilling soda (or beer)! Check out the 5 other uses for a cooler.

Use this common office supply to grip a bottle, open a lid and more! Check out these 5 uses for rubber bands.

You can do these 5 things with cards... and not one of them involves gambling!

Who knew that this material could be used to make a wallet? Learn how to use duct tape for this and four more things.

It does wonders for your...hair? Check out the ways you can use milk to clean and polish things around your home.

Who knew that besides holding pills, these containers could be used as a water resistant survival kit? Now that's a reason to hold on to these!

Learn how paperclips can help you fix your electronics AND pit a cherry.

Use peroxide to do anything from cleaning your cutting board to highlighting your hair. Read about those new uses and more!

From removing stains to a great fertilizer, here are even more reasons to love eggs!

This vegetable-based powder works wonders removing grease and cleaning your...pet!

This fruit is more than just delicious--it can also do wonders in your kitchen.

Find out how to get a few more uses out of plastic gallon containers before tossing them in the recycle bin.

The cure for more than just that throbbing headache.

Sugar isn't just for your coffee... Use it to feed your flowers, remove grass stains and more.

Got a ton of pastic bags from all your grocery shopping? Put them to good use!

We prove that this kitchen staple can go beyond cooking.

From tables to wallets, there are more to comic books than meets the eye.

Egg cartons can be repurposed for use in both your home and garden. Check out the 5 different ways to use them!

Who knew vodka could do other things besides make a great cocktail? Learn how to use it as a room deodorizer, shower cleaner and more.

Since you most likely haven't used one of these in years, check out how you can repurpose them in these 5 new ways.

We bet you didn't know you could use cotton balls to... catch mice?

Don't throw out your old socks -- learn 5 new ways to put them to use.

Check out the 5 different ways you can use baking soda to clean and deodorize your drain, brass and even your face.

It can do much more than clean your teeth.

Learn the 5 other ways you can use your coffee mugs besides to sip a hot drink every morning.

Just because a CD is scratched doesn't mean it's useless. Try these 5 ideas for reusing old CDs around the house.

Who knew this sugary drink could help you clean?

Not only can you get your caffeine fix, but you can also repel bugs and fertilize your garden with this popular drink.

This happy-hour drink has protein that strengthens your hair AND can help you sleep better at night.

Learn how to eliminate shoe odor, pesky ants and sweaty sheets by simply using baby powder.

This clear liquid can do wonders in your car, home and even the air!

Consider these 5 new uses for plastic soda bottles before tossing them in the recycling bin.
Follow Chris Barnes on Twitter: www.twitter.com/thatchrisbarnes