If you are a stay-at-home parent, you know there are things that you and your working spouse handle differently. What you have in common is that you both work long hours, your day doesn't just come to an end at night, and you have to get up the next day and do it all over again and again, and again.
Stay-at-home dads have issues just like stay-at-home moms, but we sometimes have trouble effectively addressing them. Through observations in a stay-at-home dad group I help run, I have noticed some issues between SAHDs and their spouses. Luckily, my wife and I have learned some tips along the way during these past six years of me being at home. If your husband is staying at home or thinking about it, you may want to keep these suggestions in mind.
1. Let it go.
Sorry if you are now singing that Frozen song. You are going to need to let your at-home dad do things his way. I know it is hard and there are things that are going to bug you, like the fact that he wipes the tables counterclockwise instead of clockwise, but we are hoping you can let that slide.
He is going to have to find out on his own what his schedule should be, on his terms. Suggestions about how to make things more efficient are fine, but in the end, we will want to do things our own way. Imposing your will on us may just shut us down more. Let us figure it out and come up with a schedule that fits with our parenting style.
2. Don't nag.
Nothing is going to get us motivated less than when you are constantly asking us to do something. We are aware of our shortcomings, and in most cases, we are trying to find that balance between caring for the kids and managing the household duties. Give us some time. Sometimes, things go by the wayside because we get overwhelmed.
3. Set clear expectations.
Sit down together and communicate about the things you expect to be accomplished each day. Some couples think that just managing to keep the kids alive and healthy is enough, but others may have further expectations about cleanliness, meal preparation, etc. Make sure, in the end, that you are on the same page. This will help cut down on problems later.
4. Cleaning house.
If we were anal-retentive when you met us with things needing to be clean, this is probably carrying over into our lives with the kids -- maybe even more so. But, if you remember a time when you met us and we maintained our apartment but it didn't meet your standards, this is more than likely what is going to continue in the home, especially when you add the kids into the mix.
Cleaning sucks, and there are lots of things we would rather do than clean that space between the toilet seat and the tank -- like play with the kids. Guys, do a floor check. Get down on the ground and play with the kids. See things from their level. If you are disgusted and would rather put a blanket down before lying in that filth, then it is time to put on your Mr. Clean hat.
5. Help out when you can.
This is a big issue with most SAHDs. We know you have been working all day and you probably have to work into the night as well, but any assistance you give us is going to be much appreciated. Men tend to internalize issues until they build up and are afraid to ask for help because we know you are doing so much already and don't want to start a fight.
This is where clear expectations come into play. (See #3.) Tag team the nighttime routine. Ask your husband how he usually does things so you can stay consistent. That is really going to help us into the next day with the kids. Deviation is going to cause problems with our routine.
6. Communicate effectively.
If there is something that needs to get done and we aren't doing it, tell us in a way that is not attacking. Men tend to get defensive when our shortcomings are pointed out. I often have difficulty with criticism because I respond better to praise. Sandwich the request with some compliments on what we are doing right. That softens the blow and makes us more willing to work on our weaknesses than just pointing out what we aren't doing well.
7. Pencil us in.
We know you are tired and so are we, but please, work us into your schedule, because we want to be in your inbox. Plough through that work together. See what I did there? It relieves stress and helps you reconnect with each other despite all the stuff you have to do; instead, do each other.
8. Give us some space.
We need guy time as much as you need girls' night out. Offer to watch the kids so we can go to that action movie you would never watch with us, or suggest that we get together with the guys at a restaurant or bar to blow off some steam. You know how it is at bedtime and on weekends. Imagine your incompetent co-workers hassling you all day. Same deal. Sometimes we just want to drive to Target to walk around aimlessly without someone asking us for something.
9. Take time for yourself.
We want you to be as rested and sharp as possible, because you are providing for our family and you deserve it. If you need some time alone or away from the kids, just ask. We can plan to have them away for a bit while you nap, catch up on work or head out to the store by yourself. Just know that eventually, we are coming back.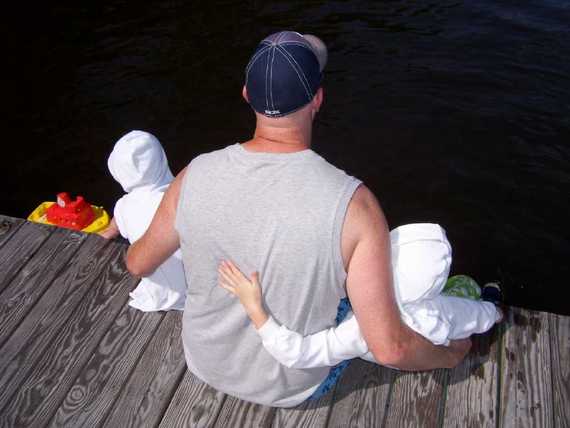 Like Us On Facebook |

Follow Us On Twitter |

Contact HuffPost Parents

Also on HuffPost:
First Photos Of Dads And Babies
"What was I thinking at this moment? Everything from the super emotional 'I'll stand in front of a speeding train for you yet I only just met you' to the pragmatic 'So this is what a combination of me and my wife looks like.' I felt more pure happiness than I can describe."

"Gwyneth's due date was 9/11/01. Thankfully, she waited another six days until she made her appearance in the world. She'd had to be resuscitated due to the cord being wrapped around her neck, so at this point we were just thrilled and ready for a nap."

"What is this thing and why do I love it so much?!"

"I'm gonna eat you up."

"She's a redhead! She's a redhead!"

"This was the first nap I had with our boy, Leo, after we got him home from the hospital. I was thinking how delighted I was that he was here, in our lives; that my wife was safe and healthy, and that our baby was so lovely and sweet and perfect, and that maybe neither one of would ever sleep again, so better grab it while it was available."

"To preface, I am a nervous wreck most of the time so I was totally 'freaked out' about the baby. But the first time I held Emmy, the first time she opened her eyes and gave me the once-over, the first time she grabbed my finger as if to say 'hey, Daddy,' all that worrying and freaking out ... it's all so worth it. Five and a half years later, the worrying never ends but is far surpassed by the fun, the joy, the pride, the unconditional love (well, at least most of the time)."

"Since the day my oldest daughter was born, I had been totally obsessed with her. So much so, that I worried I could never love another child as much as her. And then Zoe was born; she gave me that same initial stare; and then that first smile (maybe it was gas?); and we bonded in an instant. A friend once described to me that it's as if your heart just opens up to make room for another. And that is a pretty good description. Now I am obsessed times two (and still in a constant state of worry)."

"I'm going to give this kid the best life ... Don't think this coffee is going to be strong enough ... Never thought I could love someone this much."

#1: Nicholas. "Holy sh**." #2: Natalie. "Wait a second, I've been here before." #3: Noelle. "I think I got this down." #4: Nicole. "I'm a pro."

"When I first met my daughter, I was overwhelmed with happiness. Usually love is an emotion that takes time to develop and grow, but when I laid my eyes on Ella for the first time, I was hooked immediately. I knew life would never be the same, in the best of ways."

"I really don't remember what I was thinking in that moment only vividly what I was feeling ... complete joy."

"Wow, I'm a dad. Too bad he looks so much like me; hope he grows out of it. I can't wait to take him to his first Texas Longhorn football game in a few months!"

I had left my wife and my first child, Carlos Miles, at the hospital and was wandering home. I was in a daze, a swirl of emotions. Suddenly a thought occurred to me: "I am man. I make son." For a moment, I was in the grip of something primal. It was heavy: as though I was experiencing something that men of all cultures and all epochs had experienced: I created a son. I felt like a caveman --dumb and in awe. Ok, it was silly and slightly overwrought, but the feeling was undeniable. Now my son is 8, and I still sometimes feel the same way.

digamama:This is the very first picture I have of my son and pop. Three years later, they still cuddle in like this.

thekaogirl:Sheer amazement and unconditional love. I remember thinking that she was the most beautiful person I've ever seen. And then I thought of my wife, Erika, and I was in total astonishment.

"You run through a flood of emotions when you see your child for the first time. It's a surreal feeling knowing that you've created a life."

Melissa Mulvaney:No words. Just amazing love.

"My pride and joy. I was speechless, basically and in awe."

"Ten toes- thank goodness!"

"My life just started."

Miriam Alkazzaz:I cherish the photos I have with my late husband and our twins. I am blessed that he was alive to see the birth of our twins. We miss you Daddy!

Miriam Alkazzaz:Happy Father's Day Daddy! RIP We miss you. We know you are watching your twin girls up in heaven!

"It was love at first sight!"

Angela Reynolds:First thought was that I loved him so much and I couldn't wait to take him to a Red Wings game!

la renard:To free up Mom on weekends, we retreat to the man cave together.

HuffPost Blogger Charlie Capen:"I wonder if I could keep my hand here on his head, like a helmet, for the rest of his life." -charlie, howtobeadad.com

Katybeth McClelland:Lizzie is about to celebrate her birthday, right after her Daddy celebrates his first Father's Day. We love you Daddy!!

shoelvr32:submitted by Mommy: I remember my hubby's first thought seeing our girl 2 years ago "Wow she's really here" She slept on Daddy's chest nearly every night from the hospital until she was 2 months old

keiffer30:Our first child Matthew was born in fall of 2007 & my wife & I were so excited. I am a big Goo Goo Dolls fan and to this day every time I hear "Better Days" lyric, "Cuz tonight's the night the world begins again", I think of all the potential & love Matthew brings us.

bananabean12:Real love at first sight is when a daddy meets his baby girl.

Rose May Tubo:Smiling together for the first time :)

Myra York:James, Bri & Kya...Kya is a Christmas baby!

Sheryl Kaufman:Griffin was born the day before and Travis was 2 1/2 and the adventure was just getting started .They are 8 and almost 6 now and get cuter and smarter every day. Dada Tim is a very proud Dada !

Jeremy Gast:I couldnt believe how pretty she was. Amazingly beautiful even with her swollen eyes and cone head. I asked her why she gave her mother such a hard time coming out. It finally dawned on me that that huge belly my wife had and all those kicks and bumps actually was a real baby. And now she was here. And my life changed forever

singing to his newborn baby daughter

Craig and Ty un-seperable

Father's first picture with his newborn baby girl!

Janet2379:

marcelomelo:"Hey, he's looking at me!" Gabriel was in this world for about 40 minutes when my sister-in-law took this picture last September. I was also thinking of the challenges we'd face together as a family: Gabriel, his mom, and me: "It will be great be on this journey with you, guys!"

kderush:It's hard to imagine what to say about this photo.

astrumluminarium:She came a day before Daddy got home from Iraq. It was nearly midnight, I was exhausted, and he walked in from the airport, carrying his gear, pale faced and shaking so hard he couldn't pull his jacket off. He was still shaking when I snapped this first picture, and he's been wrapped around her finger ever since.

Yesenia Betance:

TradeGreetings:The moment she was born, I was overwhelmed by how much I loved her.

Julie SandersMartinez:I had My baby girl C-sec, but due to complications I was immediately rushed on to 4 hours of emergency surgery. Emma was 6 hours old before I got to see or hold her. Only thing I can remember about the first meeting of my now soon to be 4 year old and her daddy was when he whispered to her "Im going to be worthy of having you call me Daddy.-I promise" I spent a month in the hospital and daddy would come from work to the hospital so I could have her in room with me and every night they would fall asleep in those awful daddy chair beds and snooze in almost identical positions. It was a tough time but Id never change because I got to learn a lot about my husband as a father, a partner in the new adventure,And I loved him even more deeply and completely every time our eyes met over our precious little gift.

philli1102:He was the happiest man alive! I never had anyone support me more =) When he held him for the first time he cried tears of joy.

cunnitr:This is my favorite picture. He's seeing her for the first time in amazement. She's just born minutes earlier and looking like she needs her dad already!

kellymac1019:UT's newest fan!

Karen Torres N:

Penny Leal Ffrench:This is the first picture taken of my husband and our first born baby boy. It was wonderful to see him carry our baby for the first time, he was so proud of him.

ruca333:Happy Birthday buddy!!!

abennett17:

Orianna Alfred:I remember when my little man was born, I was surprised!! that's when I knew my life had just started! instant bond and Love!
Follow Chris Bernholdt on Twitter: www.twitter.com/DadNCharge