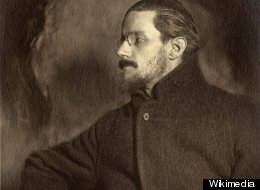 1000 Years of English Literature [The British Library, $19.00] displays and describes the original works of over 100 best-loved writers from the collections of the British Library. It is a testimony to the breadth and depth of the British Library's collections that a well-plotted story of the English literary tradition can be told entirely from its own holdings.
The earliest work represented in the book is Beowulf, a fifth- or sixth-century story of a Scandinavian warrior hero. Among the most recent are the notebooks of poet Wendy Cope, whose slyly humorous language engages with the everyday aspects of human existence. In between those two works (or worlds), separated by 1000 years, are original manuscripts of poems, romances, nonsense verse, short stories, novels and many other genres by writers such as Chaucer, Shakespeare, Defoe, Blake, Wordsworth, Austen, Keats, Byron, the Brontë sisters, Dickens, Tennyson, Lear, Hardy, Wilde, Conan Doyle, Conrad, Forster, Joyce, Woolf, Larkin, Plath, Hughes, Auden and Stoppard. In an age that allows the almost infinite cloning of texts and images, the joy of a privileged peek at a single, unique artefact, that preserves the creative spark of talent, remains unsurpassed.
But what of the future of writing? We hear more and more how today's authors eschew the notepad and the typewriter in favor of the PC, laptop, tablet or even mobile; of their neglect of the postbox in favour of the email account, Facebook status update or tweets. Yet the history of literary transmission, from the grandest of narratives to the slightest of couplets, has always been a history of change, from tales told round the fire, to vellum, to paper, to printing, to the typewriter, telegram, and computer. This slideshow features 14 of the most important literary figures associated with these Islands from the last 1000 years.
CORRECTION: An earlier version of this article stated that 1000 Years of English Literature was published by University of Chicago Press. It was, in fact, published by The British Library. University of Chicago Press was the book's distributer.
Manuscripts from the 14 greatest British writers
The origins of the work which stands at the very beginning of the English literary tradition remain shrouded in mystery. It has been conjectured that "Beowulf" emerged from an oral tradition as early as the seventh century but it is known to us only from the miraculous survival of a vellum manuscript written out in Old English by an anonymous scribe around the year 1000. The poem tells the story of Beowulf, a Scandinavian warrior hero, who rids the Danish kingdom of a terrible monster, Grendel, and his vengeful mother. Many years later, after decades of peace, a dragon attacks Beowulf's people and Beowulf is mortally wounded. Shown here is the opening of the poem.

Chaucer was born in London between 1339 and 1346 and is likely to have studied either at Oxford or Cambridge University. He worked in the royal household for many years, campaigning against France in the King's service in 1366, and embarking on secret diplomatic missions abroad, to France, Italy and Flanders. By 1386 his professional fortunes had taken a downward turn and in April 1388, a year after his wife's death, Chaucer undertook the famous pilgrimage to Canterbury which formed the subject of his late, great, unfinished work, The Canterbury Tales. The poem introduces readers to a series of memorable characters on the pilgrimage from London to Canterbury. Some 88 manuscript copies of The Canterbury Tales survive, although none is thought to be in Chaucer's own hand.

"He was not of an age, but for all time." Ben Jonson's tribute to Shakespeare is perhaps English literature's most prescient. The young love of Romeo and Juliet, the mature love of Antony and Cleopatra, the jealousy of Othello, the ambition of Lady Macbeth, the anguish of Hamlet and the foolishness of Falstaff strike us with the enduring force of truth. Shakespeare was born to a prosperous merchant in Stratford-upon-Avon. He married Anne Hathaway in 1582 with whom he had three children. By 1589 he had established himself as a dramatist in London and over the next two decades he would bring a steady stream of plays to the stage, including histories, comedies and tragedies. The extreme rarity of manuscript sources by or relating to Shakespeare has long served to heighten the intense speculation surrounding his identity. Shown here is Shakespeare's contribution to "The Book of Sir Thomas More."

Jonathan Swift is best known for his masterpiece of 1723, Gulliver's Travels, which is notable not only for its strong misanthropic vein but also for the revulsion with which it treats sexuality. Swift was born in Dublin and moved to England in 1689 where he entered the service of Sir William Temple, a retired diplomat. In Temple's enlightened household he learned at first hand the machinations of government and the trappings of society, a good grounding for the trenchant lampoons and biting satire he was later to produce. Swift's life-companion was Esther Johnson, but the letter shown here was written to "Vanessa" (Esther van Homrigh), with whom Swift was involved in a tortured relationship. He ended their turbulent affair in 1723.

William Blake, now recognized as one of the most visionary of literary and artistic figures, found no fame in his lifetime. Yet the neglect of Blake by his contemporaries is perhaps not really so surprising. At odds with a world in which he saw the forces of science and materialism triumphing over the spirit, he stood, intellectually and politically, out of his time. Blake developed innovative printing techniques which he used to publish his own beautiful editions of his series of poems Songs of Innocence (1789) and Songs of Experience (1793). The notebook shown here contains versions of the poems "London" and "The Tyger," which were included in Songs of Experience.

Jane Austen was born into a large and affectionate Hampshire family. As a child she was an avid reader and her earliest surviving writings date from her teenage years. Though leading the circumscribed life of a country clergyman's daughter, Austen developed a sharply perceptive view of the follies of mankind. Self-delusion, self-aggrandisement and hypocrisy are but a few of the more distasteful traits of humanity to fall under her scrutiny; her ironic detachment and humor, nevertheless, make them joyfully palatable. Pride and Prejudice (1813), Emma (1815) and Persuasion (1818) are among the very greatest of English literary achievements. Shown here is a page from two surviving chapters of the manuscript for Persuasion. It shows the complexity of Austen's editorial method.

A clergyman's son, Coleridge was educated at Christ's Hospital School in London, and Jesus College, Cambridge, which he left without a degree. He married Sara Fricker and moved to the West Country where he met William Wordsworth, with whom he forged a deep and creative friendship. Coleridge moved with Wordsworth to the Lake District, helping forever to associate its dramatic and beautiful landscape with the Romantic movement. He was disastrously addicted to opium from about 1803, and became estranged from Wordsworth. He was destined never to recapture the intense creative vision of earlier days. Shown here is a fragment of "Kubla Khan," perhaps Coleridge's best-known poem and a triumph of English Romanticism.

Charlotte (1816-1855), Emily (1818-1848) and Anne Brontë (1820-1849) were raised in an isolated village on the edge of the Yorkshire moors. Charlotte is best known for her novel Jane Eyre, and shown here is the emotional passage when Mr. Rochester asks Jane to marry him. Emily, described as stubborn and fiercely independent, could not bear to be away from her home and its wild moorland surroundings. Her only novel, Wuthering Heights, was criticized when it was first published in 1847 for being excessively violent, morbid and histrionic but it is now regarded as one of the masterpieces of 19th-century fiction. Anne, the youngest of the Brontë sisters, wrote Agnes Grey, which was based on her unhappy experiences. Her second novel, The Tenant of Wildfell Hall, drew upon her brother Branwell's unfortunate descent into alcoholism in the portrayal of its main character.

Charles Dickens was the son of a naval clerk whose indifference to thrift brought him to a debtors' prison, and the young Charles was to experience a misery that struck deep. One feels that by portraying the fearful abuse of children in his first two novels, Oliver Twist and Nicholas Nickleby, he was purging something vile from his past. This page from the manuscript of Nicholas Nickleby is full of interest. Dickens's bold and bounding hand applies itself to the page in a manner which shows huge confidence and professionalism, even at this early stage in his career. Dickens went on to write 16 hugely popular novels, including Great Expectations, Bleak House and David Copperfield, and he achieved great fame on both sides of the Atlantic.

Oscar Wilde, the greatest wit and conversationalist of his generation, is still among the most widely read and translated authors in the English language. Among his best-loved works is the play The Importance of Being Earnest, an early draft of which, dating from 1894, is shown here, open at the famous "handbag" scene. Shortly after the triumphant opening of the play Wilde took the fatal decision to sue the Marquess of Queensberry, father of the great but ill-starred romance of his life, Lord Alfred Douglas. So Wilde set in train the sequence of events which led to his two-year imprisonment for homosexual offences and his descent into public disgrace, poverty and exile. He died at the age of 46, buried in a pauper's grave on the outskirts of Paris.

Virginia Woolf's literary talents revealed themselves at an early age, when she compiled, with her brother and sister, the witty and inventive "Hyde Park Gate News." By the age of 23 she had established herself at the center of London's literary world, and formed, with her siblings, the influential "Bloomsbury Group" of writers and artists. During the period 1915 to 1925 she composed the major works she is best known for. Shown here is a page from Mrs. Dalloway (1925), which traces the thoughts, memories and emotions of one character through the course of a single day in London. It is hard not to associate the heroine's sadness with that of Woolf herself, who suffered mental anguish throughout a life which she eventually took by her own hand in 1941.

James Augustine Aloysius Joyce was born in Dublin in 1882. In 1902 he left Dublin for Paris and he would live in Europe for the rest of his life. It was during his time in Paris that Joyce became familiar with the work of Edouard Dujardin, whom he credits as influencing the stream of consciousness method he employed in Ulysses. Despite living in Paris, Trieste and Zurich for the greater part of his life, it was Dublin that remained the inspiration for his fictional work. Ulysses follows the structure of Homer's "Odyssey," the events of the novel taking place in Dublin on a single day. Joyces's manuscript for Ulysses features extensive scoring through by Joyce in blue, red and green pencil.

Although by the time of his death Philip Larkin had published just four slim collections of verse, his technical brilliance and ability to speak of both the mundane and the marvellous had endeared him to a broad audience. Larkin spent his career as a librarian, most famously at the Brynmor Jones Library at the University of Hull. He once commented that "Librarianship suits me ... And I've always thought that a regular job was no bad thing for a poet." The British Library has an extensive archive of Larkin manuscripts, one of which is a draft of his poem "Wedding Wind," in which he adopts the persona of a newly wed bride. Her voice, in all its beauty and emotional sincerity, reminds us that Larkin could be sensitive as well as acerbic and irreverent.

Sylvia Plath was born in Boston, Massachusetts, but moved to England as a Fulbright scholar at Newnham College, Cambridge. It was there that she met the poet Ted Hughes, who she married in 1956. Her first volume of poetry, The Colossus, appeared in 1960, and her autobiographical novel, The Bell Jar, was published in 1963. Less than a month after its publication, Plath took her own life. Her best-known collection of poems, Ariel, published posthumously in 1965, established her reputation as one of the most powerful poets of the 20th century with its vivid, rich, turbulent poems of fury, ecstasy and anguish.