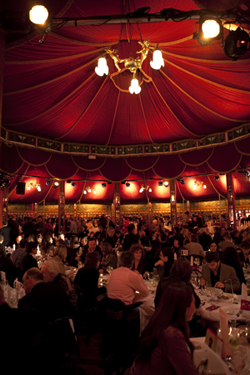 Kings of Pastry, now out on DVD, follows sixteen of France's top pastry chefs through the most grueling cooking contest yet devised, the "Meilleur Ouvrier de France" competition, known among kitchen royalty as the MOF. Towering sculptures made only of sugar and chocolate shatter along with a few dreams. It's a surprisingly tense film considering it's about crème puffs and one that leaves viewers salivating. But for some lucky audiences, local pastry chefs turned the theater experience into a party.
The film's party life began at the Berlin Film Festival, where it was selected for their Culinary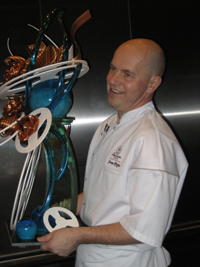 Cinema program. After the show the audience was treated to a five-course feast prepared by award-winning Chef Lea Linster as well as deserts baked by Chef Josef Zotter. He handed out exotic party favors that were syringes filled with chocolate mouse.
Kings of Pastry's USA festival premiere was the opening night highlight of the Full Frame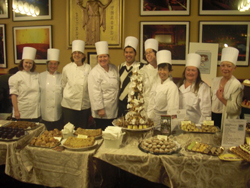 Festival in North Carolina. In honor of which, our star Chef Jacquy Pfeiffer from Chicago's French Pastry School, built a four-foot sculpture with a movie theme. His wondrous creation had reels and film made entirely of chocolate.
Our theatrical premiere took place at New York's Film Forum. Chef Jacques Torres, a judge in the film and former MOF winner, hosted the after party at his famous chocolate shop. As Kings of Pastry opened in cities around the country, we were touched by the generosity of chefs we had never met who donated confections for the screenings. They told audiences that the hard work and dedication of the chefs in Kings of Pastry inspired them to strive for excellence in their own careers.
In Denver, Chef Keegan Gerhard, a Food Network celebrity, spoke passionately about apprenticing with Chef Jacquy Pfeiffer. And in Los Angeles Jacquy was honored by Spago's executive pastry chef, Sherry Yard, who displayed a dazzling array of pastries donated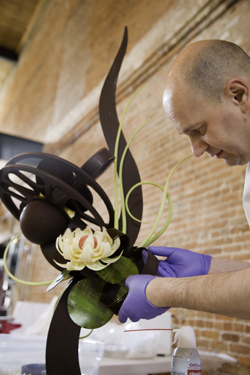 by renowned pastry chefs and included a fountain of running chocolate. Audiences in San Francisco waited in long lines in the lobby of the Balboa Theater to sample goodies from Bakers Dozen, a collective of pastry enthusiasts, while in Greenwich, Connecticut, French Chef Jean Pierre Bagnato, of the celebrated Versailles restaurant and patisserie, served moviegoers his own exquisite confections.
Jacquy impressed us when he appeared on Good Morning America hosted by George Stephanopoulos, a friend from our campaign film, The War Room. On the show Jacquy baked a mouth-watering caramelized apple puff-pastry dessert. The cameras caught the hosts shoveling it into their mouths with delight. And Jacquy built an even more realistic film sculpture, this time out of completely out of sugar.
Kings of Pastry not only seems to have caught the recent wave of interest in cooking. But also the film's underlying message is affecting. As Jacquy told us, "It's not about doing the best you can do, but the best that can be done." That's what making a perfect crème puff is all about and most other things in life too.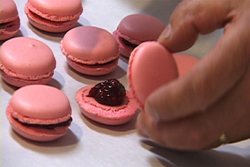 Our only regret is that we can't pack one of Jacquy's macaroons in each DVD box.
FOLLOW HUFFPOST