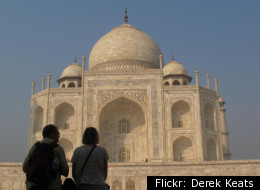 Why are we flying all over the planet, spending loads of money and standing in our socks at airport security? What is it we want out of travel? Is it to take snapshots of ourselves in front of famous monuments, surrounded by other tourists? To eat unfamiliar food chosen from unintelligible menus? To earn frequent-flier miles?
No. It's to glimpse what life is like somewhere else. An opportunity to put ourselves in shoes that walk those cobblestoned streets every day, to get a sense what life would be like if we lived there, instead of here and to feel that we are part of a place that doesn't belong to us.
This is tourism. This is also what it means to be an expat, to live in a country not your own. But, as I state in my new book, The Expats: A Novel [Random House, $26.00], expats are there far too long--years, decades--to live like tourists. On the other hand, expats will never truly be locals; these are not your people, and never will be. You are a permanent--or indefinite--tourist.
Here, in the intersection of permanence with transience, are some lessons for the traveler seeking a more authentic experience.
The Wimbledon final is on the large-screen TV in the packed pub. I'm sharing a large table with enthusiastic, friendly, raucous Brits. Everyone here except me is from England, including the bartenders. But it's not England I'm in; it's Paris's 4th arrondisement. Parisians aren't going to welcome you into their community just because you've spent a few days in their museums, no matter how hard you try to get a table at that bistro that the locals supposedly adore. There's nothing you can do about this, short of buying an apartment and moving to Paris for a lifetime (or two). But you know who will welcome you? Expats. Five minutes on the web will lead you to their hangouts--most likely pubs--in any city. Expats make it easy for newcomers and strangers to find them. Because unlike the locals, they actually want you to show up, order a pint, and start talking. Expats are a self-selecting group of outgoing people, eager to make new friends. They also tend to have a useful amount of local knowledge that they're more than happy to share with strangers, like you. Hanging out in Paris with a bunch of people from England and Denmark and Australia and South Africa isn't the same as hanging out in Paris with Parisians. But it's still foreign, and it's interesting, and it's fun. It may not be exactly what you're looking for, but it's probably not that far off.

Let's face it: a hotel is a hotel is a hotel. No matter how high the thread count of the sheets, or how seamless the service, or how opulent the lobby, a hotel is a place filled with tourists, and you're one of them, being attended by people whose jobs are to attend to tourists. But an apartment? That's where people live. That's where you'll feel what life is like somewhere else, because you'll be living it. And here's the clincher: you can live in a short-term apartment nearly anywhere, for prices that are shockingly reasonable. This is especially true if you're traveling as a family, and need extra-large hotel rooms at a minimum (more likely suites) and the subsequent extra occupancy charges, and fees for the additional bedding, and painful breakfast bills. An apartment may not be much nicer, but it will be much bigger and much cheaper. For example: we spent a long weekend in a charming two-bedroom in a 17th-century palazzo, blocks from the Campo dei Fiori in central Rome, for about half the price of any acceptable hotel room nearby. Also a week in an airy, sprawling three-bedroom in Barcelona's medieval Barri Gòtic neighborhood, with beautiful tiled floors and soaring ceilings, a balcony overhanging the pedestrian street, a full kitchen and dining room and two baths--even a washer-dryer! A week in this 1200-square-foot apartment was $1100; a hotel room in the area--a standard little room--would've cost at least 50 percent more, for at most 20 percent of the space, with the children on roll-away cots or fold-out sofas, everyone stumbling over one another to get to the single bathroom. The logistics are surprisingly easy, and refreshingly personal. For any big city, it's quick and simple to research and reserve apartments online. You'll end up communicating with an actual person (whose name you'll know!), then keys will arrive in the mail. Someone--the owner, or a rental manager--may meet you at the apartment to show you around, and answer questions you didn't even know to ask. When it's time to go, you'll leave the keys on the kitchen counter, pull the door shut, and feel like you're leaving a place where you actually lived. Will you have missed the chocolate on the pillow? Or having someone make the bed every day? Not much, no.

Are you flying across on ocean to have easy access to Zara, or Prada, on the high street? Do you truly want to stay on the loud main square, surrounded by tour buses and aggressive hucksters and bad overpriced restaurants? No? Then find a bed somewhere else. There are always hotels in residential neighborhoods, amid the grocery stores and playgrounds and apartment buildings where people go about the business of living. I will never forget my children gathered in a huddle with Danish kids, all working together to build a home for a snail in a park in Copenhagen. Or playing on dangerous climbing apparatuses in the backstreet-playgrounds in Bruges, and Kensington Gardens, and Strasbourg, And there I am, sitting on a bench with a good cup of to-go coffee, reading a book and soaking in the atmosphere. This is what it's like to live somewhere.

Visit the same caffè every morning for your espresso. Stop at the same ice-cream shop and newsstand. Have a pre-dinner kir royale at the same brasserie, at the same time. By the third day, you'll be recognized. If you make an effort, you'll be greeted warmly, maybe even by name. And when a waiter says, "Welcome back," you'll know you've arrived at somewhere beyond the normal tourist destination; at a place where you belong, in some small way. This is how expats make new homes in new lands, how they turn the foreign into the familiar. And in the short term, it'll work for you too. Then when you leave, be sure to say goodbye. On our way to the airport in Rome, one of our kids insisted we stop by our local restaurant to say ciao to the proprietor. The old man didn't speak English, and my four-year-old kid certainly didn't speak Italian. But the two of them had forged a bond, and it's one of our best memories of the time we spent living as expats in Europe.

When locals are looking for something to do--a great restaurant, concert listings, museum hours, a hot new bar--do they consult guidebooks? Of course not. Why should you? Those restaurant recommendations might be a few decades old (with the menu verified every few years); the bar listings were written by an American college kid on summer vacation. Is this really the advice you want? On the other hand, chances are there's a local magazine or newspaper or a website that will include exactly the type of guidance you're looking for. Don't be intimidated if you're not particularly fluent in the language; you don't need to read every word of a restaurant review to get the gist. In fact, you may not need to read any word: stars and price ratings are fairly universal, and can suffice for your decision-making. It may not be the most fully understood decision you'll ever make, but that doesn't mean it won't be well informed.

I'm sheltering myself from the drizzle under an awning on a fancy shopping street, trying to figure out what I'm going to do next. A couple approaches me. The man asks in French if I know where a certain church is. I do. Not because I'm an expert in the local geography, but because I just left the church. We're both tourists, he and I. But one of us is wearing sneakers and a poncho and fumbling with a guidebook and camera, and one of us is dressed like a normal person. Of course you need to wear comfortable shoes, and it'll help to have a map or book to help you get where you need to go. But do you need to go out of your way to draw attention to your status as a tourist? Do you want to? Tourists get pick-pocketed and mugged; tourists get taken advantage of; tourists get shown to the worst table, even if the restaurant is nearly empty. It may not be fair--it may not make sense--that tourists can be disdained, and treated badly. But they often are. Now, I'm not suggesting you wear a business suit; you're not on a job interview. But for God's sake, don't show up to dinner wearing shorts. Locals wouldn't, and neither would expats. You can't live like the former; but without all that much effort, you can travel like the latter.