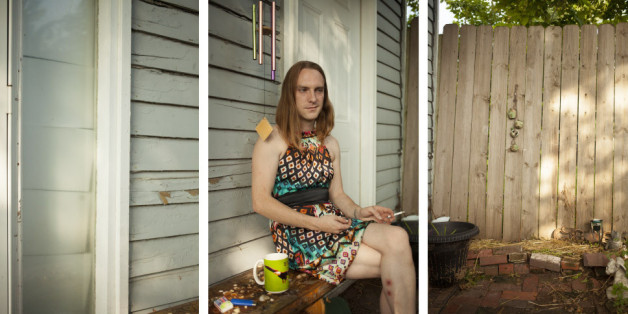 I'm a documentary photographer and filmmaker from Cincinnati, Ohio, and I'm currently on a seven-week road trip through the American South to document queer culture through photography and video. I'm visiting large cities as well as smaller towns, where I'll examine how queer identities develop both individually and collectively in rural areas. Although I work in different media and styles, telling stories through photographic portraiture is my favorite way of image making and the primary goal of this project.
South of the Ohio: Week 1
I departed from Cincinnati and crossed the Ohio River on Thursday, Aug. 1. It was a daunting day: I knew that I had 3,000 miles and 42 long and mostly uncharted days ahead of me. Perhaps more out of personal curiosity than anything else, I stopped first at the Creation Museum in Petersburg, Ky. The different rooms and exhibits were filled with mannequins and scenes that walked you through different phases of the Old Testament, complete with signs and hanging speakers blaring Bible passages and anti-science sentiments. There were also rooms filled only with deadpan imagery of menacing symbols, which I presume were meant to scare you into righteousness.
My first official stop was Louisville, Ky., where I met up with my rad couch-surfing host Emily. She took me to her roller derby practice, where I met several other young queer women on her team. I got to take some portraits, hear some stories, and watch some badass women athletes do their thing. Through Emily I also met Jackie, who showed me some of the gay dive bars in the area. The next night, through a string of helpful people texting other people I didn't know, I got in touch with Hurricane Summers, an established local drag queen. Hurricane performs at The Connection, an impressive LGBT nightclub in downtown Louisville. I've traveled a lot and have seen a wide range of gay clubs and show bars, but The Connection really blew me away, especially being in a smaller city like Louisville. I spent the evening backstage with Hurricane and the other queens. With the exception of Hurricane, all the girls who performed that night were actually trans, which was unusual. They were great.
After departing from Louisville, I made my way further down the Ohio River to Owensboro, Ky. I was lucky enough to arrive on the day of the monthly meeting of the local PFLAG chapter, which six people attended. I met Barry, a charming older gay man who's lived in Owensboro for most of his life. Although he's mostly open about his sexuality, he revealed that a number of people he knows are less than comfortable with discussing their own sexual identities. At the meeting I also met Janessa, Chassidy, and Zack, three young queer people living in rural Kentucky. They told me stories of being harassed for holding hands with their respective boyfriends or girlfriends in public, and of the lack of any sort of queer community. The nearest gay bar is across the river in Indiana, where Zack performs in drag. They wrapped up their PFLAG meeting by deciding that they are going to organize Owensboro's first gay-friendly public picnic at a local park, to reach out to those in town who may feel unwelcome.
So far the trip has been very productive and, more importantly, incredibly stimulating. I'm now in Tennessee, ready to continue meeting people and sharing stories.
PHOTOS:
PHOTO GALLERY
BEFORE YOU GO
South Of The Ohio
PHOTO GALLERY
South Of The Ohio