Last week, Huffington Post Women's Senior Lifestyle Editor Lori Fradkin appealed to our expertise in their new feature "Help Wanted". Lori wrote in to ask us how we'd style her new bib-style necklace. Here, Fashion Editor Christina Anderson weighs in on how to wear this statement piece in everyday life.
The fabric necklace is a classic bib necklace and it makes quite a statement. But the tulle fabric and lace composition makes it light enough to be worn year-round (as opposed to heavy necklaces that can make you sweaty on those hot summer days).
My first thought when I saw the necklace was that since it is an accent piece, it should be paired with something basic. What could be more basic than a white t-shirt? We tried the piece two ways with the classic staple: We left it hanging loosely, but it ended up looking like a lei, so we had to adjust. Once we shortened the strap, the necklace looked like it was part of the top and the shirt became its own moment. Worn with jeans and heels, Lori was ready for a night on the town.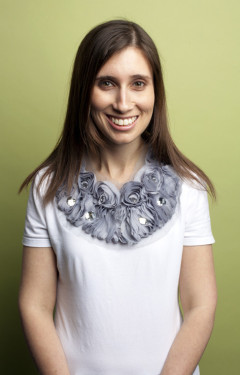 Next we paired it with the simple LBD. The necklace was like ketchup on a burger: the dress was pretty enough on its own, but the collar really made the look. All of a sudden the plain black dress looked very special.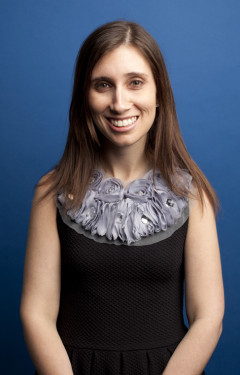 The last look we tried was the most daring: we tucked it into a jacket so just a bit of the ruffles peeked out. Worn with neutral high-waisted pants, the jacket/necklace combo would definitely be a conversation starter.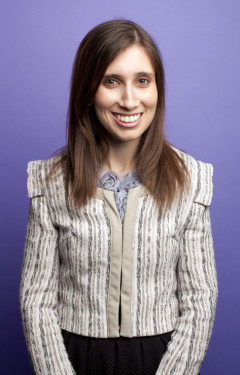 The more I looked at it, the more the necklace reminded me of the ruffled collar from Elizabethan times. To wear it, Lori will have to really own it. If not, the necklace will wear her -- an easy task if she isn't confident enough. Another thing to note is that when you wear a significantly large piece of jewelry, it is bound to move around. My advice to Lori was to use invisible double stick tape to adhere the piece to her dress or top so that it stays in place.
When the shoot was over I asked Lori if she'd wear any of the looks we tried. Cautiously, she answered, "Maybe. The white t-shirt look felt the most natural to me, so that's where I'd start." We'll see if she takes our advice; we certainly hope so. That necklace is too pretty to be retired to a dark drawer.