Ask somebody two weeks ago what they thought of Facebook's recent privacy and interface changes, and the response was, "What changes?" Ask someone today, and, inevitably, as they realize that their information has gone public, the response is normally one reaction: WTF.
As more people have become aware that "something is up at Facebook," whether it be noticing some of the aesthetic changes or being alarmed that "Fans" became "Likes," Facebook may start to see the tide change on user enrollment and acceptance of the frequent privacy foibles of the social networking service. The organizers behind an online movement to oppose the changes, FacebookProtest, have already decided that enough is enough.
Facebook Protest, an netroots initiative started by new media strategist and This Week in Twitter host Alana Joy, has a simple goal: to get users to stop using Facebook for a day to send the message that user privacy is not for sale.
To participate, you simply pledge not to use Facebook on June 6, 2010. This means avoiding the "Like" buttons that are popping up everywhere, stopping your auto feed from your Twitter account to Facebook and resisting the urge to push "Share" when reading content online. And, obviously, it involves not signing in to your account through your web browser or mobile device for the day. I guarantee you will survive the day without Facebook; we will all be on Twitter.
The emerging clamor around Facebook's recent changes to their privacy policy and procedures with the introduction of "Instant Personalization" is not a chorus of whiny self-entitled Millennials as some accounts would frame it. It is business professionals, moms, dads, grandparents and others who thought their information was only being shared with the friends they approved on Facebook. One of the fastest growing user demographics of the social networking site are people who are over the age of 40, many of whom carefully made a choice to join what they perceived was a somewhat closed online community.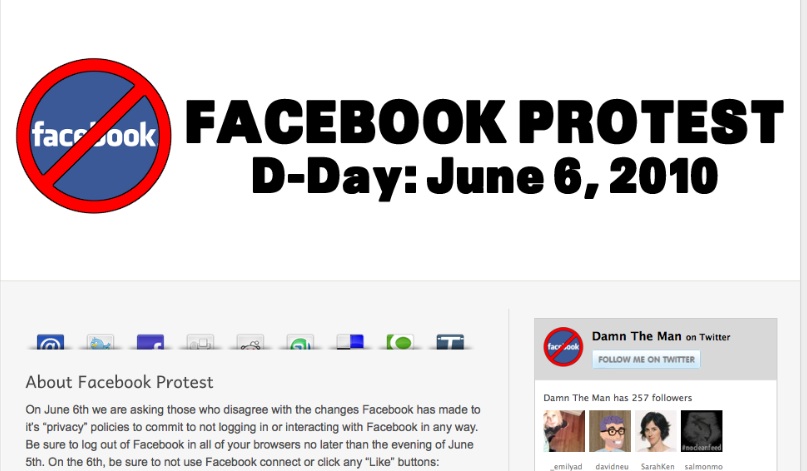 Join the movement online at the FacebookProtest website and follow @FacebookProtest on Twitter. I have pledged my support to work with Alana on grassroots and political efforts to make this day of inaction a powerful one. Of course, you can also join FacebookProtest at the most fitting of places, Facebook itself.
Facebook is its users. With every service, a market alternative seems to emerge. While a day of "inaction" may not bring Facebook to its knees quite yet, it sends a clear message: It's my privacy to manage, not yours.
SUBSCRIBE TO & FOLLOW THE MORNING EMAIL
The Morning Email helps you start your workday with everything you need to know: breaking news, entertainment and a dash of fun. Learn more