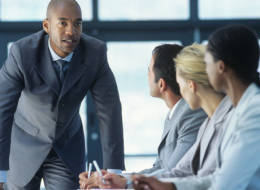 Have you been thinking about buying your competitor? Maybe you have your eye on a company that would be a perfect fit for your company's growth.
Funny thing about a recession -- it can create both despair, and opportunity. You might see a lot of low-hanging fruit all around you just ready for easy picking. But as all good farmers know, timing is everything -- you have to get out in the field and touch, smell, and peel away some layers. If you don't, you might discover rotten fruit after it's too late.
Doing a merger, acquisition, or turnaround is risky, with many things that can go wrong. You think you've nailed down the financial tangibles, and have a good handle on the human assets and social issues -- when in fact, those can be the most challenging, as they often deny rational analysis! But, there is huge opportunity as well.
Here are 10 rules I've learned during my career, enhanced by contributions from numerous merger and acquisition (M&A) experts. They can save you a lot of heartache -- and money. It's not meant to be an inclusive list - you will have to develop some of your own rules through trial and hard knocks along the way.
10 Rules to Buying - and Growing - Your Competition Now
If you manufacture potato peelers, would you look at acquiring a shoe repair shop? Okay, that's an obvious mismatch! But it drives home the point: Never lose your focus. Ask yourself (daily if necessary) what value this opportunity brings to your current company: "Will this add a product to our existing line?" "Will this expand our customer base?" "Will this increase our market share?" "Will this bring technical expertise to the company that I do not have?" "Do I gain assets that I will have to purchase over time anyway to remain competitive?" "Will it make my existing company more attractive to another buyer down the road?" If the answer is "no," or if you have to search for justification, then it's either a bad idea, or you need help in defining your core competencies. It's smart to stay away from the acquisition for a while. The M&A landscape is strewn with the wreckage of deals that fell apart from companies straying too far from their core. You cannot afford to buy something that will take years to generate revenue! Focus on the core strengths that drew you to the company in the first place – whether it's a product, service or strong R&D component – and plan to eliminate or outsource the rest. Focus on what will generate the most revenue. Will this be a stand-alone or a merger with your existing company? Look at the products and/or services to see if they will mesh to form one, merged company. Prior to my most recent acquisition, I had been watching one of my customers for years and admired the quality of their web marketing and design. Sadly, over the past couple of years, they had run into financial troubles. I felt their line of services complimented my other company, Rural America OnShore Outsourcing. Strategically, an acquisition would enable Rural America to transfer its web development services to the acquired company to provide greater focus on the profit centers of software application, mobile app development, and staff argumentation outsourcing. Last fall, I asked the founder if we could talk about a deal. We closed the deal in January 2012.

No doubt, flirting is exciting! But like any courtship, you know that what is on the inside is the only thing that counts. Remember rule #1: Do your homework, interview the people, analyze the balance sheets, and dig into the accounts receivables, accounts payables, and inventory. The relationship won't last if the goals and competencies aren't compatible. Remember the HP and Compaq merger? Never has a merger in recent memory generated such negative publicity. You can still find several differing opinions. Was it a success, or would a different arrangement have made more sense, such as a joint venture, or breaking up HP into several smaller – and perhaps more profitable – companies? Some pundits feel the newly formed company just needed stronger management, which it eventually got after much financial turmoil. Ten years later, the reviews are much more positive. Which leads us into the next few sections: Do you have what it takes – in both leadership and cash – to weather the inevitable storms?

Your everyday legal and accounting team may mean well, but expertise is paramount with M&As. Seek a partnership with an attorney and accountant that have the necessary experience – and then listen to them! If necessary, hire a contract CFO to help you. This is easier and more affordable than what you may think. Shop around; there are some very cost-effective professionals and it's best to spend this money upfront. They will become your new best allies, and will be worth their weight in gold.

For smaller transactions, unless your existing business is sitting on a hoard of cash that is not earning anything, keep your cash and seek additional capital. If you have an existing line of credit, use it. If you don't have one, get one -- see if you can pledge assets of the new company to help you. This economy speaks to investors in terms of opportunity, and so should you. Use your investor network. If you don't have one, get one before you go any further. It's not hard to do and you should always be cultivating and growing a network in preparation for future needs, such as an M&A expert. Stay in constant touch with your lawyer and accountant, and generate publicity about your business activities. This will draw attention to potential investors and help you build your network. If your potential M&A will create jobs, seek funds from state or local resources for job training. I can't repeat this enough: The money is there, so do your homework and your legwork and find it. For larger and more complex transactions, your M&A financial and legal team will explain the options available to you. Leveraged buyouts utilizing company assets are common, expensive to structure, and take time. Assuming you are not a publicly traded company, you will probably need to access private investor capital. You will likely have to give up equity and maybe some management rights. Tread carefully.

You can't fix everything at once … but you may have to. Change is inevitable and hard. Odds are that every person in the target company is dreading that change; it will be an adjustment both individually and collectively. Remind yourself of why this company was low-hanging fruit – it was probably poorly managed from the beginning or lacked the skills needed to guide it through a recession. The greater the dysfunction, and the longer it lasted, the longer it will take you to fix it. It is better to begin the painful changes immediately so that you can focus on success. Everything can go wrong … and much of it will. If you believe you will spend $XX, plan to spend 10 times that. If you intend a marketing partnership between two companies or profit centers, expect it to take two or three times longer than you think. During one of my acquisitions, there was a person working as a full-time, dedicated customer service representative. He was asked to write down action items for current customers; or document the procedures he had developed and followed for the past four years. He resigned – he didn't buy into the direction of the company. Realizing that we'd lose his knowledge, I was forced to pay someone to literally follow him as he performed his duties! I didn't predict this glitch, but I was prepared for it. You cannot completely eliminate the unknowns, but it will help cushion the sting if you remember to plan for them.

Due diligence is not just a financial term when it comes to evaluating companies for an M&A. People are everything, so part of your due diligence is to focus on the human assets: Analyze the management team and personnel. An enormous amount of time often is spent in deals structuring parts of the transaction so that key personnel are retained and incentivized. Many deals fall apart based on the relative uncertainty surrounding the ability of retaining the target management team and key talent assets. Monitoring the merged culture as a leader is very important. One of the major reasons M&As fail is culture clash. If you are a hands-off, casual dress, no-memos-necessary type of leader, but the target company is used to a rigid, business-dress, top-down management style, you have to prepare for a lot of pain. In my case, I expect a fast-paced, decisive, no-memos-required, focused environment operating beneath the surface of a laid-back, fun-oriented culture. If you are lucky, you inherit people with top-tier expertise. You may see superstars all over the place, but do they buy into your vision? My experience is that many people become accustomed to – and like – their bad habits and will rebel against changing them. In my recent acquisition, most associates left within 60 days. They didn't like the new emphasis on results and accountability. With those who remain, attitudes are still developing so we're still waiting to see how it shakes out. I have great hope and desire that they will come around and buy into the vision. Superstars can come from unlikely places. Key people you thought would step up to leadership roles do not, and those you thought would not, do. In my latest acquisition, we laid off the least-experienced person. We brought him back when we had extra work; he spent a few days at one of my other companies and saw what a well-run machine looked like. Suddenly, function versus dysfunction became his new normal, and he has become the biggest evangelist for our vision. Ironically, his enthusiasm caused even more negativity among some of his remaining peers. This isn't about creating followers – it's about creating leaders. A good CEO always wants feedback and pushback. You want your ideas challenged so that the best idea wins. But a good leader also has a vision and a management style. If the people won't get on board, sadly, they will need to be replaced.

After consummating our recent acquisition, my team and I unexpectedly found a diamond in a pile of potatoes! One of the acquired company's small product centers had a very promising Outlook templates product. Because it was not core to the acquired company's strategic focus, our choices were to kill it, sell it, or keep it. We chose door #3. The assets were spun off into yet another new company with a very targeted focus. As a stand-alone, it immediately generated revenue without muddling up the core focus of the rest of the newly acquired company. Right now, we're hiring new marketing and creative design management, so send me an e-mail or tweet if you're interested. Sure, this discovery was a nice surprise, but I would have been better prepared if I'd had more information prior to closing the deal. A much better approach is to seek out these gems, both to help you with your acquisition decision, and to develop a plan going in. During your due diligence, interview the top 10-12 people in the company and ask them: 1. Which earlier projects or good ideas are "sitting in your bottom drawer" because they did not get funding or active sponsorship from your management? And, 2. How would you like to change your current area and scope of responsibilities over the next year? That gem may be an idea, or even a new product, but it just as likely could be a human resource, looking to take on extra responsibility or bringing a valuable talent to the table.

You may be buying a company in trouble. Your due diligence revealed some things about account receivables, but you may discover its true value is much less. So after you determine cash flow, cut it in half. Then cut it in half again. The economies of scale and possible synergy between two small businesses combined is often where better earnings/profits come from, being more efficient and doing more with less. You may be able to move functions that aren't a core strength of the acquired company to your existing company. We have two sister companies now sharing a combined customer service department, driving down costs for both (and you don't have to outsource overseas; you can find qualified and affordable rural USA outsourcing companies). This sharing alone will save tens of thousands of dollars over a short time period. Look for waste, no matter how insignificant it appears to be. After you cut, cut again; look for alternatives such as switching your phones to IP SaaS service. You want cash flowing in, and that means reducing cash flowing out as much as possible. There are a lot of other financial considerations. For example, tax plays, acquiring substantial NOLs, basis step up and redepreciation, etc., can be valuable and have little to do with cash flow.

If you follow Rules #1 and #2, you will discover the organic nature of this rule. Be prepared to take your time, and be prepared for the time it takes. You may not find a suitable company for a year or more, and when you do, that long closing you thought you experienced on your home mortgage may pale in comparison to closing a company acquisition. As one of my M&A friends said: "In my 15 years of experience, the biggest surprise to most people is how long it takes to acquire a company. I've seen people give up after two years of looking." Only you can decide if you have what it takes to wait it out, and wait for the best.

All too often, buyers (or sellers) start out doing everything right, but as they proceed, become totally invested in getting the deal done no matter what. They may give up points in the heat of negotiation, overlook due diligence warts, or over-extend themselves financially, etc., just to get the deal done, even though by that point it might not be a very good deal. To ensure this does not happen to you, use your M&A team to try to identify this and bring a little unemotional analysis and advice to bear. My attorney tells me before getting into the heat of negotiations, to write down definite deal parameters that I wouldn't go past, and ensure that I stick to them. Always remember the power of "no". -------------------------- In summary: A merger or acquisition may seem like messy business. That's because it can be. It is not for the faint of heart! Remember that while you are taking advantage of an opportunity, you are not sweeping in to destroy or thwart what was obviously a rational vision – you are seeing someone else's dream to fruition. If it wasn't a good idea from the start, you wouldn't be interested in what remains. Now it's your responsibility to make the necessary decisions to protect the idea, grow the company, and get ready for a record harvest.
Follow Christopher Hytry Derrington on Twitter: www.twitter.com/chrisruralamer