Beauty Ingredient: They Put WHAT In Perfume?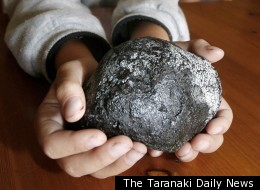 In September, 2008, I was living and working in New Zealand as a molecular biologist. One morning -- an early spring day in the southern hemisphere -- a mysterious object washed ashore on a beach near New Zealand's capital city, Wellington. When someone suggested it was ambergris, a crowd descended onto the beach with shovels, carved the object to pieces, and took them home.
I'd never heard of ambergris before. But, in that moment, I knew I had to find out more.
In fact, ambergris is a rare and mysterious secretion produced only by sperm whales -- and only by an estimated one percent of the total sperm whale population. Produced in the hindgut, as a response to irritation of the gut by indigestible squid beaks, it is expelled -- and there is no delicate way to put this -- like poop. But so little is known about ambergris that even these most basic facts -- how it is made, and exactly where it comes from -- are contentious. People will probably respond to this slideshow to suggest that ambergris is whale vomit, regurgitated into the ocean. But it's not. When fresh, ambergris is black, sticky and smells like dung. During years, and even decades, spent in the ocean, it slowly transforms into a white waxy substance, prized for centuries by perfumers because of its fixative properties. When added to a fragrance, it makes the scent last longer on the wearer's skin. Throughout history, it has also been used to ward off illness; as an antidote to poison; an aphrodisiac; a commodity; and as an ingredient in cooking. There is simply no stranger substance in the natural world. When it washes ashore, it is worth almost as much as gold. At various times, it has been worth double, and even triple, the value of gold. Even today, ambergris is found in farflung places like the Maldives, the Bahamas, and the Philippines, and then transported across the world, to be sold in Singapore, Dubai and the South of France.
For more than a year, I trudged along remote, windswept coastlines, visiting metropolitan beaches and remote islands, as I tried to find even the smallest fragrant nugget of ambergris. Along the way, I met and interviewed perfumers, organic chemists, oceanographers, historians, museum curators, and secretive ambergris collectors and traders. Floating Gold: A Natural (and Unnatural) History of Ambergris [University of Chicago Press, $22.50] is the story of my attempt to learn more about the strangest natural substance in the world.
Photos of ambergris, a perfume ingredient
Once referred to as "preternaturally hardened whale dung," ambergris is a coprolite. Expelled by sperm whales, it floats in the ocean -- sometimes for decades -- slowly transforming from a black, sticky substance to the finest white ambergris.

In March 2009, seven-year-old Ben Marsh swam into a lump of ambergris weighing almost a pound as it bobbed around in the ocean near Oakura, in New Zealand.

For more than a thousand years, ambergris has been used as a component in perfume. Chemically non-volatile, it is dissolved in alcohol and made into a tincture, which stabilizes fragrances and makes them last longer on the wearer's skin. This two-and-a-half pound lump is part of the Auckland War Memorial Museum collection. Credit: Christopher Kemp.

Dr. Robert Clarke wrote The Origin of Ambergris (2006), one of the only scientific studies of ambergris. Here he is -- at 92-years-old -- at his home in Pisco, Peru with samples of ambergris that he collected in the 1950's.

Harvested from a dead sperm whale in 1953, and weighing 926 lbs, this is the largest single piece of ambergris ever recorded.

In his University of Otago office in Dunedin, New Zealand geography lecturer Mike Hilton smells dust from the ambergris samples he collected in the field.

Flying in a single-engine Cessna to the windswept west coast of remote Stewart Island in the Southern Sea -- traditionally a productive region for collecting beachcast ambergris.

A small fragrant piece of ambergris on Doughboy Bay, Stewart Island.

A closer look at a large bowl-shaped piece of ambergris at Te Papa Tongarewa -- the National Museum of New Zealand. Visible in the ambergris are numerous inclusions of indigestible squid beaks, which, as they irritate the whale's sensitive gut lining, are the pathological cause of ambergris.

Old samples of ambergris, stored away and mostly forgotten, in the Mammalogy Department of Harvard University's Museum of Comparative Zoology.

A piece of ambergris from the large and multivarious inventory of New Zealand-based ambergris trader, Adrienne Beuse.