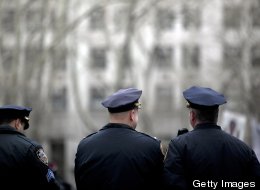 The New York Post parroted a long-disputed NYPD claim Monday: that the police practice of stop, question, and frisk is responsible for NYC's plummeting murder rate.
Reporter Carl Campanile parsed a Health Department report showing that the city's declining homicide rate also meant a slight bump to the city's life expectancy:
The decline in New York City's murder rate -- which the NYPD credits, in large part, to stop-and-frisk -- is so dramatic that it has helped boost the average life expectancy of Big Apple residents, The Post has learned.

A city Health Department analysis listed all the factors that contributed to increased life expectancy of New Yorkers from 78 a decade ago to 81 in 2010.

The report attributes two-thirds of higher longevity to reductions in heart disease and cancer rates, and another 11 percent to longevity of residents with AIDS/HIV -- thanks to better treatment and medication -- as the two biggest reasons for longer life spans.

But the analysis also credits the plummeting murder rate as 2 percent responsible for increased life expectancy -- 3 percent for men and 1.2 percent for women.
To begin with, the low murder rate's bump to life expectancy is minimal, and probably doesn't warrant a full article, dubiously headlined, "'Stop & frisk' adds years to your life". (If the murder rate is only two-percent responsible for a three-year jump in life expectancy, a lower murder rate then contributes a few weeks, not years, to New Yorkers' average lifespan.)
And although it's true NYC's murder rate has, mercifully, dropped sharply from its harrowing peak in 1990 -- when 2,245 people were murdered, to just 414 murders in 2012 -- linking that drop to stop and frisk is extremely tenuous, if not downright wrong.
Campanile talks to outspoken stop-and-frisk supporter, City Council Member Peter Vallone, and quotes Commissioner Ray Kelly, both of whom, like Bloomberg, say the practice saves lives.
But despite mentioning that many of this year's Democratic mayoral candidates would like to reform the controversial tactic, he fails to talk to a single stop-and-frisk critic -- of which there are many in New York City.
This is what they would have said.
First, from 1990 to 2001, before police were aggressively stopping New Yorkers on the streets and in some apartment buildings, the murder rate plummeted, from 2,245 to 714.
And second, if by the NYPD's logic, an increase in stop and frisks is responsible for the drop in murders, that means, inversely, a decrease in stop and frisks would cause a jump in homicides. Kelly ominously warned New Yorkers last month that if the next mayor amended the NYPD's use of stop and frisk, "people would die."
Data, however, doesn't jive with Kelly's claim. From WNYC:
...the NYPD said stop-and-frisk was used more than 200,000 times in the first quarter of [2012] - a 10 percent jump from the same period last year. The data covers the period from January to March. So far this year homicides are down by 19 percent over last year.

But of the 13 precincts where homicides were up, stop and frisks increased in six over the same reporting period last year. And in the remaining seven, stop and frisks were down.

"There is no evidence that stop and frisk is lowering or suppressing the murder rate in New York City," said Chris Dunn, spokesman for the NYCLU, in a statement. "Murders have dropped steadily since 1990."
Additionally, as The Times noted in 2012, "In 2002, when Mr. Kelly last took office, officers stopped 97,296 New Yorkers and the city reported 587 homicides. Last year, those numbers were 685,724 and 532.
"
That's over a 600 percent increase in police stops, with less than a 10 percent drop in murders.
The biggest criticism of the NYPD's use of stop and frisk is its disproportionate effect on minorities. 87 percent of those stopped in 2011 were black or latino. This, Kelly says, is because men of color are also disproportionately affected by violence. As Campanile notes, blacks account for 23 percent of the city population but 64 percent of its murder victims.
In 2011, however, in only 10.5 percent of stops did cops record "violent criminal activity" as justification for the stop.
And only 1.9 percent of frisks in 2011 turned up weapons. Also as the NYCLU notes, "a weapon was found in only 1.8 percent of blacks and Latinos frisked, as compared to a weapon being found in 3.8 percent of whites frisked."
Although the NYPD surely deserves commendation for a drop in murders in New York, they simply cannot prove that stop and frisks are responsible for that drop. It's not enough for them to simply say so. They need evidence.
The New York Post proved last week their recklessness with the facts during the Boston bombings. Let's make sure they don't do the same thing in the important debate surrounding stop and frisk in New York City.
Follow Christopher Mathias on Twitter: www.twitter.com/@letsgomathias