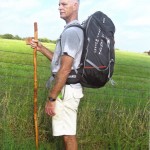 If you see a Navy veteran walking through your town wearing a backpack and shaking hands with well-wishers, it might be retired CW3 John Ulstrom. Ulstrom is currently on a march from Texas to Washington DC to try to meet with President Obama and raise awareness about the effects of Traumatic Brain Injury, Acquired Brain Injury, and Post Traumatic Stress Disorder on America's military. He is expected to arrive in DC on November 15, 2010.
[Navy Veteran John Ulstrom]
In a show of solidarity, Ulstrom was moved to do the march for fellow veterans affected by these injuries. Sponsored by the organization "Our Forgotten Warriors" his progress is documented on an Internet blog.
Founded by Brandon Gauvreau, a member of the United States Air Force, OFW's mission statement sums it up best:
Our Forgotten Warriors mission is to focus on treatment for Acquired Brain Injury (ABI), Traumatic Brain Injury (TBI), and Post-Traumatic Stress Disorder (PTSD) by providing integrated quality programs and services for individuals with physical and cognitive impairment in order to help develop their fullest physical, psychological, social, and economic potential consistent with their cultural traditions and their environmental limitations.
Brandon understands firsthand what brain injured veterans need to rebuild their lives. On July 19, 2007, he suffered a hemorrhagic stroke that left him with many physical and emotional traumas to overcome. With visual field loss in both eyes, partial paralysis on his left side, and cognitive impairment, Brandon has been fighting to rebuild his life. The VA did not expect him to make the remarkable recovery he did and when it was time to leave the hospital, his mother, Carol Blake, discovered there was no place for him to go for continued care and assistance. They were left to fend for themselves. However, just as they had done while Brandon was in the hospital, they decided to chart their own path to recovery and not listen to the people who were telling them it was impossible.
In addition to the physical changes that take place with brain injuries, there are also personality changes that make reintegration into the community difficult. Family members often find it frustrating to deal with this new personality and can sometimes mistake it as defiant and stubborn. Carol has been there and she understands that family members also need education, training, and counseling to enter into the new life that a brain injury brings for the entire family.
"These guys often do not know how to interact with people they meet." Carol says. "Often their behavior is inappropriate and offensive to others."
These realizations are what inspired the creation of Our Forgotten Warriors (OFW) and the effort to raise funds to build a residential rehabilitation/reintegration center for veterans. The program will help brain injured veterans re-learn social interaction skills with an individualized course of treatment that provides cognitive, occupational and physical therapy with personal trainers. But it does not end there.
"What's great about our program," Carol says, "is that it's not a one size fits all. Depending on the veteran's ability and preferences, activities such as camping, humanitarian tours and fishing are utilized as well as a variety of summer and winter activities."
The planned facility will be located in a residential area of Lacey, Washington and OFW has received written support from the Veteran's Administration and Senator Patty Murray. Carol, as CEO, also sent OFW's business plan and facility layout to the Army in an attempt to gain their public support. But to do it right, it is going to take a lot of money as well.
View Seattle's KOMO News Report with Brandon and Carol:
In addition to seeking private donations, OFW has applied for a 7.5 million dollar grant from the Military Order of the Purple Heart. Nevertheless, despite their impressive business plan and dedication, getting funds for the rehabilitation/reintegration center has not been easy. While awaiting the grant decision, OFW is trying to get corporate donations as well. Among the corporations they have reached out to are Walmart, Ford Motor Company, General Motors, the Luxor Hotel, and MGM Grand. Walmart is considering making a donation but there is no timetable set for a decision. Ford and General Motors both declined to make a donation and the Luxor Hotel and MGM Grand said they only fund established projects.
"The only one that seems to care is the U.S. government and they have no money." Carol states.
This is insulting when one stops to consider everything our veterans have given to us. I will not get into listing the astronomical profits that corporate contractors have made on the backs and blood of our veterans during the Iraq and Afghanistan Wars. Not yet anyway. But the amounts certainly warrant a lot more in return than what has been given.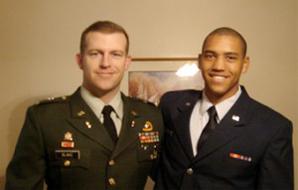 Brandon Gauvreau, pictured right.
I think all American's will agree that a facility like this is vital for our injured veterans who need help reintegrating back into society so they can lead as normal of a life as possible. According to the Defense Veterans Brain Injury Center, 188,270 veterans have been diagnosed with traumatic brain injury since the year 2000. However, these numbers could be much greater because many brain injuries cannot be detected with normal imaging scans. Knowing this, the Army collaborated with Banyon Biomarkers and developed a blood test that can detect proteins released in the human bloodstream by damaged brain cells. This means that even the mildest forms of brain injuries will be diagnosed. With TBI being known as the "signature injury" of the Iraq and Afghanistan war, the importance of this test cannot be overstated.
So, if you can help Our Forgotten Warriors please do, and if you see John Ulstrom, offer him a bottle of water or shelter for the night.
Better yet, walk with him if you can spare the time.
This Blogger's Books and Other Items from...
FOLLOW HUFFPOST