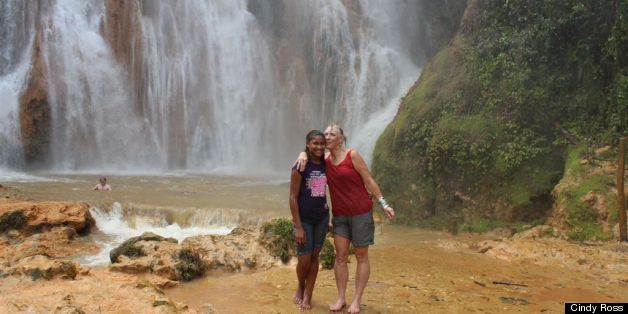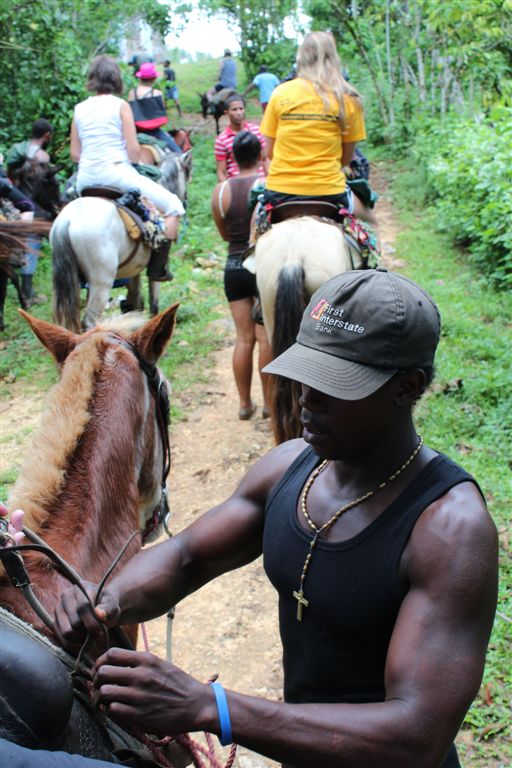 I could have a beastly Dominican man as my personal guide to lead me through the jungle to El Limon waterfall. His muscles protrude through his black, oiled, shirtless chest and he would keep me safe on my steed. It is a treacherous half hour horseback riding adventure up and down a rocky, muddy trail. I am lined up to get him, but instead, I go for a sweet-looking young Dominican girl.
I am on the Samana Peninsula in the north of the Dominican Republic. Although this horseback riding/hiking adventure is one of the most popular tourist attractions, and can get quite busy, it is rated as a highlight of every traveler's island experience.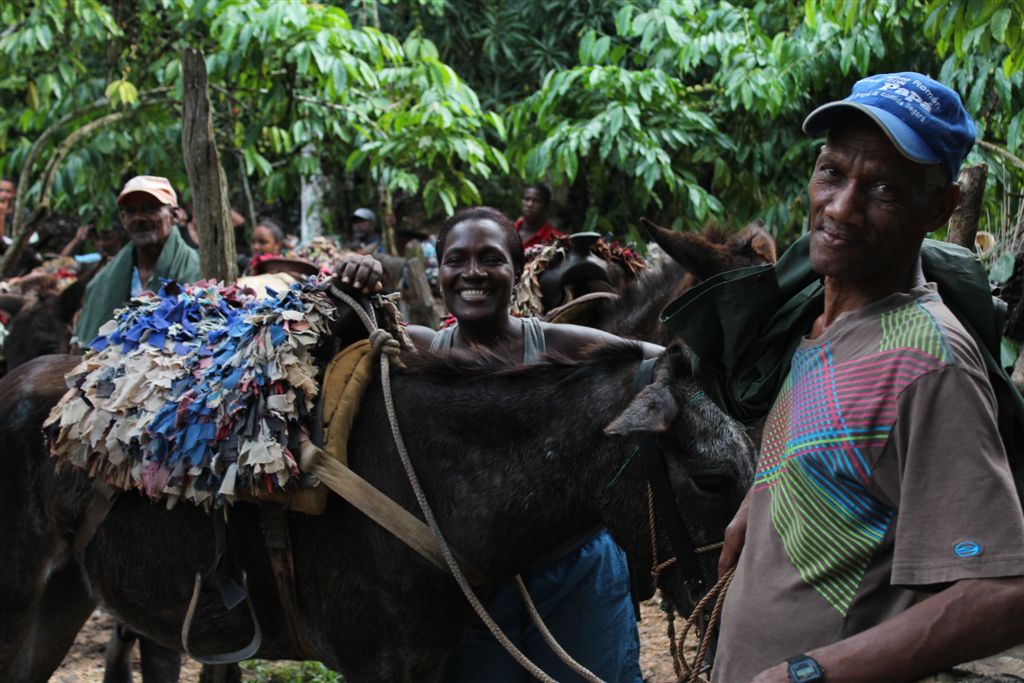 Contrary to horseback riding excursions in most countries, where you follow butt to head in a line, every single rider here has their own personal handler. It gives the locals a job and us a sense of security, and considering the rough terrain, they may be necessary.
We first ride through a colorful village with brightly painted modest houses, through coffee and cocoa fields, with trees that dropped tiny magenta blossoms that completely cover the ground like purple rugs were thrown down.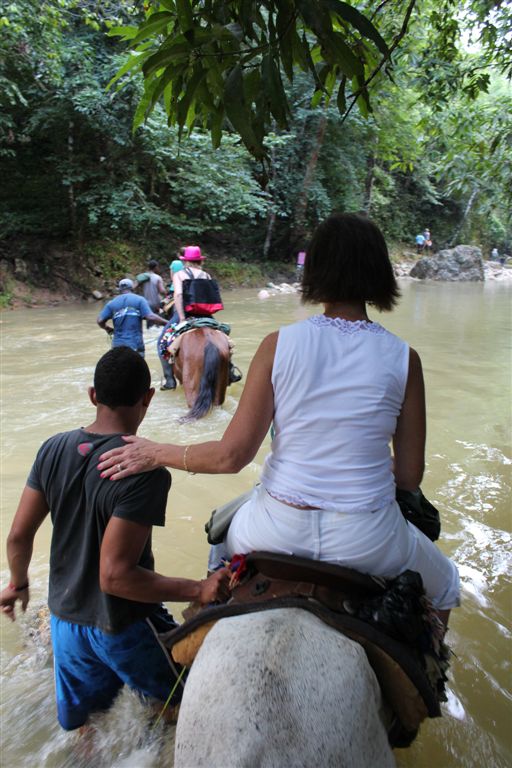 The horses saddles are covered with pads made from multi-colored strips of shredded fabric and my bridle is merely a yank of rope. My girl clomps along in high rubber boots -- the same that I was advised to wear: barefooted.
We ride through forests of magnificent palms, up steep concreted stone steps that honestly remind me of the Inca Trail. In between the steps swirl pumpkin-colored mud that the horses occasionally slip in. When they have a chance to trot, like up an open stretch, they take off, and my girl has to run to catch up, breathless. When she walks with me, she holds my horses' tail or his rope bridle and smiles at me nearly non-stop.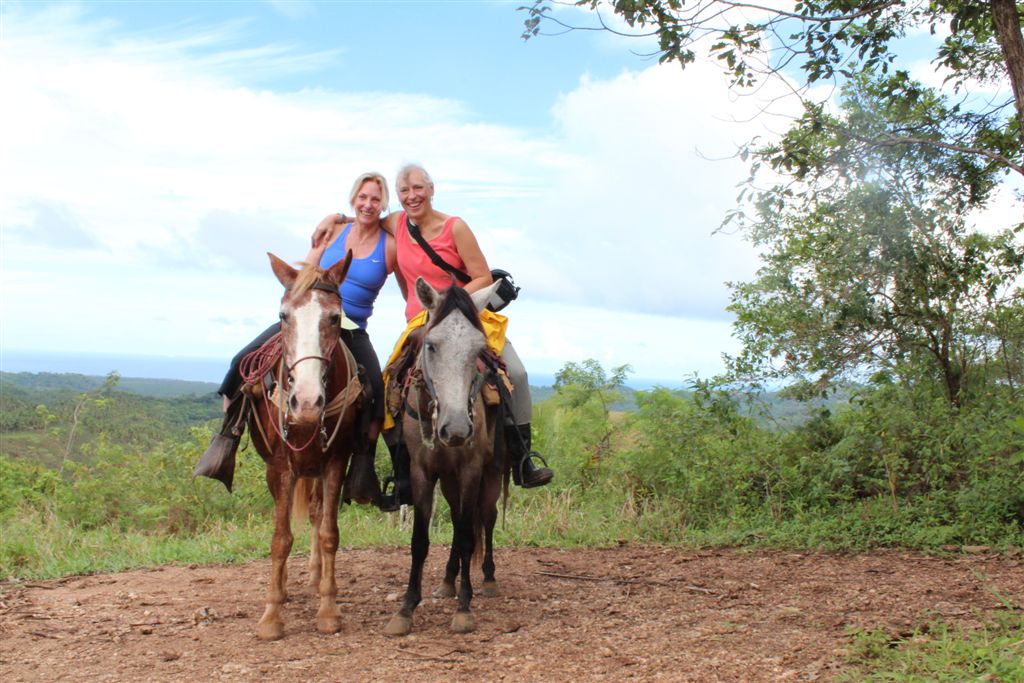 I ask her name, and she pronounces it very slowly in exaggerated, individual syllables so I can get the tongue-rolling correct, or attempt to. "Mar e el la." It takes me a few attempts before she is satisfied.
There are three river fords we must negotiate and since the Samana Peninsula recently experienced heavy rains from Hurricane Sandy, the muddy river is hip deep and roiling. I hold my camera high above my head, as if it would be safe and dry if my horse rolled. When in reality, first thing I would do is put my hands down to brace myself. My girl looks at me and says in perfect English, "No worries." Ok, put my trust in her. She stumbles once or twice and almost bites it, as well as my horse, but regains it beautifully.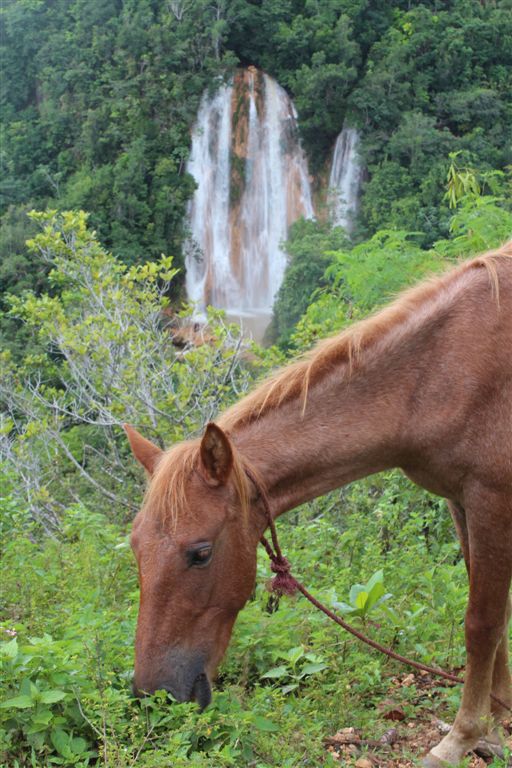 We arrive at a covered patio where we dismount and will proceed on foot. If the past few kilometers were treacherous, the remaining descent is even worse (for horses). The 150-foot spectacular El Limon Waterfall roars below us in the valley and I am anxious to arrive. Mariela picks up on that so she synchronizes her boot steps next to mine and proceeds to jump down the steep steps two feet at a time. I can do this and I mimic her. She reaches up to the saplings trunks that we pass and gives them a shake to drop rain droplets on me to tease me. I resort to charades to ask her age -- and she flashes up 10 fingers and then one. I am surprised to learn she is merely 11 and is so confident and skilled. I hold up my hands and flash decade after decade of fingers up until I reach 56. She appears surprised. I am more than five times her age but it doesn't feel that way.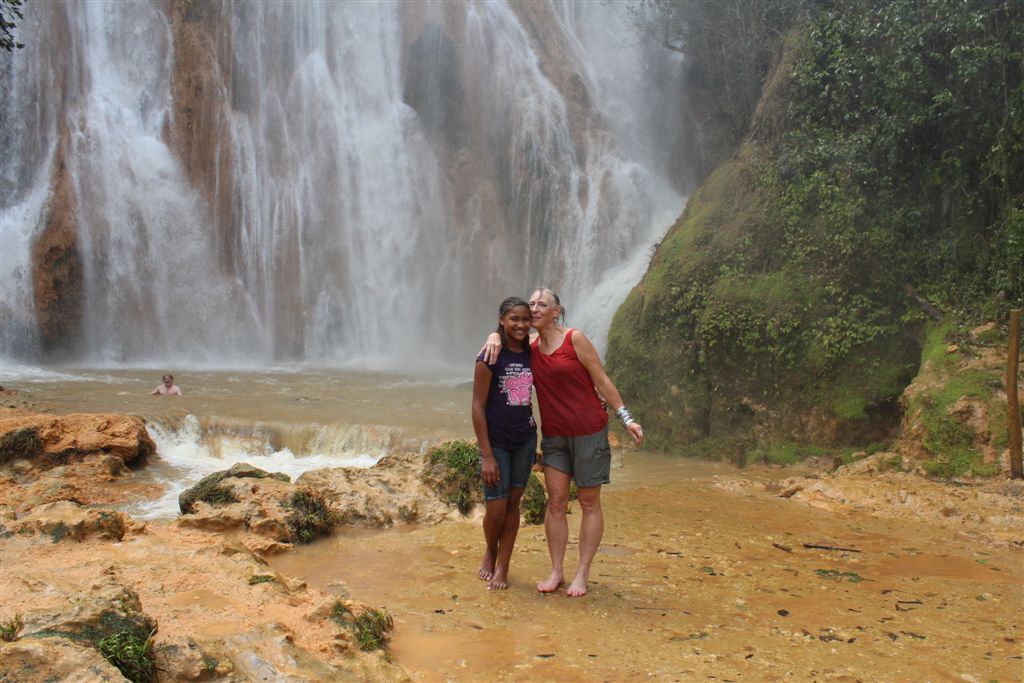 At the base of the waterfall, we have another river ford and she takes my hand and enters the boiling water as a team. We grasp one another's hands and brace each other when one of us slips.
The powerful waterfall throws mist high in the air, soaking us like a rain shower when we are still many feet away. She motions for me to take off my rubber boots, and holds out her hand once again. She leads me into the pool at the base of the waterfall, around the hidden rocks and drops off to a place where we can get low and duck ourselves for a swim.
When we get sufficiently cooled off, we slip on our rubber boots and proceed to climb. Although the guide warned us of the difficult climb back out of the valley, I do not get easily winded and can step with the most fit and youthful. When Mariela sees this, we once again synchronize our steps and slam our boots down, in unison, one step at a time, to make a rhythm, which we accompany with snapping fingers. We giggle all the way up the climb and find ourselves beyond any language or age barrier.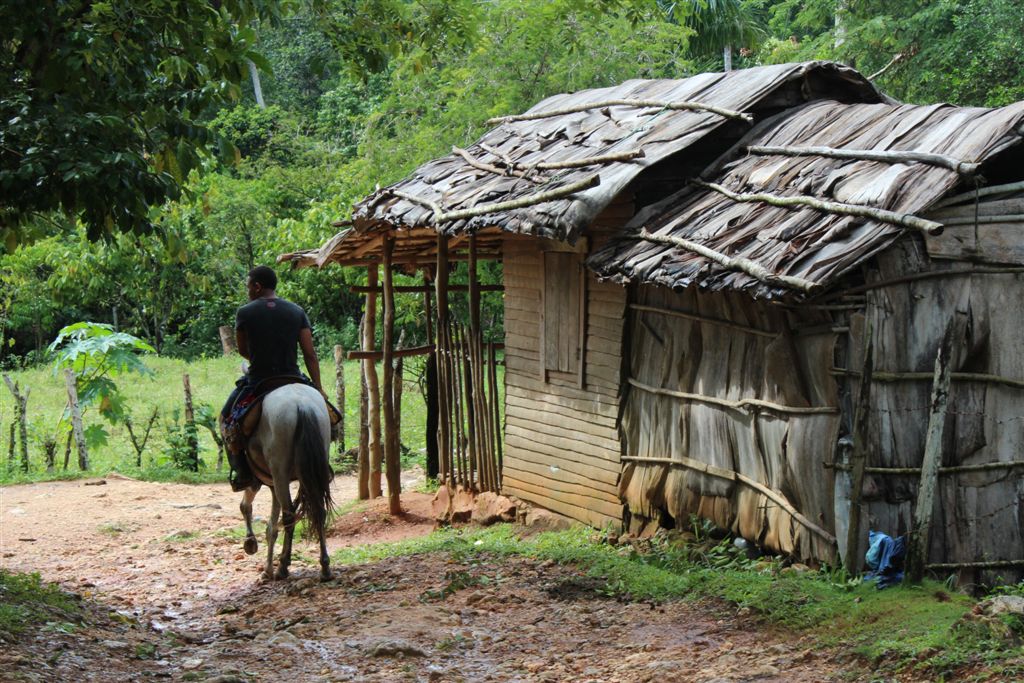 SUBSCRIBE TO & FOLLOW LIFESTYLE
Get top stories and blog posts emailed to me each day. Newsletters may offer personalized content or advertisements. Learn more