As my daughter, husband and I stepped off the plane at the tiny Savusavu airport in Fiji, where we'd come to visit my son and his family, the first thing I saw was a couple of cows tethered to a post, grazing placidly. I thought there probably won't be much to see and do here.
The town of Savusavu, it turns out, is a hub of the lush and beautiful region on Vanua Levu, Fiji's second largest island, which is often described as the country's best-kept secret. There are accommodations and activities for all budgets, whether you want to dive, snorkel, be pampered, fish, relax, or just have some fun in the tropical sun.
Let's start at the top with Fiji's premier resort and spa, Namale, winner of the 2012 Traveler's Choice Award. No detail is overlooked to give guests the trip of a lifetime, which is why Namale is such a popular honeymoon destination.
My guide around the resort and spa was the co-general manager, Nowdla Keefe. Nowdla's husband and co-general manager, Bill Keefe, runs the events side.
Namale is owned by renowned life coach, Tony Robbins, but most guests don't seem to know about the ownership. His books aren't on sale in the gift shop, nor is his work promoted there.
"People ask me what it's like working for Tony Robbins and I say it's great because he's like a giant kid and has all these amazing toys," Nowdla told me. Among the toys: the largest activities center in the South Pacific and a bowling alley.
There's aslso virtual golf simulator of all the best courses in the world -- including Augusta and St. Andrews -- that can be set for right or left-handed players and all weather conditions for professionals and amateurs alike. There's also a real and magnificent 18-hole golf course.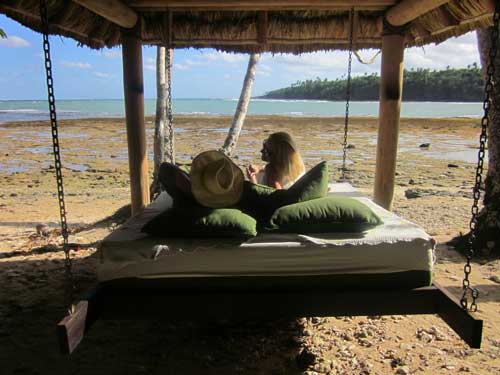 Each week, local villagers wearing traditional costumes come to Namale to share their stories and history through song and narrative dance (meke, in Fijian). Other trips and excursions allow guests to get a true taste of Fiji and all it has to offer.
After Namale was featured on "The Bachelorette" TV show, they were so inundated with Internet inquiries that their server shut down. Prices start at US$975 a night per room and are fully inclusive except for scuba diving, spa treatments and fishing.
Unlike Namale, children are welcome at the Jean-Michel Cousteau Resort. Families are their biggest market. Included in the room tariff, a nanny is provided for each child under five, while six- to twelve-year-olds have one nanny between four. There are also "adults only" areas, including a separate dining room for guests without children.
Sustainable tourism has become the buzzword of the travel industry, but in 1996 -- when environmentalist Jean-Michel Cousteau bought the resort -- there were hardly any eco-tourism venues. Cousteau was a pioneer in this arena and has created a multi-award-winning protected area that is truly sustainable, environmentally friendly and stunningly beautiful.
There's a marine biologist on the staff, Johnnie Singh a Fijian national, whose team educates the younger guests about the need to protect the environment.
Bart Simpson (really), operations manager at Cousteau Resort, explained, "We teach the children in a fun way. Some of the kids who visit don't know where eggs come from, so we take them to the chickens to collect the eggs and they eat them for breakfast. We involve them."
Despite Fiji being the soft coral capital of the world and having some of the best dives anywhere, only about 30 percent of the guests come to strap on a scuba tank, according to Simpson. There are many other adventures to be had, from snorkeling and swimming in the pristine waters to hiking in the most lush and verdant woodlands.
Fiji is a tropical region, so it rains here. Bart said, "I don't think people are disappointed when it rains -- it's such a beautiful environment because of it. We'll put on dance lessons or organize a pearl farm tour. It's certainly not a disaster if it rains as there are plenty of things to do and it doesn't last long."
A great way to explore the waters and islands of Fiji is aboard the Tui Tai, the award-winning adventure cruise that operates out of Savusavu. Famed for its snorkeling and diving, the Tui Tai isn't just for water sport lovers. That said, my husband Colin and I stepped way outside our comfort zone to paddleboard and kayak together for the first time and loved it. Activities are arranged to suit each guest's requirements and abilities.
Highlights of our Tui Tai trip were the hike to the incredible Bouma National Heritage Park waterfall and the kava drinking ceremony. I have never felt more relaxed and content than reading a book in a cabana as we cut through sparkling clear waters beside the most luscious landscapes.
All this as the chef and his staff prepare gourmet meals eaten on deck at a communal table with fellow guests who swap stories about their amazing adventures. Everyone agreed it had been the trip of a lifetime. Prices start at $1795 per person for a five day cruise if you book well in advance like we did.
One of the most popular places to visit in Savusavu is the J. Hunter pearl farm on Naverea Road. A marine biologist gives a talk about how pearls are made, followed by an invigorating ride in a glass-bottomed boat to the actual pearl farm.
Justin Hunter and his team of farmers and technicians have perfected the pearl culturing process. Every step of the operation is managed carefully, with years spent refining the methods toward the ultimate goal of growing the perfect pearl.
Only 30,000 to 40,000 pearls are harvested out of a million oysters seeded each year. And a mere one percent of those will be considered gem standard.
Hunter and his team are committed to preserving the marine environment of Savusavu Bay as well as improving conditions for the local community. This is a common theme with most of the resorts in Savusavu.
Tours are given twice a day at 9.30am and 1.30pm: FJ$25 per adult, FJ$12.50 per child.
The Daku Resort is the place for visitors to Savusavu who want a resort vacation but don't have the deep pockets required for Namale or Cousteau. Owner John Rothnie-Jones (J.J.) told me over lunch, "We're mostly known for our paradise courses for people who want to do more than just lie around a pool. They come here to exercise their passions. One week we had twelve ladies who came to read, talk and learn about Jane Austen."
If they can get the numbers, J.J. and his wife, Delia, will organize courses on anything from yoga to philosophy, creative writing and photography. The week after my visit they had twelve quilters coming to stay.
The singing courses are their most popular. During my visit, choir mistress Rachel Hore from Blue Mountains, Australia was hosting a group of singers from her home country. This was Rachel's ninth such course at Daku.
Rachel said, "It's a very special way to travel and not be isolated. Singing opens up your heart and brings joy."

Rachel was working with Seka Malaniia, a Fijian choir master from nearby Vivili village, which has the most amazing singers. The Sunday church service in Vivili is immensely popular with visitors because the singing is extraordinary.
The Daku choirs visit local villages and sing together -- an example of the universal language of music bringing people together. Not that being understood is a problem in Fiji. The locals speak English as well as Fijian and Hindi.
I doubt there's a better place to enjoy yoga than Daku's shala (studio) that overlooks the magnificent Savusavu Bay.
Lorna, the owner of Hot Springs Hotel, boasts she has the best sunset view of Savusavu Bay from their large deck. If the sun had been shining as I sipped a cool glass of sauvignon blanc, I'm sure it would be. With rooms starting at FJ$50 a night, this is an understandably popular place to stay.
If you can tear yourself away from the view and out of the hammock outside your own private room or villa, Naveria Heights has some amazing adventures, from mountain biking to river tubing and hiking to remote parts of Vanua Levu. Prices start at FJ$230.
Colin and Janine Skipper loved Joe Wong's food at Joseph's Decked Out Café so much they bought the restaurant and kept him on as chef/manager. A popular place for locals and visitors alike, Colin's favorite dish on the menu is the spicy fish and chips. They also have live music on Friday and Saturday nights.
Colin also operates KoroSun Dive where you can book one-off dives or complete packages. Their signature activity is the Hammerhead Dive, but they have plenty of others from soft coral to cavern dives and one through "Turtle Alley" which features lots of... turtles.
None of the restaurants in Savusavu are terrible, but my absolute hands-down favorite is Surf 'n' Turf which overlooks the water and serves the most delicious curry. There are plenty of other superb and non-spicy options. The homemade ice creams are off the scale. It doesn't have a website, but anyone you ask in Savusavu will point you in the right direction.
There aren't, after all, that many places to go.
SUBSCRIBE TO & FOLLOW LIFESTYLE
HuffPost Lifestyle is a daily newsletter that will make you happier and healthier — one email at a time. Learn more