During the summer months most of our weekends are packed with back-to-back barbecue invitations. Either you are having friends and family over for a BBQ or someone else has invited you to the park, the beach, or to their backyard for some grub. Your typical hosts will offer lots of burgers and hot dogs and maybe even some juicy marinated chicken and some steak. In other words, all you are consuming are very large quantities of meat! Now don't get me wrong, I LOVE my churrasco or skirt steak on the grill, but too much meat all at once can be very overwhelming. I am getting tired of seeing corn on the cob and potato salad as the only non-meat food options at BBQs. I'm raising the red flag, and I know my boyfriend thinks I'm crazy, but meat should not be the only star of the BBQ. We really need to come up with better non-meat food alternatives.
Now I'm certainly not the first person turning the wheel here. I'm sure there are blogs devoted solely to summer BBQ food alternatives. But it sometimes helps to remind ourselves not to fall into the same cooking habits. At this very moment, if you decide to take a stroll to your local grocery store or farmer's market, you will find some of the freshest and juiciest fruits and vegetables of the year. Think about it for a second, we grill in the summer because we love how it gives meat that amazing char texture and smoky taste. Well, the same can be done for fruits and vegetables which also acquire the same desired characteristics and taste just as amazing on the grill. We need to start taking advantage of all of this fresh produce and get to grilling!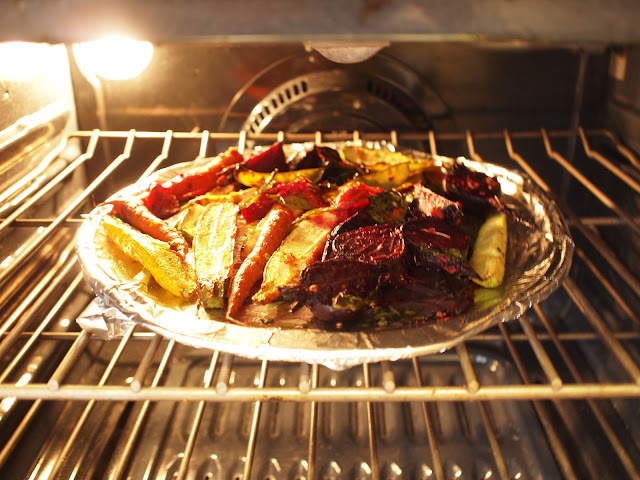 Unfortunately for me, I don't own a grill at the moment. I've been looking to get this Weber Q 100 Propane Table/Outdoor Grill. I'm looking for something that is easy to move around and will hopefully not take up too much space. This grill had some amazing reviews on Amazon and it looks to be the right size, but it's also not on my price range. As an alternative I've been looking at their Weber Charcoal Go-Anywhere Grill. This one also has amazing reviews and is thankfully in my budget range. I also happen to love the taste of charcoal grilling, so when the timing is right I think I will get this grill instead. In the meantime, I had to figure out an alternative to grilling my vegetables. I know it's weird to have a blog post about grilling when you actually didn't use a grill, but you can't always have everything. You can use a grill and let me know how the vegetables turn out ;). As an alternative I ended up using my oven and placed my vegetables in baking sheets covered with aluminum foil. I think the end result was very similar to what you would get on the grill. Thought if have, you could use a cast iron skillet to get the desired charring effect in the oven.

The below recipe will work for your grill, your cast iron pan, and your oven, the main take away here is that we need to start grilling vegetables and enjoying them more often. I bought beets, summer squash and carrots at the farmer's market which turned out really sweet and crispy. The summer squash turned out crispy on the outside but the inside was just juiciness. I also found some snow peas in the fridge but I didn't like how they turned out in the oven. They wilted and didn't taste that great. At the end it really doesn't hurt to try any type of vegetable, you'll figure out if you don't like it afterwards.
Grilled Vegetables
Olive oil
Sea salt and fresh ground pepper
Alternative ingredients
Minced garlic
Cajun seasoning
Red pepper flakes
Adobo
Your choice of herbs (rosemary, basil, thyme, etc..)
Here is a list of veggies you could use for grilling: Asparagus, broccoli, beets, carrots, summer squash, any type of pepper, tomatoes, onions, the list goes on.
Directions
• Set your stove top cast iron skillet or your grill to medium heat.
• For your oven, ehow.com recommends that you preheat your oven to between 500 and 550 degrees Fahrenheit. The site recommends that you use a cast iron skillet or a grill pan, but I used a baking sheet pan and covered it with aluminum foil.
Tip 1 - Sometimes it's more cost effective to work with what you have. I don't have a grill, or a cast iron skillet, so I used a baking sheet and the oven.

• Add olive oil to a small container, 1/4 cup should do, and with a brush start to coat your vegetables.
• Add salt and pepper to taste.
• If you have additional ingredients now is the time to sprinkle them onto your vegetables.
• If you prefer, you can also mix the oil with your additional ingredients. With the brush you will get an even coating of your seasoning on your vegetables.
Keep an eye on your veggies as they grill. Your cooking time will range from between 5 to 10 minutes. Peppers might take a little longer, while asparagus might take no time at all to cook.
Tip 2 - For dessert, why not try grilling some fruit. If it's a super-hot day, take a scoop of ice cream or gelato and place some of your favorite charred fruit on top. YUM!
LEFTOVERS IDEA - GRILLED VEGETABLE EGG STIR FRY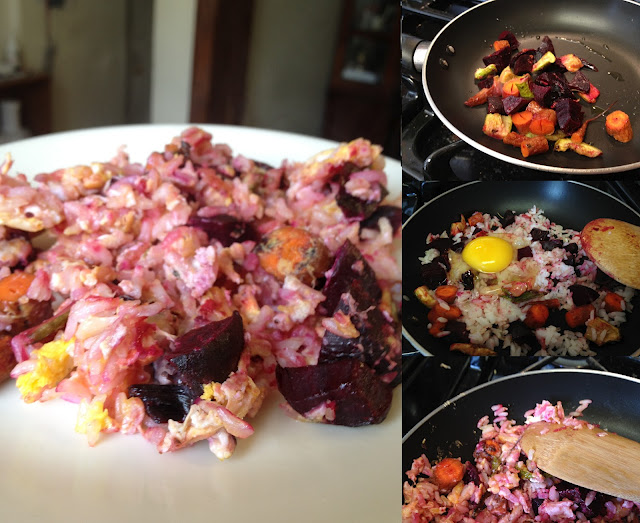 After I finished my delicious meal of veggies and only veggies I ended up with a lot of leftover grilled vegetables. I knew I was going to be eating them pretty soon, so I stored them in a container in the refrigerator. If there is one thing you need to know about my family is that we don't like throwing out food or leaving it in the fridge forgotten. If you cooked too much, well then you can eat it for breakfast the very next morning or take it to work for lunch. I went with option one and used my leftover ingredients to make a recalentado for breakfast. You make a recalentado by "reheating" whatever you made the day before. This usually involves a mixture of leftover rice and beans with scrambled eggs. I once had some leftover rice and mixed it with an egg for breakfast and my boyfriend's father thought I was nuts. As a Latina, I say this with much love, but we need to start eating rice in moderation! I love my curves but I don't need to add to them by gorging on rice all the time. That's why I started to cut my consumption of rice to less than one cup (8 ounces) a day. As an alternative to this recalentado, skip the white rice and make it with some brown rice. You can also chop your vegetables a little finer or add some crumbled tofu to supplement the rice all together. Either way the sweetness of these grilled vegetables will outshine all other ingredients and make for a perfectly healthy and filling treat.

• Chop your veggies into small or large chunks (whatever style you prefer)
• Heat a frying pan with a tablespoon of olive oil, set to medium heat.
• Let your vegetables sauté for about 5 minutes.
• If you have left over rice around add it to the pan after about 3 minutes, you want to give the veggies time to sauté.
• Add eggs (cage free) - The number of eggs you use depends on the amount of veggies you chopped and the number of people you are feeding. (I only like having one egg for breakfast so that's all I used).
• Mix everything together and you have yourself a grilled vegetable egg stir fry.
SUBSCRIBE AND FOLLOW
Get top stories and blog posts emailed to me each day. Newsletters may offer personalized content or advertisements.
Learn more