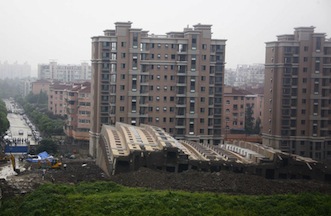 Apartment building in Shanghai falls over soon after completion, 2009
In a recent survey, 84% of companies reported at least one asset-protection fraud in the past three years. In China, 96% of companies reported such fraud. Of these cases, 41% of China's bribery cases were in construction, with 91% of companies suffering losses from corruption or fraud in the last three years. In fact, construction in China is always ranked first in size and frequency of fraud, ahead of defense, oil and gas and banking and finance.

In construction in China, 70% of projects are not completed on time, 73% are over budget and up to 20% of capital cost is wasted due to fraud, theft and negligence. One senior Chinese official even stated that 40% of China's construction projects are "out of control" with regard to health, safety and corruption.
SUBSCRIBE AND FOLLOW
Get top stories and blog posts emailed to me each day. Newsletters may offer personalized content or advertisements.
Learn more